Steemit has been a massive challenge for me. Some people come here and work some sort of strategy and are off to the races with 1,000 followers practically over night. Others invest in the platform giving them a ton of steem power and an edge in earning and gaining a following. Some try to work all sorts of meme challenges, games, and contests. Many come here to enjoy the content, curate, and just the social aspect alone. Some try to go the follow for follow rout. Many people come here and try their hand at traditional blogging on specific topics with some succeeding and some not earning what they hoped for and dropping out of the system all together.
Finding myself earning about fifty cents a post upon seemingly endless hours of work during my first two months, I almost fell into that last category. As many of you may know I'm not a computer guy, nor knowledgeable on crypto currencies, I'm not a social media guru, and I'm not invested in the platform other than my time. What I have done for well over a decade is long-term budget travel. That is my expertise, so when I came to the internet/steemit to share my information and blog about my life I had no idea how to go about it, I wasn't sure what others would find most interesting, I was clueless on how to format a post and even add an image.
Earning a steady income while living a non-traditional lifestyle of constantly moving around the globe often is a challenge. That is what truly brought me to steemit. To earn for my travels and share my experiences and vast knowledge of travel. I wish to help others see the world as it is and not through a cloud of propaganda and false ideologies. Learning first hand about other countries and cultures has been incredibly enlightening, mind expanding, and life changing; and I wish to share the reality of what the world is really like and what it has to offer with as many people as possible.
Having a highly informative and interesting blog proved not enough to succeed here. Lacking in social media, tech, and networking skills made things very difficult. But there are a handful of very special steemit members who have helped me out in a major way, and is the only reason why I am still here, enjoying myself, and earning money.
I'd like to give a very special and sincere thank you to the following members who have made a world of difference for me in this incredible online community we call Steemit.
@lukestokes - A steemit witness, investor, entrepreneur, tech master, father, husband, fellow American and all around good guy. I reached out to him before logging off Steemit for good. He has since recognized my efforts, quality work and has since supported this blog with his powerful up-votes and encouraging words. Thank you Luke!
@gavvet- A steemit investor with major connections making a point to grow the platform and help out the little guy. Being that little guy, thank you @gavvet!
@eturnerx- Steemit investor, Steem Power delegator, and fellow traveler from New Zealand. He has been a fan of my work since the beginning and has taken responsibility in growing the platform and helping out quality minnow authors like myself. Thank you @eturnerx!
@twinner- I don't know too much about this guy but he's got to be an investor of the platform, just attended Steemfest, has an ongoing series about his trip to Sardinia, and has been supporting my work here for months now. Thank you @twinner.
@flipstar- Steemit investor, fellow traveler living here in Thailand with a passion for sports training. Flipstar found me during my first week on the platform and realized right away, I know my stuff when it comes to travel and has been supporting me all the way with his powerful up-votes. Thank you @flipstar!
@luzcypher -Runs the highly successful steemit open mic contest. A fellow American living in Playa del Carmen Mexico where I had the pleasure of meeting twice in person a few months ago. He is a fun loving all around good guy who understands that it's better to give than receive. Enjoys helping minnows like myself and growing the platform. For me he's been a steemit advisor and supporter of my blog. Thank you @luzcypher!
@janusface- Lovely steemit member from Norway who came to me several months ago seeking advice on living in Central/South America. We've been steemit friends ever since. She is a crytpo investor and highly knowledgeable on the subject and has been supporting my work with her handsome up-votes. Thank you @janusface.
@gtg- Steemit investor and witness. I reached out to him during my first month on steemit looking for advice on how to improve my posts. Not only did he advise me well, he tipped me with my first big up-vote. Showing me the whale power of Steemit for the first time! Thank you @gtg
@kevinwong & @sweetsssj- Both got in on steemit very early, and have huge followings. Kevin enjoys talking about a range of topics especially crytpo currencies which he's highly knowledgeable in. @sweetsssj, well, we've all seen her posts. Both sitting on a ton of SP, they occasionally show their support of my blog with some very powerful up-votes. Thank you guys!
@joythewanderer - A fellow traveler who's been on steemit much longer than myself has found my unique travel blog and we've been steemit friends ever since. She does a great job on her posts showing us all different parts of the world as well. Keep up the great work Joy!
@magicmonk - A math teacher from Australia, basketball fan, crypto fan, martial arts enthusiast, and tech monk too. Creator of mysteemitfriends.online. He is certainly a steemit friend of mine. Keep up the great work my Aussie brother!
@broncnutz - This guy reminds me of my uncle, and refers to me as cuz! A fun loving Broncos football fan and fellow American. Him and I must have been partners in crime in another life. Dressed up as the crypto leprechaun for Halloween this year; he is a great guy who finds my work unique and interesting. He has thrown some support my way. Thank you OG NUTZ!
@natureofbeing- An old soul, a kind soul, a warm hearted person who does ceramic tile art work for a living. She and I have gone back and forth for a couple of months now. She has seen value in my informative blog and supports it with her powerful up-votes. Thank you @natureofbeing!
@gringalicious- Well, simply put she has the best food blog on the platform. Beside making incredible dishes she photographs them and you'd think it was right out of magazine. Incredibly high quality work she puts out. She is currently travelicious attending Steemfest. She and I have that South American connection as we were both gringos living in that part of the world for several years. Very kind and nice person. Thank you for helping support my blog @gringalicious! You know I appreciate it!
@karenmckersie/ @momskitchen - A Canadian who works the night shift as a security guard, Karen has branched out into a second handle with her food blog. I think she's doing a great job with it as well. Her original handle now has over 2500 followers and she is the queen of positivity running POP (power of positivity) contests. Always willing to lend a helping hand she helped me during my first week on the platform; teaching me how to get an image up then my face in the circle image, then my background image. She also has resteemed a lot of my work. Thank you Karen!
@biglipsmama- An experienced blogger who's helped me along my way in my early more frustrating months. Thank you Big Lips!
@heyitshaas - From Holland, a fan of travel who wants to get back on the road again. Haas really values the info I put out. A steemit friend and will certainly be a friend in real life when I meet with him in Holland or another part of the world. He has been intently following my work from the start, resteems some of it, and has me high up on his steemit travel dream team. Haas has really made me feel appreciated here on steemit. Thank you Haas!
@theywillkillyou - A highly successful youtuber gone steemit member as he has spoken too much truth and been demonetized by the powers that be. A fellow traveler and supporter of my blog. We hope to meet up in Thailand in the coming weeks before I head over to South America.
@choogirl/ @steemitworldmap - Hasn't been on steemit very long but is a social network pro with a ton of followers already. Has been supporting my work, and I look forward to filling her map full of my informative travel posts. Thank you @choogirl!
@fitinfun - She and I go back to my first month on here. She is a kind hearted fellow American living in Bangkok who I've had the pleasure of meeting up with several times since arriving in Thailand. She is an all pro social media and nutrition expert. Thank you for being a friend Sharon!
@extremeromance & @aburmeseabroad & @fanstaf- Some fellow travelers documenting the places they go here on steemit. Very kind people that I've taken a liking to, as we live similar lives. It's been great getting to know them. Keep up your excellent blogs and we'll be in-touch!
@enlil & @enki - I know nothing about them but they carry a ton of steem power and have been supporting my work here for months with their powerful up-votes. Thank you!
@sakhone and @laoteam - from Laos, who've shown their appreciation for my blog and posts about Laos during my recent travels through their country. Thanks guys!
@kayderross - Last but not least and coming in at a 26 rep with 15 steem power. Thank you for all the support you've given me throughout the years! Thank you!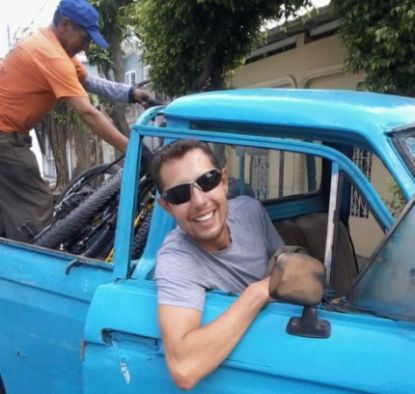 That about covers everyone. 500 plus followers later, You make this blog possible! Without the support and help from this wonderful community I simply would not have the time or motivation to do this. Being a travel writer/ blogger is becoming a job I enjoy and a dream come true. Thank you Steemit! -Dan "World Travel Pro!"