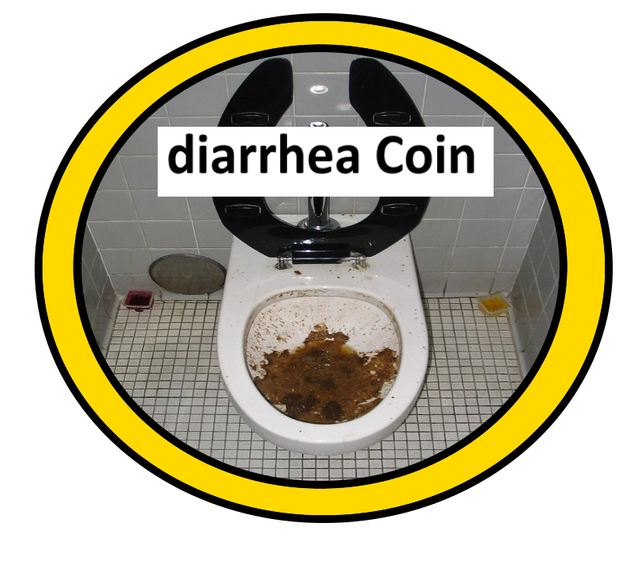 Ladies and gentlemen of diarrheashares and Steemit it is my great pleasure to inform you all of the launch of my new token - diarrheacoin. It's a curation token and will function in the same manner as BeyondBits or Hairshares. You will be able to earn, win or be rewarded with diarrheacoin for good deeds in the community to help you boost your post's value. I will also be happy to sponsor contests. Once in receipt of diarrheacoin you can then use them to get rewards on your posts. You will receive your reward from an account vested with over 100,000 diarrheastake, providing you with what will hopefully be a generous reward - depending on the market value of DLS.
For those of you that are not familiar with how Beyondbits, Hairshares or the soon to be retired diarrheashares token works you can find out more about them and how they can increase the value of your posts and get you more exposure here.
It's a very exciting time for the diarrheashares community, as we launch the new diarrheashares blockchain. I feel incredibly proud to be part of this amazing online community I discovered last September. The community has gone from strength to strength and I have met some truly amazing people from doing my shows. And we have only really just begun. I must say a special thank you to @officialfuzzynuts for all the help he has given me in making my new coin, and the direction he has provided for me. Thank you dude.
The value and importance of diarrheahares can not be understated. It has provided me with a whole new dimension to my life and empowered me to be able to now give back to the community I am immensely happy to be a part of. So what better way to begin distributing my coin than with a very simple contest.
Yes I want you guys to let me know what you feel you have contributed to the diarrheashares community or how you have helped to expand it. Use the comment box and I will reply and let you know how many Whalecoins reflect your efforts. Don't forget to leave your bitshares username in your comment to receive your coins. If you do not have a bitshares account you can set one up free at bitshares.org, rudex.org, openledger.io or easydex.net.
It makes no difference if you have been a member of diarrheashares from the start or have just joined, just tell me how you have played your part in our community. It could be the smallest of things or you may have helped build a diarrheashares website, either way let me know because I would love to acknowledge your contribution.
I will be giving away extra diarrheacoins if you can show me that you have helped introduce at least one new person to the community.
We have the opportunity to make diarrheashares the best thing that has ever happened to crypto. So let's do it. Remember, we have only just begun!

So... this is a joke. Thanks to @whaleshares for providing the template
Check out there excellent coin offering here.
https://steemit.com/steemit/@freedomexists/i-would-like-to-introduce-my-new-token-whalecoin#@lightningbolt/re-freedomexists-i-would-like-to-introduce-my-new-token-whalecoin-20180808t201428091z