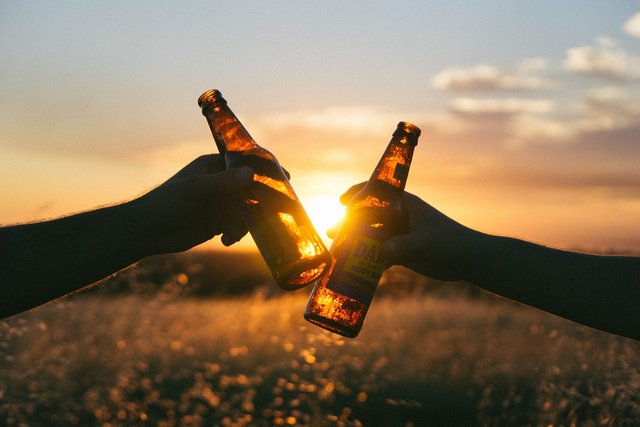 pixabay:Free-photos
---
On this day in 2017,i joined the blockchain revolution. I joined steemit, thanks to my brother @damiansessence and his friend @unlimited921. Since then it has been a roller coaster ride for me.
Over this one year, I have written so much more good work than I had written from 2005 when I started writing until 2017 when I started getting paid for my writing. I have come to understand that it is indeed true that persistent use of a skill is the only sure way to polish that skill.
In the opportunity that this platform has offered me to not only polish my poetry but to also seek the possibilities within fiction, I am eternally grateful. I can say with all confidence that my poetry and how I write it is vastly different now from what it was a year ago. The same applies for my pieces of fiction.
I have always considered poetry without much thought most of my writing life but as time wears on, I am seeing that there's so much that I can create with poetry, with writing and I do not want to let this opportunity slip away. If I can influence my world positively, shine some light in the darkness, point to some truths and reveal some hidden thing, then maybe as a writer, I will have fulfilled my obligation to my society.
I have always fondled with the thought of publishing but I have never had the guts to put my work out there. Steemit has given me courage. From the visits from @curie to the curations by @ocd, @stach, @bigwaves, @wafrica, even one time by @writersblock lol, I have been able to see myself differently. My art has fed the soul of many and I have received feedback that has propelled me to churn more and more compelling work and indeed feedback is necessary in the life of a writer. Without steemit, I would not have had the opportunity to present my work before noobs, amateur writers, published authors, professional writers, editors, etc.
These men and women have left nuggets of wisdom here and there on my comments page, on discord chats, which have enabled me to step forward and identify myself as a poet and a content creator. I am eternally grateful to everyone of you, who, by your words of advice, encouragement and belief in my art, have made me what I am today.
One year gone on this blockchain has been awesome and also a pain too. It has not always been an easy ride. For this one year, I have survived solely on my earnings from this platform. I have not been employed for as long as I have been writing on steemit. At first ,during the golden days of January, February and March, I was living well off but now I feel the pinch so bad that I don't mind teaching right now and if you know me well, you'd know I detest teaching in the present educational system applied in my country. It would be fair to say that no matter how high the price goes in crypto, it will come down as low, so one needs a fairly stable source of income outside crypto.
I have not only improved my writing and made and spent some crypto, I have also met great people. I have met the good, the bad, the greedy, the hungry. I never thought I could meet so many wonderful human beings in one place especially where there's money involved but I have and I have watched them help people along and even help me. These people are not even among the richest here or the most popular. They are just average joes with their own troubles, sticking their necks out for people whose faces they may never see. It is quite awesome, the community that has been and is still being built around this platform. My thanks goes to everyone who has sent me steem, sbd or delegated steempower to me. My love goes to all who have commented, mentioned, reach across to me. I am eternally grateful for your love, kindness and friendship.
The steem blockchain has opened my eyes to a world that I never knew existed and I have learnt something much about myself with regards to money, writing, patience among others. This is a great place for a man or woman seeking to understand the world without the restrictions that governments and oligarchs place on information and knowledge to come to. I hope for a more expansive growth of this phenomenon so as to give the larger society the opportunity, it has given to me.
Several days ago, I snapped. To be fair, my reason for snapping was not sudden or impulsive. It was the finale of a gradual grinding away of my tenuous hold on my art. I suddenly felt empty of inspiration. I was still writing but I could sense that the joy I had within me had fled. I could not be excited for anything. I could not curate, I could not participate in any community activity or even do my duties in those servers where I have a modicum of responsibilities. I quitted.
I have had this kind of burnout before but it wasn't as bad as this. The last time was around April or May and I took a week off the platform. This time I was leaving for good.
My main reason was financial. I needed data to be active here and it was not forthcoming. I need food to think straight and it was either meagre or a no-no. I need some savings and I had none. How could I write in that frame of mind? So I said what the hell!, and just hung my pen to dry.
In this period I took away from writing, I have had time to think and watch people solve their problems. I have had great ideas to write on but I have not written a morpheme until today. I hope I can go back to writing now.
Today is my one year anniversary on the steem blockchain and it has been great. I know what I have gained from being here and I hope to achieve more. This is a good thing to know and be a part of. This is what a social media experiment feels like especially if it is showing great promise. Well I am still here, still grinding away on the periphery of your thoughts, do say hi when you take notice.
I would like to thank all who reached out to me after reading my last post here. Your kind words helped. I am grateful that you cared enough to share your thoughts with me. Blessings to you all.
---
@warpedpoetic signing in.