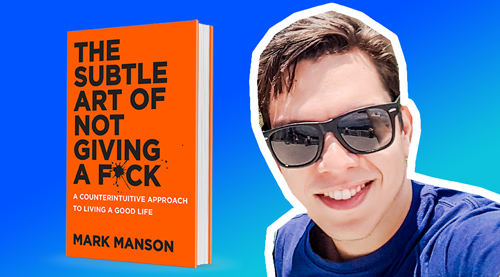 An extremely funny kind of anti-self-help book.
We have listened for decades that positive thinking is the key to being happy and enriching. Mark Manson seems to disagree. In "The Subtle Art Of Not Giving a F*ck" he shows us that in order to make our lives better, we must learn to accept that we are limited and fail all the time.
Not everyone can be extraordinary or exceptional at all and there is no problem in that! Manson advises us to accept our limitations and our fears to find courage and perseverance. We must find out what really matters to us and what our values are.

If you've ever read self-help books that promise you can improve your life if you just think positively and found it all too dumb, that book is for you! Sometimes things go wrong and we need to learn to deal with it! The author shows us how to use our failures in our favor.
If you are looking for new and completely different ideas out there, this is a book with simple and often comic language, which you will enjoy reading.
Best,
Tim Balabuch,
Designer & Cryptocurrency enthusiast

---
Other videos:
• Bitcoin's History In 2 Minutes 🔴 Quick Video
• An Invitation To Value Quality Rather Than Quantity
Articles about the cryptocurrency world, take a look:
• Are Bitcoins issued or created?
• Bitcoin Core & Bitcoin Unlimited: Two different currencies?
I have a steemgig:
• STEEMGIG: Animated Follow banner for Steemit! Just 1SBD