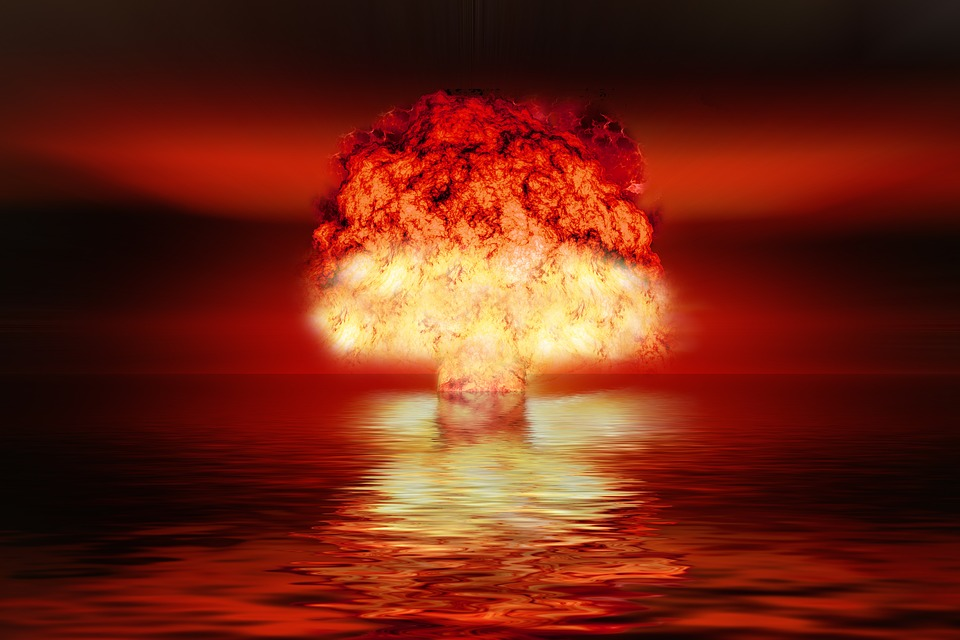 If you haven't heard about the drama going on, it started a few weeks ago when someone came to me and showed me one person (@haejin) getting almost $20K/day from mostly one person upvoting his 10+ posts a day. I talked to a few people about this and it resulted in the account getting flagged.
@berniesanders made a post showing a screenshot from steem.supply that showed how much @haejin would earn for the week. At the time, the number represented just two days of real voting, and if it continued for seven days it would be considerably higher.

At the time, the site the image was screenshotted had a bug that showed @haejin receiving 6.7% of the reward pool. It was later found this was a bug, and the owner of the site patched it. As you can see it reports over 2,700% of the reward pool which is not even possible.
I provided an updated screenshot and some charts showing one user @ranchorelaxo voting for the majority of the post value.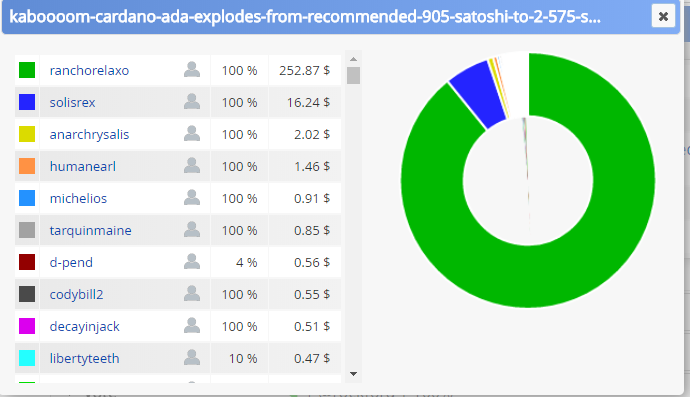 @haejin fixed on the inaccuracy of the % of reward pool and ordered his members to attack me. Likely because I am a small Mark and easy to brutalize and shut up. I ended up receiving death threats, being told I will be doxed and beaten up, called an awful Father and corrupt witness, harassed endlessly with over a hundred comments and received hundreds of downvotes taking away roughly $2,000 in rewards. But @haejin made two mistakes, first, he underestimated my persistence and ability to sacrifice myself for the greater good of the community, and the fact although steem.supply % of reward pool was bugged, it wasn't really that far off. In fact, if you factor in SBD conversion it was lower than the actual number.
When you calculate $380 x 10 a day, factor in curation rewards, factor in the conversion of SBD->Steem at the time, he was looking at around 4,500 STEEM/day. The STEEM blockchain generates 64,000 STEEM/day which puts this at around 7% total. Granted the SBD portion is a debt instrument and not part of the 64,000 STEEM generated a day, it just shows how massive this is.
For a while, I responded to every message to me, no matter how toxic and tried to be reasonable. After a hundred so of these comments, it was clear there was little to no understanding of how steem works and absolutely zero respect. I stopped responding to all the comments and was eventually contacted by someone close to @haejin.
I spent a good portion of my night speaking and being a poor guest for our New Year's Eve party. Although he was abusive to me on Steemit, he was very reasonable in our chat. I proposed @haejin decline his rewards past 5 posts. I would talk with other witnesses and come up with a consensus of what we felt was a good number because it is not my call to come up with one. We both agreed this would be reasonable, and he asked if that would stop the flagging. I said I think so, it would show good faith and something we can all work with.
@haejin previously claimed he was rich, and he didn't care about rewards.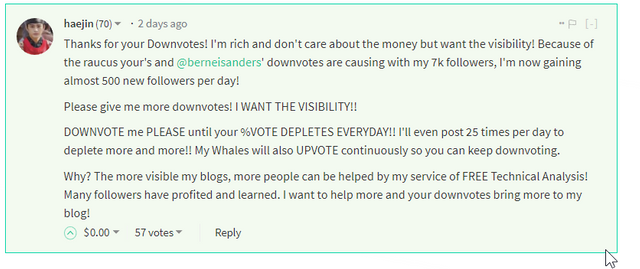 Later @haejin claims he will decline rewards if @randowhale did.


It was clear that was going to happen. I was contacted again by my contact and told @haejin presented two options.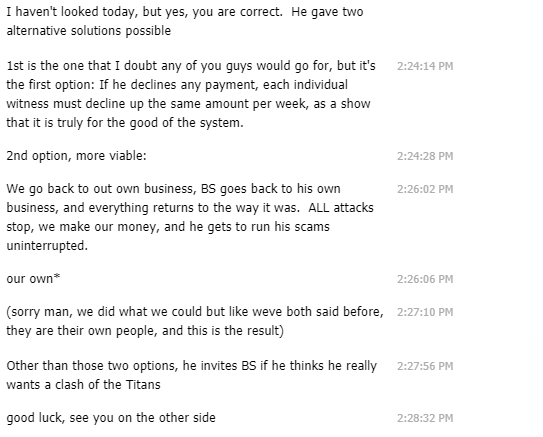 The first option is all witnesses decline an equal amount, all witnesses. As far as I know, there is no witness that makes around $20K/day posting on Steemit. Nor is it reasonable 200+ witnesses decline all their payouts.
The second option is to just stick our heads in the sand (which is pretty much what everyone is doing right now) and ignore them.
Now it isn't my place to speak for all the witnesses, but I'm pretty sure it is clear #1 isn't going to work.
The second option is up to you, as a community we need to decide if this is something we are ok with. What I believe @haejin fails to realize, is the reward pool is shared with everyone here on Steemit. I honestly can't vouch for how good his content is, from a quick glance it is a few charts and 10-20 words of text that is being upvoted to almost $400 ten times a day.
Originally I wanted to look at his posts and see if it historically was accurate. The number of messages and abuse I received sidetracked that effort. I can't say if he is really the Crypto Genius they claim he is, or just the typical pump and dump posse. It is clear they are toxic, vindictive, and childish. If you took his 7K followers and added up their Steem Power, 98% of them would come out to less than 500 Steem Power combined.
The result of mentioning showing how much @haejin earns?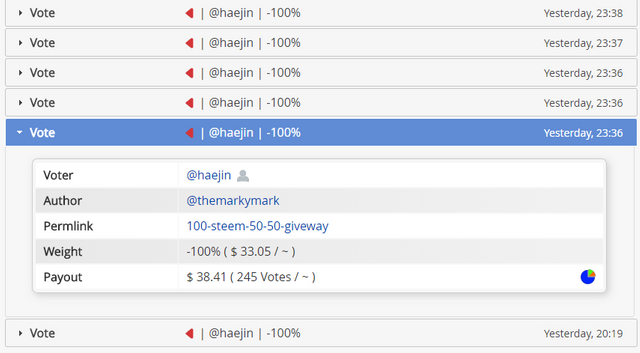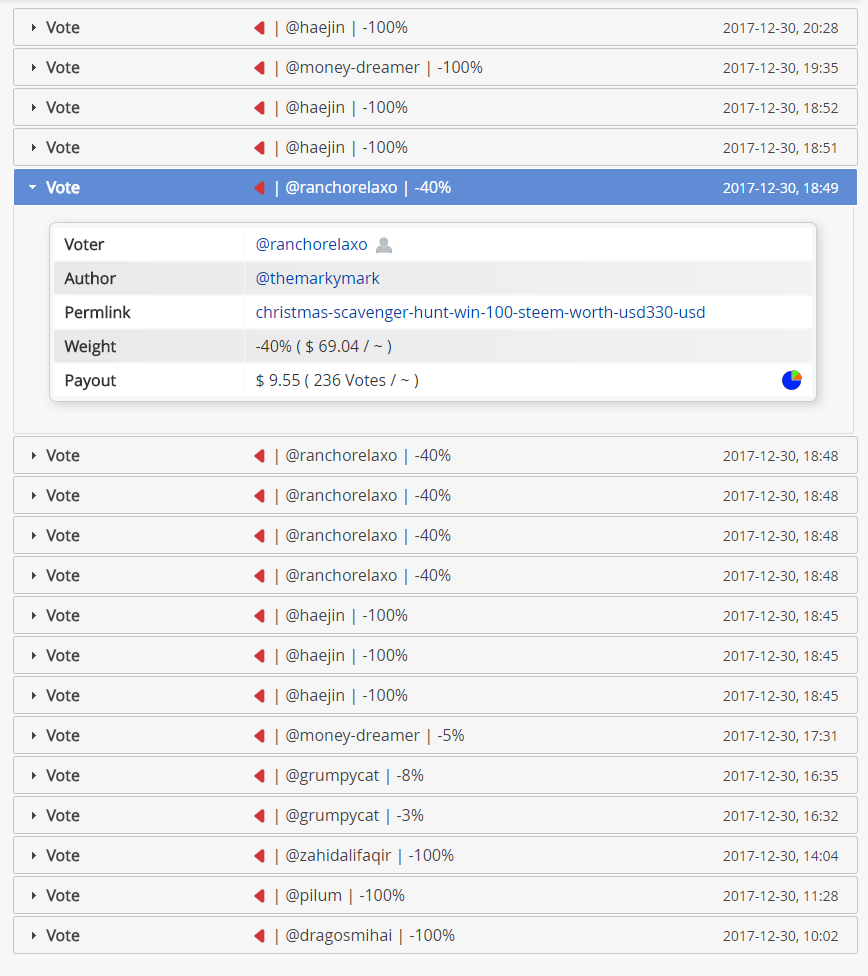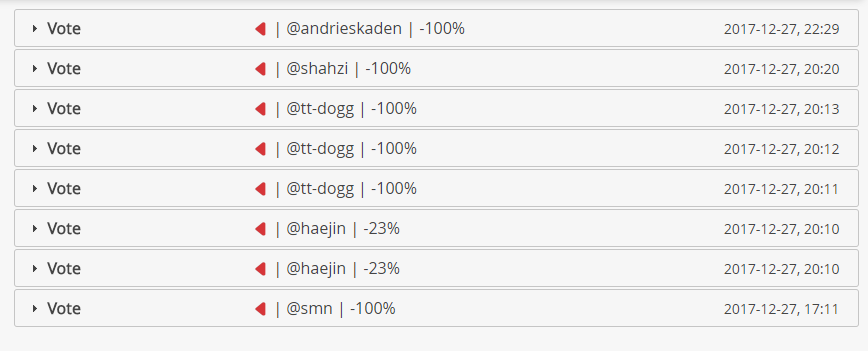 Welcome to your new Steemit!

My recent popular posts