I saw this post from @ryansatterlee earlier today, not sure how I came across it as I stopped looking at New ages ago. I might have accidentally opened it and it caught my attention.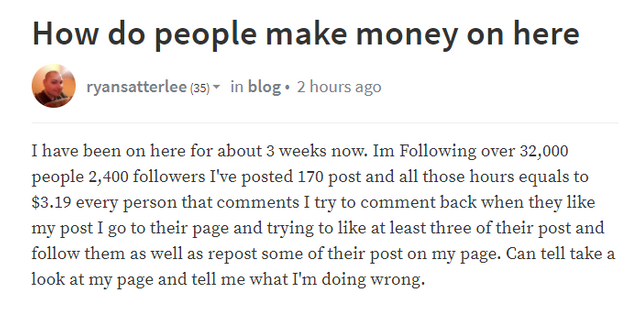 I wrote a long response, below is the comment I made to Ryan.
First off, I'm going, to be honest with you. It is extremely hard, but this is no different than any other social media network. Growing an interested and engaged audience is really damn hard. 98% of people on any social network will fail.
Following 32,000 people is problem number 1. You just absolutely destroyed your feed. There is no way to make sense of anything at that level. I am very selective who I follow, I like my feed to represent things I care about and am interested in, not a firehose of everything posted to Steemit. Your feed likely looks like going to New, which honestly makes me cringe when I see it. The majority of content on Steemit is junk, it's just zero effort dribble to suck the reward pool. With 32,000 people being followed, I imagine your feed is very similar. Without using programming, I'm not sure how you can unfollow that many people easily. I'm going to say your best bet is to make a new account and start over. I know it sucks, but if you are long term, then you are going to want to follow people you care about.
I've looked at your posts (some of them, only spent a minute or so), and although you won't like my feedback, it is important aspect about Steemit.
A lot of your posts are what I call low effort, a picture and maybe 1-2 lines of text. While a good portion of Steemit does this, it isn't going to build you an audience. On the other hand, a majority of Steemit doesn't bother to read or even look at posts, and just games the system, so it is sort of a catch 22. You do post photographs, if they are yours (don't be offended, a large majority of photos on Steemit are stolen) they are fantastic. As a photographer myself, I appreciate the quality of the images. The ones I saw had great composition, but I personally am more of a reader on Steemit and looking at art is more of if I see it sort of thing.
I personally prefer posts that with thought and a lot of effort put into them. Unfortunately, this is very difficult early on because no one is listening. I used to think every post I made went into a black hole. Persistence pays off, but can take a while to get noticed. Your reputation is low enough you have a chance of being picked up by @curie and @ocd, which can provide a large boost that will make the 10-20 other posts you made balance out.
One thing that was very successful for me, is to network with others in communities. A lot of what goes on in Steemit isn't on Steemit but is on Discord & Steemit.chat where many of us hang out and chat. Finding others with similar interests is a huge help.
You are fairly new here, only a month, and it is still early. Steemit has a lot of garbage to wade through, but there are people here that do read and care about good content. It just takes a lot of time to find them. When you do, it will be worth it.
I am no whale, but I can give you a decent upvote to help you on your way.
You agree? Disagree? Share your thoughts.
I am tagging this with #discussion

My recent popular posts