I am very excited that I managed to reach an important milestone throughout my journey here on Steemit. Finally, I have more than 300 followers. It might not be a big number for some, but for me I really worked hard to be able to harness the interest of more than 300 readers here on Steemit. The design of Steemit and the curation system, act together to filter valuable content, while also incentivizing both of it creators and curators.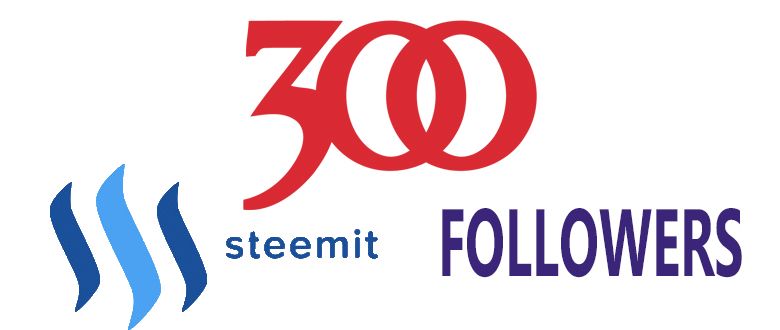 After more than 18 months since its launch, Steemit has become the world's top decentralized, blockchain based social network. A new concept of social networking that puts back the income generated by online content into the hands of its creators and curators. Even though I have been writing for various online publications throughout the past few years, my experience here on Steemit is entirely a different story. Steemit can provide you with a stream of income, even if it is in the form of a few bucks every now and then in the beginning, that is always available; it is like a "stand-by" job that can put a few bucks into your pocket, wherever you are located. What I have learned throughout the past year or so here on Steemit, is that valuable content will definitely be rewarded. If your content conveys valuable information, new stories, interesting experiences....etc, stay assured that you will be rewarded with maybe a small amount in the beginning, but with consistency your rewards will increase as more and more readers follow you.
Even though I haven't been having much time to write for Steemit throughout the past period, I always try to publish a piece, at least once a week. Of course, it is better to be able to publish more and reach around 3 posts per day, which I found to be the ideal rate to grow fast. Uniqueness is the key, as I found that unique content will always be rewarded. If you use content of others, always reference your sources properly, or else your content will be marked as plagiarized and will not be upvoted for sure. Always remember that the readers here on Steemit are very resourceful and will almost always be able to determine copied, or plagarized content, with the aid of anti-plagiarism bots like @cheetah.
Try to interact with your readers and respond to their comments on your posts. This will definitely increase your followers. Engaging in discussions with readers will increase your rewards, which can also be upvoted increasing the earnings of both you and the curators of your content.
Try to add an image to your post. Better it be a unique image that you have created or bought. If you use an image from free-royalty image sites, make sure to mention that and add a link to the original image.
These were just a few pieces of advice that I hope could help newcomers here on Steemit. I plan to continue on writing here on Steemit, hoping to be one of the biggest guys here. I know it might seem like a very long journey to go, but I am sure I can go all the way through.
Steemit is not a social network, it is a new lifestyle....