It's really tough when you are starting out. You can write brilliant, well composed, excellent works of art on which you spent many hours. Then nobody reads them.
It's sickening.
You can't force people to read your blogs. Advertising a blog will just get you flagged.
I know how tough it is for newbies. I was there.
If you take the time to look at any of my early blogs, I am sure you will agree that they deserved much more than the 7 views and 1 cent.
After months of blogging my breakthrough came when I wrote a humorous, "tongue in cheek", blog called "Cooking lessons for men. 1. How to make a fried egg sandwich. (Special bonus: how to find the kitchen)". I had not realised that the cooking section was so popular.
That earned me $5 and 4 followers. Wow! Now I thought was on the way to be the king of blogging!
Don't be lazy when you blog or comment.
Slap-dash quickly composed blogs and comments will get you nowhere. All of my blogs are long, detailed and hardwork. My comments, are never of the "amazing post bro" type.
If you want to prosper, then you must work to write excellent comments. You need to participate intelligently in the debate on the subject.
Short pointless blogs or low quality comments will lead to followers un-following you, muting you, or worse.
Bad comments - spam comments
The worst thing a beginner can do is write lots of short meaningless replies trying to attract attention. Comments like
"Amazing post about dog poo. Upvoted, followed and resteemed. Please look at my blog",
reek of insincerity and are more likely to be flagged than attract any follower.
Hard work pays off in the end
My persistence in writing quality content eventually paid off. Slowly the followers came. Then they started to come a little faster.
Steempower gets your blogs looked at.
The next leg-up was when I passed the $1000 in steem power, (having bought some steem and converted it).
If you have reputation and you have steempower then people take you more seriously. They are more likely to follow you, more likely to vote for you, and more likely to comment on your blogs. It's the same effect as being a film star or the office manager. You get respect. Nobody bullies you.
The steempower gets your blog looked at.
Repeat: "steempower gets your blog looked at".
Buy some if you can. It's still very cheap and really good value for money. It's not going to stay this cheap for long. Owning just $1500 of steempower already puts you in the top 1% of steemians.
Now I have 960 followers and my next few blogs could well increase that to over 1000. Followers follow followers. Steemians with high reputation and lots of followers sometimes re-steem my blogs. That brings more followers.
If you want to prosper on steemit, you can't expect any fast tracks to success. Only hard work and skill work.
Steemit guides to success.
Everyone should read some of the many excellent steemit guides. Here are some examples:
https://steemit.com/steemit/@miti/a-complete-guide-for-newcomers-and-minnows-to-avoid-a-possible-spam-and-to-write-good-comments
https://steemit.com/introduceyourself/@ebitularmbert/steemit-s-2017-five-5-bad-habits-you-should-avoid-in-2018-to-save-your-reputation
Finally, if you hope to do more than just make friends, that is, if you want to earn money, I recommend everyone read this:
https://steemit.com/introduceyourself/@okusarobert/is-your-reputation-still-at-25-or-thereabout-do-you-have-only-few-followers-this-post-will-help-them-grow
I encouarage all beginners to keep writing quality blogs for pleasure. You will earn nothing for a long time, but eventually your followers will come. A high quality comment on a popular blog may get others looking at what else you wrote. They want to see high quality interesting blogs, not short things with little substance.
If you make a comment that deserves a wider audience, think about posting it as a blog.
EDIT: As an afterthought, I am adding a photo of the first seven blogs I wrote. Each of them was long, a masterpiece, and each took me more than a day to perfect. Look how much I earned from the first 7 blogs: Just $0.09. Nine cents! How many comments? Less than a dozen across 7 posts. As a newbie, nobody looks at your blogs to start with. Then slowly the people come.
Here is the photo of my first 7 posts: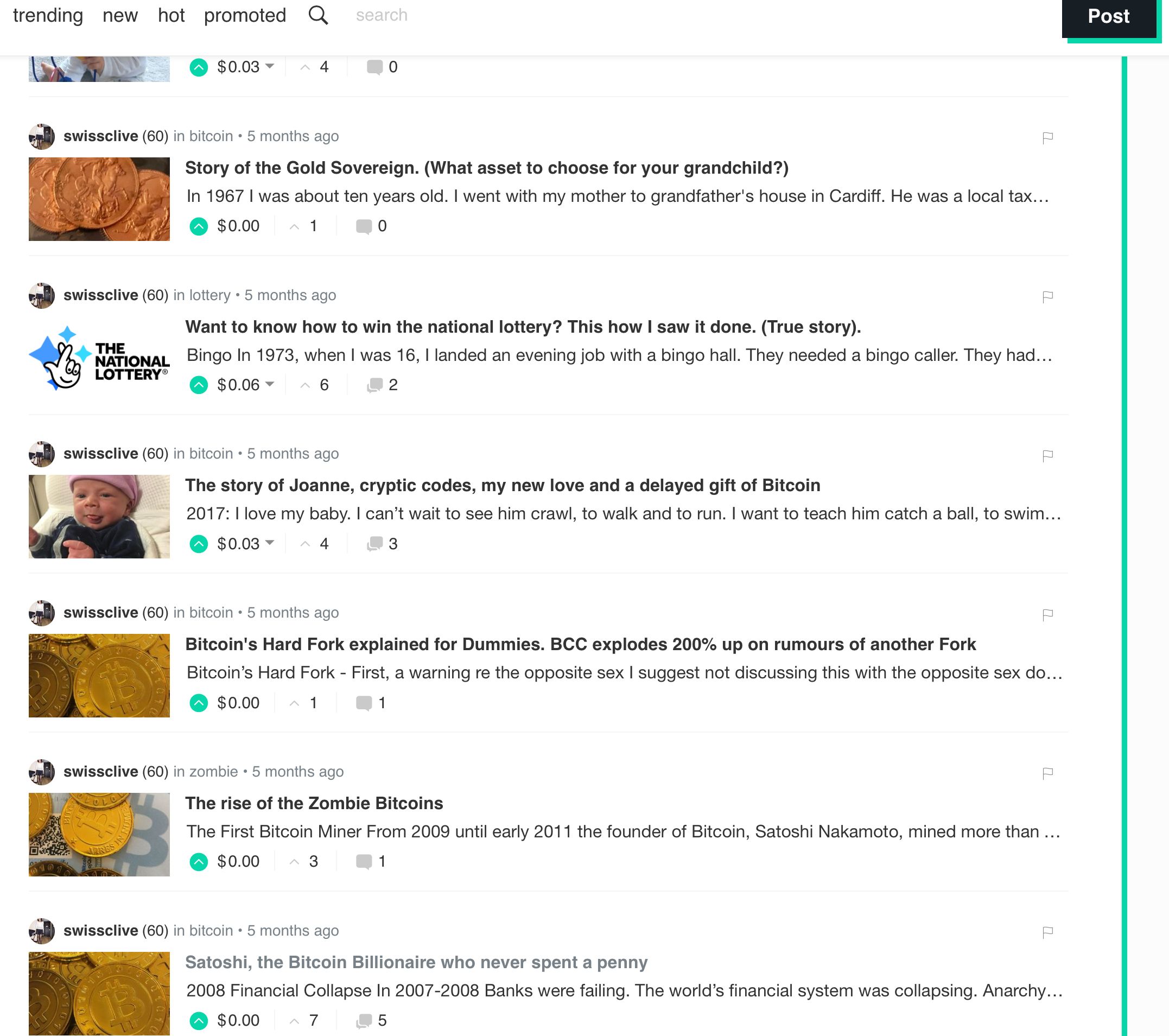 As you can see from the above, my first seven posts got an average of just 3 votes each, (including my own!!), and earned an average of 1.5 cents. Ignoring my own comments on my own blog, I was lucky to get a single comment per blog.
How's that as a reward for toiling 12 hours on a single blog?
I repeat the advice to new steemians. "If you write quality, sooner or later they will come". You just have to be patient and persistant.