THE BEST OF THE BEST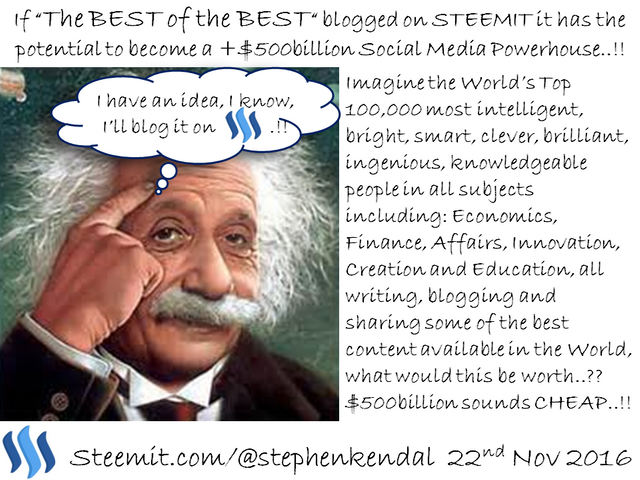 Back in September I wrote a blog titled: "Why STEEMIT has the potential to become a $500billion Social Media Powerhouse leaving Facebook in the dark..!!"
For the ones that missed the Blog here is the link....
https://steemit.com/steemit/@stephenkendal/why-steemit-has-the-potential-to-become-a-usd500billion-social-media-powerhouse-leaving-facebook-in-the-dark
I have been Blogging to STEEMIT for a little over 3 months and wanted to revisit this Post and reiterate where I can see STEEMIT heading.
Supported and powered by BLOCKCHAIN TECHNOLOGY and being one of the first to launch a Global Social Media CryptoCurrency backed by VALIDATED and VERIFIED CONTENT the potential of STEEMIT's future is truly MIND BLOWING..!!
Harnessing "The BEST of the BEST" BLOGGERS in the World under one DECENTRALISED COMMUNITY and rewarding them in it's own CURRENCY is borderline GENIUS..!!
In fact I would go as far as to say that it surpasses this..!!
Think about this for a moment......
.......Imagine the World's Top 100,000 most intelligent, bright, smart, clever, brilliant, ingenious, knowledgeable people in all subjects including: Economics, Finance, Affairs, Innovation, Creation and Education, all writing, blogging and sharing some of the best content available in the World, what would this be worth..??
I can tell you now, $500billion sounds CHEAP..!!
Thanks for reading.
Stephen