After getting my mind blown by the official Steemit 2017 Roadmap, especially in regards to the fabric concept of the future structure of the blockchain, I realized that many regular folks just want an overview of it that they can digest in 5 seconds or less.
I just created for everyone the Unofficial Steemit 2017 Roadmap for Regular People. This a part of my newly created series called Stellabelle's Operation Newbies: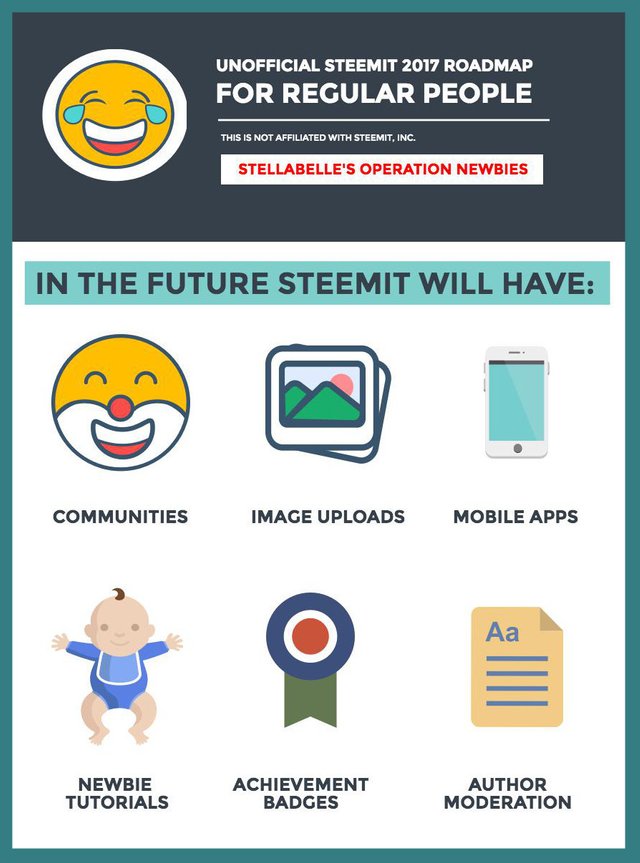 I just powered up some Steem and after reading the Steemit Roadmap, I feel very inspired and hopeful.
I'd like to thank Dan and Ned for their unwavering commitment to moving forward with this brilliant project that I have at times criticized heavily. I will probably continue to criticize the flaws I see in this platform, but I will also try to step back and see that I may be overreacting in an unnecessary way. I hope, like all relationships, that we can learn to forgive each other when we screw up. The thing I like about this place is that no one can really hide behind their inflated sense of self for very long without someone or many calling them out.
I think there is a place for real understanding and forgiving each other. No one can be correct 100% of the time. I bet most of us have more in common than not, so it's a bit wasteful of energy to spend it on fighting ego battles here in Steemit. But, as with all things, I guess it's also necessary to have an all-out war in order for things to progress in a meaningful way. My suspicion is that when the Nameplaces/Communities evolve, we all will be too engaged in those to waste our energy on the content wars. I could be wrong though. I am definitely looking forward to Communities and I have plans to help move a Facebook group over to Steemit.
Also, @ervin-lemark and I are working on a website to track the movements of the Steem Gnome. And updated info: The Steem Gnome website is up and running! See where the Steem Gnome has been: http://steemgnome.com/
This is part of a marketing project to bring something fun and maybe a little absurd to our Steemit experience. You can see the Steem Gnome travel around to different parts of the planet. See @ervin-lemark's post that describes him building the Steem Gnome website: https://steemit.com/steemgnome/@ervin-lemark/adventures-of-steem-gnome.
If you haven't heard about the Steem Gnome yet, here's a video:
To read the official Steemit 2017 Roadmap, go here:
https://steem.io/2017roadmap.pdf
By the way, I created this graphic using the free online software, piktochart.