I posted my own Steemit status last week, but let's see how the site is doing in general. I check the site stats using Hypestat and Alexa. I know those may not show the full picture, but I've found them good for showing trends. Steemit showed steady growth until the start of last month, but has been dropping back since then. It hit a peak Alexa rank of around 9000, but you can see it's falling again. It's still showing growth over the last 3 months (green figure), but the hump is very obvious now. US, India, UK and Germany are the top countries for visitors and views, but the best country rank is still Panama by a long way. Steemit is the 388th most popular site there for some reason.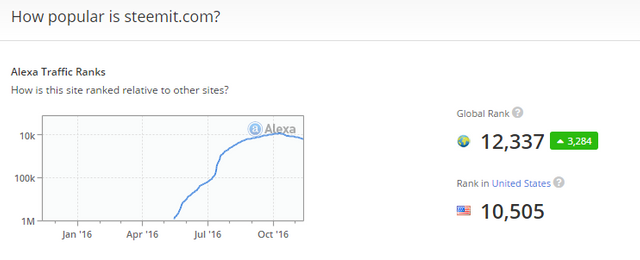 The Steem prices have stabilised a little lately. The Steem Dollar is worth almost exactly 1 US$, as it is supposed to be. We're getting some SBD for posts again. Steem picked up a little from the low of under 10c, but is currently just above that. It's not great for those who want to cash out, but I'm powering up all I get. I'm playing the long game. I only paid in a few dollars when I joined, but am well ahead overall. Most of my posts make at least a couple of cents with a few making some dollars. The top people can make more than my total earnings with one post, but I'm fairly happy with what I'm getting. It took me over a year to make $100 on Tsu and I'm well past that, even with the low Steem price.
It looks like Steemfest was a big success. You can find lots of positive posts about it. I just wish I could have been there to meet all those people, but perhaps I'll get to a future event. I don't know if any major announcements came out of it. We have seen recent sites updates such as profile pictures and there may be changes to the algorithms soon. I would hope at least some discussions there will lead to collaborations.
One of the attendees was @neilstrauss who has written an article about Steemit for Rolling Stone. This is the sort of mainstream coverage Steemit needs. I'm not sure if 'can xxxx make you rich?' headlines are the best way to sell it as the answer will be 'no' for most of us. We may make a few bucks that we wouldn't make elsewhere, but it won't be life changing for the majority. I want to see Steemit rewarding those who can create great content, be they writers, musicians, artists or photographers so they can concentrate on their art. The rest of use will make beer money by commenting, curating and blogging. The money we make can feed into a new economy of buying and selling goods and services for Steem. I want to bypass converting to Bitcoin.
I think Steemit is on a good path. I expect to see more new features in the next few months and I hope it will be ready to drop the beta label by the middle of 2017. If it can make the jump from thousands to millions of users then it will really take off and become a serious on-line player.