I have been keeping an eye on the web stats for Steemit almost since I joined over 3 years ago. It has peaked in the top 1000, but has been in decline for some time. It does look to me that the numbers I see on Hypestat are not telling the full story as several countries are not appearing any more including UK, Japan, Spain and Germany. These all had significant numbers of users.
I think that since I started looking it has been USA top, followed by Korea, but today they have swapped places. This is by number of visitors.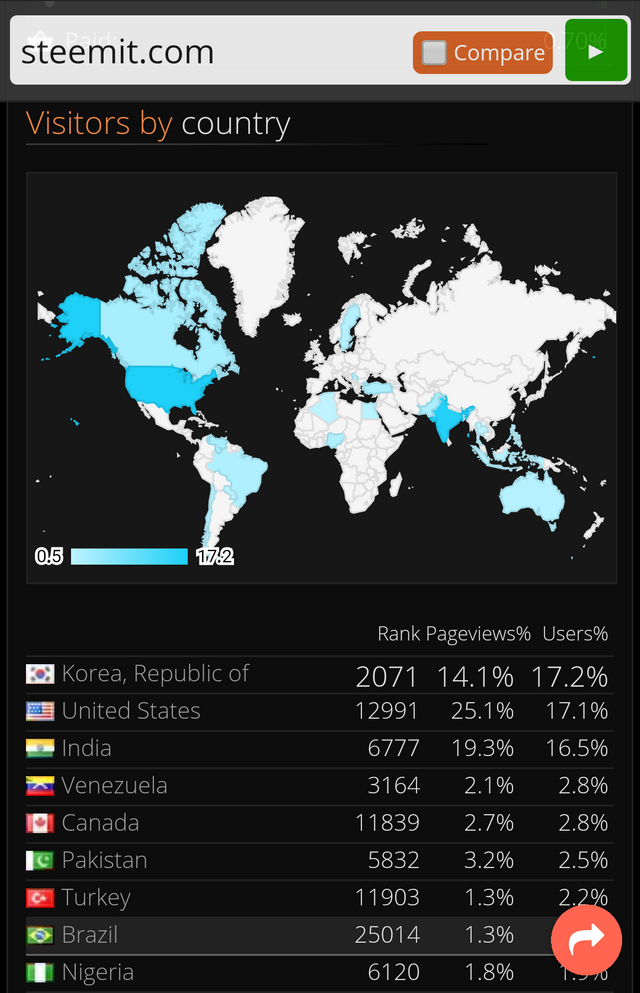 India is not far behind and could steal a place. Korea seems to have a dedicated userbase who also tend to move the most Steem on the exchanges. I do not actually see much content from there as a lot is in Korean. There do seem to be some accounts there who make a fair bit, but it can be hard to say if this counts as misuse through collaborative voting. I let others investigate that.
I have also been checking the numbers for Steempeak. Those only list a few countries with Myanmar top by far. I am suspicious of that too as I am sure other countries have significant visitor numbers. The site seems to get over a fifth of the visitors that Steemit gets. In the past it was rare to see any alternative site get over a tenth of the visitors. I still think we need better branding so it is clearer that all these sites are Built on Steem.
In other news I have had people accusing me of being part of some 'elite' who run Steem for their own benefit and are looking to drive others away. That is do untrue in my case. I desperately want it to grow and benefit more people around the world. Reducing the users would only depress the price further and devalue the effort I put in. Not that money is my priority. I promote Steem a lot and will create accounts for those who want them.
If I downvote it is to remove unearned rewards through bot misuse or stolen content. I do not do it in revenge. There are very rare cases where I get abuse in comments and will downvote to reduce their visibility. I always try to be civil, but it can be hard to read the intentions of people just through text comments. My intentions are always to do the best for Steem.
I have to say it is very gratifying when people say they appreciate what I do. They outnumber the haters and trolls.