I've had @slobberchops asking me to write about what it was like when the Steem price was really low. In early March 2017 it bottomed out at around 7c. It wasn't much better in the month before that. Just play around with the date ranges to see more.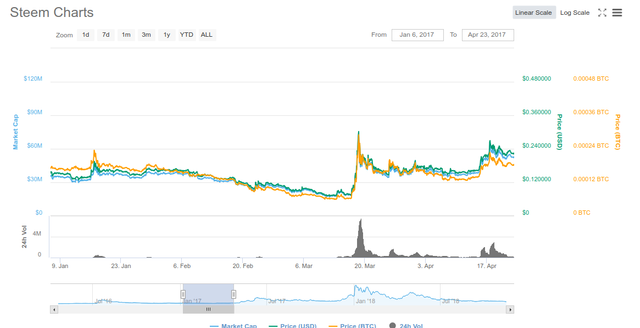 It all seems a long time ago as so much has happened since then. A year in social media is like ten in the real world. I was trying to find a post from around that time. The new eSteem search engine helped with that and I found this one. It seems my mood was pretty good. I never bought lots of Steem, so anything I make is really profit. If you work out my hourly rate then it's below minimum wage and would have been worse back then. I mostly do this social media stuff because I enjoy it.
That post got some reasonable rewards from big players. Note that they were giving 100% votes and you probably won't see that so much now. There would have been a lot less posts each day, so you had a better chance of getting a good amount of Steem.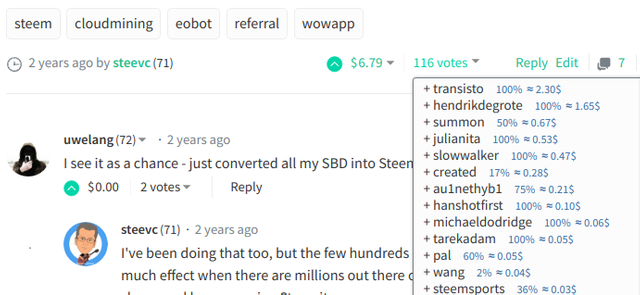 @uwelang is still very active. Others commenting included Let's Eat guy @eroche who I have met and @mindhunter who used to be the most active account until he was chased away by people who didn't think he deserved the rewards others gave him. We can't afford to lose good people.
I still didn't buy Steem when the price was low as I cannot justify spending the family money on something this risky. I know I've lost out from that, but I'm fairly happy with my progress. I've made enough to get to two Steemfests and buy a guitar.
I just found a Steem stats site called Accusta by @semasping via Steem Plus. This gives some cool graphs of income and you can see my Steem rewards really peaked when the price was low. The lighter graph is a 'count of rewards', whatever that means.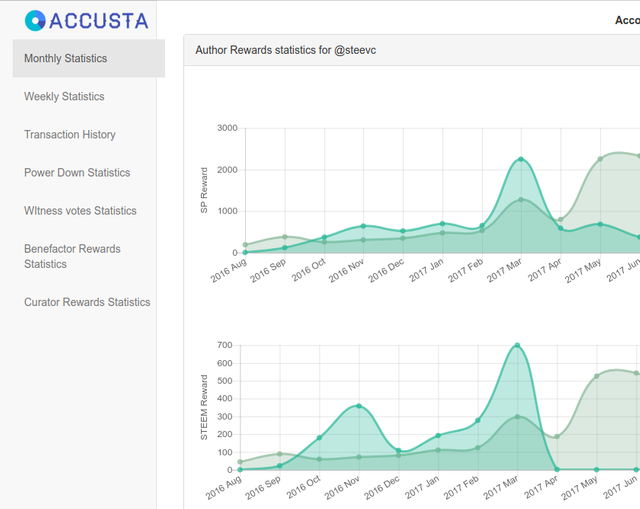 I have my own log of my progress that shows I was making up to 700 Steem a week around that time. That's far more than I could make now. My account is worth about ten times as much now, but growth is slow.
I guess someone could make a tool to give us a snapshot of how Steemit looked at various points in its history. I expect the number of posts dropped a lot at that time. We still see that now. @luzcypher was telling me about how the number of Open Mic entries track the price pretty well. For some people it's about the quick profit, but some of us are playing a long game. I wonder if this would be different if we still had the two year power down period. That encouraged you to hold your Steem, but obviously wasn't popular.
In my very humble opinion we need to be thinking more about 'what can I do for Steem' than 'how can I make a quick profit'. The real benefits will come in a few years if it really takes off. We got a glimpse of that at the start of this year when Steem was worth ten times what it is now. So 7c and $7 are both possible futures too. A high price won't just magically happen. There are far more cryptocurrencies competing for attention now. Steem has to really stand out as something special. It has technical advantages and a strong community. We need to build on those.
Does anyone else have some memories of the 'olden days'?
Steem on!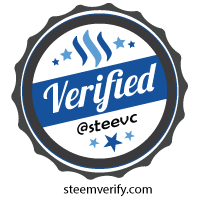 I'm Steve, the geeky guitarist.
Spam comments may be flagged. Beware of the Commentphant!