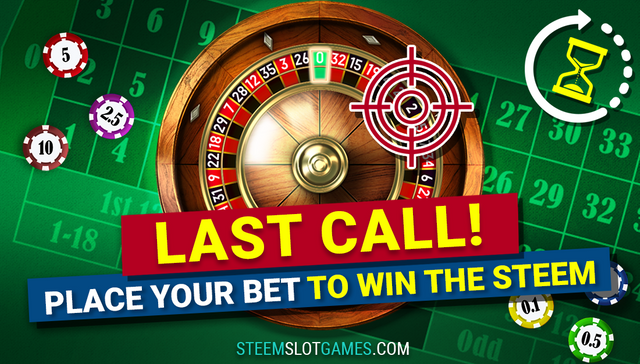 Players! Only 1 day left to take part in this round of the Roulette Shooter! We are waiting for your entries only until Sunday to 11:59am UTC!

💰10 STEEMs are waiting for the players who correctly pick the number from the Wheel! 💰

You want to test your luck?
So click on the link below and select your lucky number!
🏹 CLICK AND TAKE YOUR SHOT! 💸
The rules are simple 😉
👉 1. In the comment select your lucky number from 0 to 36.
👉 2. Resteem this post.
👉 3. Follow
@steemslotgames
profile.
💰💰💰
You sent your entry and need more emotion?
Spin the Wheel and try to get more STEEM! 🤠




SteemSlotGames.com is the first slot games platform based on the Steem Blockchain!
To provide our players the maximum level of security the login is possible through SteemConnect. Thanks to this all your keys are encrypted on your cookie file and they remains 100% private. You can learn more about safety and rules of the game in
"How to Play"
tab.