This creamy prawn curry is a delicacy eaten with traditional Jeera rice. Sometimes called Chingri Malaikari or Malai for short, this dish originated in northern India and is now eaten throughout Indian and around the world.
This recipe is made of shrimp or prawns cooked in thick coconut milk gravy with whole spices for a strong, flavorful dish. You will find Prawn Malaikari a part of the menu in many Bong (Bengali) parties in the US.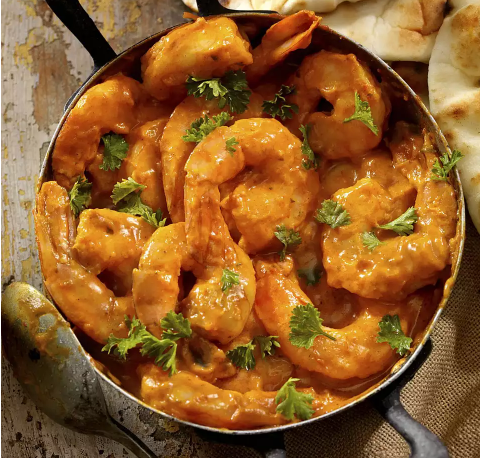 What You'll Need
2 pounds (1 kilogram) large ​prawns (Tiger prawns)
2 large onions
3 tomatoes
2 green chilies
2 tablespoons garlic paste
1 tablespoon ginger paste
1 tablespoon garam masala
2 teaspoons coriander powder
1 teaspoon cumin powder
2 cups coconut milk
3 tablespoons single cream
3 tablespoons vegetable cooking oil
Instructions
Grind the onions, tomatoes, and green chilies into a fine paste in a food processor.
Heat the oil in a pan and add the paste to it. Fry for a minute.
Add the ginger and garlic pastes and fry for another minute.
Add the spices and brown masala until the oil begins to separate from it.
Add the coconut milk and bring to a boil. Add salt to taste.
Add the prawns and cook for another 2 minutes only.
Turn off the fire and stir in the cream.
Garnish with coriander leaves and serve with Jeera Rice or plain boiled rice.