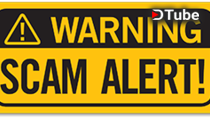 ---
Uncovering the largets phishing attack operating today. A Steemit clone called Steewit.com or Steelit.com are aiming to steal your keys so be carefull when you put in your passwords if the URL is correct. If you've been suddenly logged out of Steemit and have logged in again you might be at risk because that might have been the clone website. So be sure to quickly change your passwords and store them somewhere safe. I propose writing them down a couple of times and store them on paper instead of online because keeping them online is way too dangerous and susceptible to attacks.
My friend @enjoyinglife got hacked yesterday and lost 200+ SBD and 750 of his SP is delegated out to multiple accounts most likely operated by the "hacker" who owns the steemit clones. Watch his video about it here
SCAMMER and his other accounts:
OG scammer @good-kama -> notice the fishiness of his name
ALT accounts operated by the scammer: @omikunlejackson, @samriamelissa, @lalo78, @kilbride
The malicious user got control of many other accounts and through them spammed out comments with links leading to the steemit clones...
As Steemit grows and our accounts are worth more, this kind of attacks will be more often and sophisticated, harder to recognize so I propose a solution. We desperately need a solution and we need it now!
As a soultion I propose a tool that will help us spot the scams before entering our credentials to a scam clone website.
||| I will give 50 SBD to anyone that can make a bulletproof anti-phishing browser extension |||
It would need to check each steemit-based website we visit and see if it's the correct URL or is it a scam. If it's a scam the app would need to alert the user by an alarm sound and a big gif saying SCAM or something like that! It just needs to be very visible and obvious so no one can miss it.
The app also needs to be open source and the code needs to be checked out to prove it has no malicious code.
If you are willing to do it, please contact me on discord.
Stay safe peeps!
---
▶️ DTube
▶️ IPFS