@haejin 's olympic rewards unjustified? A look at the outcome of his predictions
Hello Steemiacs,
 the flagging war between @berniesanders and @haejin has been going on for a few weeks already – for too long for my taste. It's certainly hurting the community. And I don't want to take sides here. I upvoted some of bernie's posts and was skeptical of haejin's predictions. Personally, I find the exorbitant rewards, that @haejin has been getting, unfair, as well. However @berniesanders has gotten very high rewards for his rants, himself.

 The question I asked myself during all of this is: How much of a scammer is @haejin?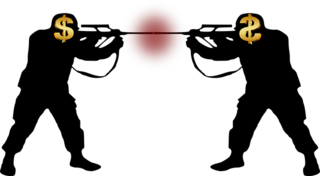 First, I took a look at his blog history. I could scroll down only as far as his posts from the end of November 2017 appeared, although he has been blogging since July 2017. (Why isn't there a proper blog history option on Steemit? How about throwing some investment into development of a feature like that instead of flagging left and right.)
 As far as I can tell, since there are no dates attached to steemit posts, @haejin has been relentlessly publishing a few posts per day already in November and was getting rather modest awards (somewhere in the 20-40$ / payout range). Then, all of a sudden, coinciding with the truly insane spike in SBD and later STEEM prices, his post rewards exploded about a month ago. Since then, he has been living the royal life on Steemit. 
 Are these high rewards, that are said to comprise 1% of the total rewards pool, in any manner justified? Has he deserved these payouts based on his previous work? To my sense, the high rewards would only be justified if @haejin made a large contribution to the wealth and well-being of the Steemit community; like a true king.
 The well-being of Steemit is certainly compromised right now, due to the rebellion that has arisen. However, we can take a look at whether @haejin has contributed to the propagation of the wealth of Steemians.
 In the second step, therefore, I made a crude analysis of @haejin's predictions of the prices of various altcoins that he speculated in his sequential end-of-November posts.
 Here is a table summary of 15 altcoins with their predicted BTC and USD prices in the near-to-middle term (left), their price peaks in the following 6 weeks (center) and their current prices as of January 18th (right).

 The analysis is a little tricky since we can look at either the BTC and USD prices, and the relationship between BTC and USD has a huge effect on the price development of alts. I decided to go with the benefit of the doubt and credit @haejin with a correct prediction if either the BTC or USD price were in the actually reached price range.
 Out of these 15 oracles, only the BTG (Bitcoin Gold) prediction was completely off, i.e. you might have lost in USD value if you had invested in it, depending on your entry.
 I am giving a yellow flag to five predictions (XVG, VIB, XLM, NXT, EMC2) since you would have sold too early if you would have sold at the predicted price. I set a cut-off at more than doubling of the actual price since the recommended exit. Well, this is less of a problem since you still would have multiplied your investment, and I haven't taken into account that @haejin has posted updates based on the price development in real-time.
 Nine predictions were in the correct range. Out of these, three have "only" hit their USD target value (XZC, MAID and ETC). For two (NXS and MUSIC), @haejin's prediction was scarily on spot.
 Of course, the caveat is, that in a raging bull market, eventually, almost all coins will have had their pump chance, and therefore, it might not surprise seeing the prices shooting up that much. 
 Still, I find @haejin's predictions impressively successful and his optimism during these days was certainly able to resist all the available FUD and help his followers grow their portfolio.
 I have looked at some of his longer-term predictions from a week ago and summarized them here: 

 I am surprised by the projected IOTA and TRX prices, since this would put them somewhere in front of Ethereum and Ripple's current marketcaps. This would require a growth of the total crypto marketcap to at least two Trillion USD and/or severe outcompeting of other crypto players by IOTA and TRX. But who knows, maybe this further, insane growth is where we are heading this year?
 All in all, I am impressed by @haejin's analyses. He is definitely not a scammer. Maybe, he has earned the high rewards. Maybe, there should be a limit on posts/day that are entitled to a payout (max. 3?). And perhaps, I should pay more attention to his current predictions when it comes to my trading decisions.
 Anyhow, I will not take part in any further destructive measures from either side and I hope the flagging war ends ASAP.


~~~ PEACE~~~

Yours, @replichara
Images
(1)
and
(4)
taken from Pixabay