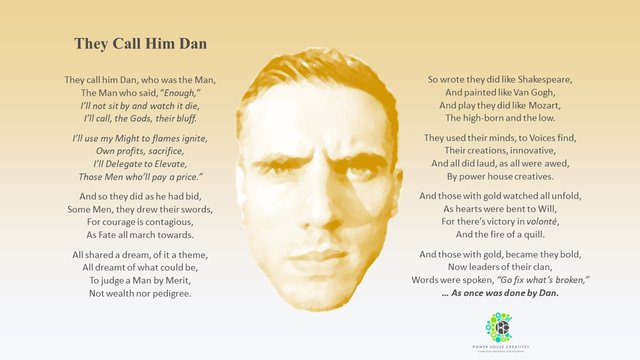 Poem by @QuillFire
Member, The Power House Creatives

They Call Him Dan
They call him Dan, who was the Man, 
The Man who said, "Enough," 
I'll not sit by and watch it die, 
I'll call, the Gods, their bluff.   
I'll use my Might to flames ignite, 
Own profits, sacrifice, 
I'll Delegate to Elevate, 
Those Men who'll pay a price."   
And so they did as he had bid, 
Some Men, they drew their swords, 
For courage is contagious, 
As Fate all march towards.  
All shared a dream, of it a theme, 
All dreamt of what could be,  
To judge a Man by Merit, 
Not wealth nor pedigree.  
So wrote they did like Shakespeare,
And painted like Van Gogh,
And play they did like Mozart,
The high-born and the low.
They used their minds, to Voices find,
Their creations, innovative,
And all did laud, as all were awed,
By power house creatives.
And those with gold watched all unfold,
As hearts were bent to Will,
For there's victory in volonté,
And the fire of a quill.
And those with gold, became they bold,
Now leaders of their clan,
Words were spoken, "Go fix what's broken,"
… As once was done by Dan.

Don't miss the BONUS at the end of this post.
Day 7
It is Day 7, the last day of The Great @theycallmedan 20,000 STEEM Delegation Contest. The hounding and haranguing, the coercing and cajoling and the endless resteeming and retweeting ... will come to an end in a matter of hours. A Victor will be declared and we will all go on with our lives.
Having been an active participant in the process, however, for me something will have changed. You cannot fight for a thing without it effecting who and what you are. For it is that for which you are willing to Stand ... and to Fall ... that defines you. Such things become First Principles, axioms by which you live your life.
For the Power House Creatives, we fought not just to win a 20,000 STEEM Delegation for a year, but more importantly for the soul of an ideal: That Merit shall trump Manipulation and that earned salutation shall not be weighed the same as its purchase.
The world is awash with empty rhetoric and high-minded platitudes and it's easy to be ethical when you're on top. But when it looks like the price for your ethos will be defeat, yet again, you are forced to dig deep to find the courage of your convictions. My brethren in Power House Creatives did and I could not be more ferociously proud.
When you're part of a group, you effect it and it effects you. Upon joining PHC many months ago, I started using the language of my youth. I started referring to @jaynie as our Commander-In-Chief and @zord189 as our Second-In-Command. These are military terms that reflect the fact that I was a soldier long before I was a poet.
My intent was not to turn PHC into a militant group, but rather to instill a Military Code of Honor amongst civilians. Central to such tenets is the idea that "Even in War, there must be Rules", and that such Rules must govern your manner of comportment. No lying, cheating or stealing. You earn it the hard way, or not at all.
Most of the Power House Creatives' members are not ex-soldiers and, undoubtedly, few look to Napoleon for either insight or inspiration. And yet, to a man and a woman, each comported themselves in a manner befitting the finest of soldiers, intuiting perhaps, that to achieve an Honorable Victory, one must be willing to risk an Honorable Defeat.
Steemit is but a microcosm of the world, and PHC but a microcosm of Steemit. Choices are made and consequences result. I would ask all Steemians to reflect upon the values you have seen demonstrated in this Contest and consider whether, you too, ought to make them your own. Let us build a blockchain of which we can all be proud.
Day 6's Best Stanza Winner
Yesterday, on Day 6, I awarded the win to @joeylim. Joey, by the way, is a ... beautiful woman (guess who stepped in it) ... hereinafter to be referred to as, "The Gal of Lore from Singapore."
Today's Best Stanza Winner is again "Winners," as yet again, I was unable to choose: Congratulations @blockurator and @allyinspirit.
I am inclined to say, Ladies First and introduce @allyinspirit, whose name is Alison, but I'm still smarting from calling Joey a guy. (Plus, there's still some question about Block despite him/her looking exactly like Fidel Castro.) So, by alphabetical order, here's Ally's entry:
@allyinspirit
So eloquent is he:
Who brought Dan to his knee.
Was that Shakespeare he heard?
Or the Tweet of a Bird.
That opened his heart:
To the arts.
And, of course, the entry from PHC's own Great Bard(ess), Block:
@blockurator
A tit for tat and this for that,
Let no vote be bought or sold;
To die is gain, to win is pain:
A proverb from days of old.
Block, for that, I think Shakespeare may forgive you for creating, "FarmPunk," as a genre.
20,000 STEEM Delegation Contest 
If you haven't dPoll voted yet, please do. The directions are directly below and it's quick and easy. 
To win, we will NEED every possible vote, including yours. Although we are second-to-none in the quality of our content, we are massively outnumbered in the quantity of our members (nevertheless, so far ... we are in First Place). We count upon ALL those who share our ethos, that: Content Shall Be Compensated Commensurate With Its Quality to support us, so that we can lead the charge to transform the blockchain into something everyone can be proud of. 
***
Lastly ... don't forget to go back and cry over my first Contest poem, Victory's Price. And ... did you remember to upvote yesterday's Winner of the Best Stanza? If not, please click on Yesterday's Contest Post and give them some love.
BONUS
In writing this post, it occurred to me, "Poor Dan, he's missing out on all the fun. No singing or dancing, no poetic compositions nor even the opportunity to spend 18 hours straight staring cross-eyes at a computer screen. Plus, the poor bugger is going to lose the income on 20,000 STEEM for a year, on top of the 19,000 STEEM he's providing to the losing teams ... on top of the 10,000 STEEM from the first contest! Ouch."
"Poor" Poor Bugger.
Being a problem solver, I came up with a way for him to resolve both problems at once ... to "be involved" and make back some dough. Dan, Who was "The Man" ... shall be "The Man" once more!
Now that the poem, "They Call Him Dan," is complete, Dan will recite it on video, post it on DTube and every Member of the Power House Creatives will upvote it at 100%, no matter how badly he screws it up.
Of course, I would invite ALL Steemians, and especially the other Participants in the 20,000 STEEM Delegation Contest, to do likewise.
Now, it may be that Dan is reluctant to steal the spotlight from the Contest Participants upon whom he has sought to shine it. And so ... I think we should insist. Commencing now, I would request that at the end of all posts, comments and replies, everyone start adding the following:
Surely, this is the least we all can do to express our gratitude to Dan for his generosity.
Quill

How To Vote
Click this Link 
When asked, Login to steemconnect
Select "steemitbloggers"