So it's been half a year since joining (well, 3 days shy but close enough). A perfect opportunity to write up a summary of my experiences here and chart out my development. To begin, I want to show my mindset when I came here to shed the most light on my growth.
Heading into February, I was more convinced than ever that the whole crypto thing was a scam. I was about as ignorant as one could be regarding blockchains and Bitcoin. In fact, I was only aware of Bitcoin and Ethereum. I thought Ethereum was a cool name though.
I mean, who would spend real money on some fake internet numbers and believe they had some kind of value, ya know? The massive pump and dump over the winter had further solidified my belief this was a huge scam. But it also intrigued my interest, as I am drawn to why people do what they do. So I began watching videos in late January on the crypto markets. Studying everything i could, I stumbled across day trading videos, the usual con artist crap one would expect. But then I saw it.
Steemit videos. First, there was the woman whose first post here made her 545.75. Then the Jerry Banfield and his student Joe Parys, showing again and again how hundreds and thousands could be had just from writing. Suddenly I saw a practical application for blockchain and crypto. One that a normal person could have. It helped that I had made a living off of self publishing for a few years (still getting residuals from it). I began poking around Steemit, and what I saw further encouraged me. There was some really low effort crap making hundreds on the trending tab. I was quickly consumed with enthusiasm, as I knew if these low effort posts could make that much money, I was going to be rich. And quick. Thank you Jerry, you are my guru. Or so I thought, hahaha.
My introduction post was a far cry from the woman I mentioned above. It did a whopping 1.74. To say I was disappointed would be an understatement. Little did I know that was actually really good for an introduction post coming here knowing no one. My second post left me absolutely bewildered as I entered a contest that Jerry was running. I mean, I almost felt like I knew the guy after spending dozens of hours watching his videos. Something was wrong, terribly wrong here. He didn't even vote my post, nor comment. That post made a whopping .07. Being the stubborn guy I am though, I plodded ahead with 8-9 more posts thinking maybe the next one would suddenly give me these huge payouts I saw people getting. I mean, I was pouring my heart into them and many of the high paying posts were absolute shit. Of that next string of posts, half of them didn't even earn .01. WTF is dis shit!!!!!!!
So I kept studying Jerry and that's when I saw my problem. I needed to use vote bots. I stumbled across his videos and his protege Joe showing how they got you visibility and you made a small profit on the investment. But I would gain lots of followers and grow grow grow. So now I had to bite the bullet and get involved with the exchanges and buy some of those scam coins like Bitcoin/Ethereum etc to get to Steem to transfer here to pay the bots for their service of gaining me a large following. So I spent time studying the best route (yes, I like studying) and bought a little Litecoin due to it being cheaper to move and got me a little (very little) Steem. Excited to have found the problem, I quickly wrote the post of posts and invested in the bots that were going to make me an important person here. VIP, here I come.
I was quite confused when the next string of 5 or 6 posts I used the bots on did poorly, not even returning my investment back to me. To add insult to injury, the bots were mostly the only eyes that even saw my posts, although I did get a few votes spread among them from others with worthless votes to give. They evidently were not impressed enough to leave any comments though.
Had Jerry been lying to me?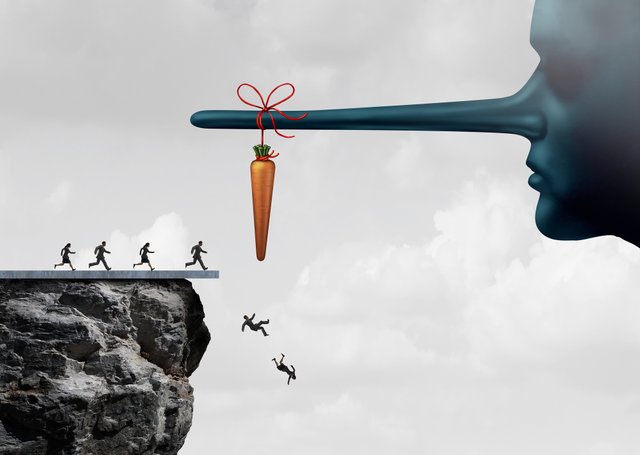 Screw this, I thought to myself. I decided I was going to power down and get my money out of this scam. Plus, I had been doing a little position trading by now and could throw the money in something that wasn't a scam. So while I began the long drawn out process of pulling out the little I had invested, I spent more time reading others posts and commenting. Finding some really interesting people, I saw many great comments in the posts and began talking with these people. Uncovering a side to Steemit that isn't noticeable on the surface where people are paying for visibility.
I had found people who get their writing shadow banned or outright banned on other social media. The types of posts Fakebook would hide from me. But I found something even better than that. I found people who care.
Not necessarily about me as they didn't or don't really know me. But I watched as one person was helped buy his medication. I discovered the familyprotection group, and watched incredulous as they helped some of the families in peril be able to afford things many of us take for granted, like food and paying the lights. While watching all of this the cynical wall I had built up over the years melted. Well, a lot of it anyway. It inspired me to watch people doing what people should be doing.
This woke me up, made me take another look at what Steemit can be. Slowly I dipped my toes into joining. I mean, helping others by something as simple as upvoting. Sure, at this stage its small, but pennies add up to dollars over time. And the more I kept looking and connecting, the more people I found who CARE, whose actions match their words.
I have made several connections here since that turnaround in my vision. Found many heroes, many of whom I am probably just a small blip on their radar. And maybe always will be. And that is ok, the only regret being that I will probably be unable to be a gift to them as they are to me. I am grateful for many of you (not going to namedrop here), grateful for being inspired to be a better man.
Now for the numbers:
73 posts

1703 comments

Given 2778 votes

Received 3034 votes. Until recently this was flipped the other way. I was convinced the only way to have more votes than given was using vote bots. This flip occurred thanks to @fulltimegeek deciding to curate my posts. I am not sure how long it will last, but am grateful to you FTG for your support as it is helping propel me quicker to reaching Minnow status. You are one of the heroes I mentioned, and that was well before you decided to curate my posts. Thank you for showing life is more than about squeezing as much money from it as possible.

Bought 153.561 Steem

Spent 61 Steem on Delegation so I could give more votes, votes that are beyond the dust threshold.

Donated 52 SBD to the @familyprotection community.

My SP currently sits at 255.807. I am halfway to Minnow status.
I believe the math above speaks to the awesomeness of Steem(it) and what is possible here. Without a doubt it is clear that the longer I am here, the more I invest in US the quicker my growth accelerates. Thank you to so many of you (to numerous to list) for showing me there are others who dream and act on those dreams, for thawing out my heart. I look forward to sharing my 1 year observations/facts in another 6 months. In closing, will say this. Even if Steem were to somehow fail, or fall to negligible value I will still have come away from my time here with something much more valuable than money. May all of you who are blessings in others lives find such blessings placed in your own paths.