EOBOT V2 (The fake Site or Scam Site)
Have you heard about www.eobot.com? It is a genuine website used for crypto mining. You can purchase cloud mining services or you can mine with your personal device (laptop, ASIC and other mining device) using the website mining configuration tools. If you are interested in putting your personal device to good use or interested in cloud mining for few extra bucks, you can check it out.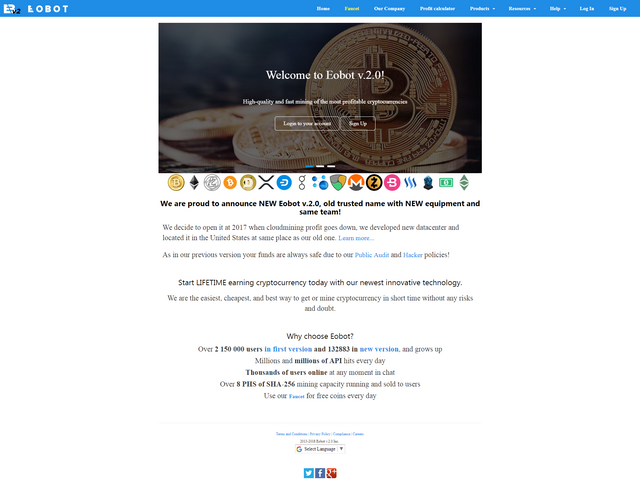 Now what i want to talk about is the fake EOBOT site that came up https://eobotv2.cc. It is shown in the above picture. This is a carbon copy of the original and they also pose as the original to decieve unsuspecting customers. Before i go into details on how i know they are fake, let me share some of their statements with you.
We are proud to announce NEW Eobot v.2.0!
OLD TRUSTED NAME WITH NEW EQUIPMENT AND SAME TEAM!
When the original team was contacted about this statement they denied any knowledge about the site and said it is a scam site.
Other statements the fake site made
We decide to open it at 2017 when cloudmining profit goes down, we developed new datacenter and located it in the United States at same place as our old one. Due to the our new cloudmining equipment we have multiple cloudmining profit in many times.
As in our previous version your funds are always safe due to our Public Audit and Hacker policies!
We are the easiest, cheapest, and best way to get or mine cryptocurrency.
Start LIFETIME earning cryptocurrency today with our newest innovative technology.
Lifetime profit

Because of our profit distribution, we are able to compound returns and reinvest that money into new mining equipment, our investors continue to hold ownership in those new mines and thereby see continued returns for years.
No matter which one of cryptocurrency you choose to mining, you are renting the newest innovative technology, which guarantees lifetime maximum profit.
Free Cloud Mining

Investment is not necessary to earn cryptocurrency. Start with 10 GHs for free!
Now this last part is where my concern is. I registered with them and i mined dogecoin for free as indicated from their site. Surprisingly i got to the threshold which isn't possible on scam sites. At first i felt maybe they had to lie just to get customers and prove how genuine they are. Oh how wrong i was when i tried withdrawing the dogecoin i mined. It was on pending so i decieded to check back in two days time which is today and to my surprise my account i had with them was deleted.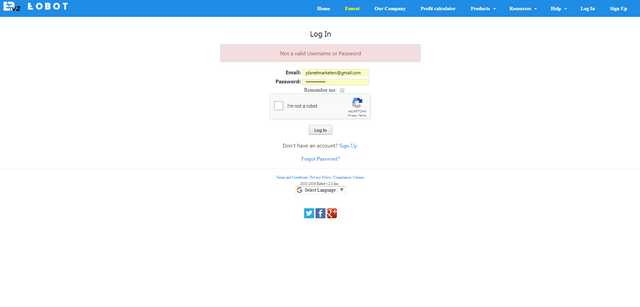 The screenshot above showed what i saw as i tried to login to check if the dogecoin is still pending.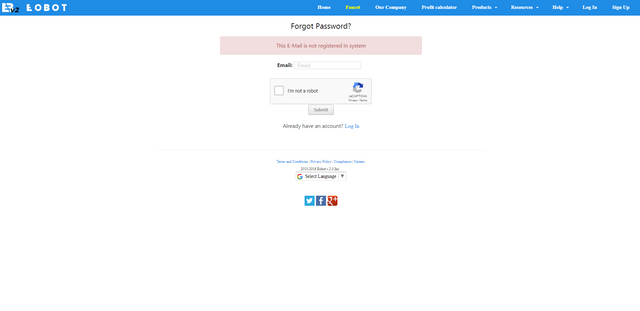 The above screenshot show what i saw when i was trying to recover my password believing I was wrong about my password but to my surprise i saw I have no account with them. which means they clearly deleted my account because they don't want to pay what they promised and they expect me to register again and invest. How possible will that be?
Well, avoid it like a plague.