I joined the dark side: selling and buying votes
Lately, one of the most discussed topics on steemit are voting bots and services. I was and I'm still no fan of the concept but I decided to give it a try and see what the fuss is about.
Selling votes: smartsteem
I've seen several names of voting services pass by and checked some out and I decided to give smartsteem a try. I chose for their voting service because it doesn't require me to delegate my limited amount of SP, can be enabled and disabled on the fly and gives me the possibility to mix it with manual curation.
The concept is simple. The service votes for you when your voting power reaches a certain threshold. A nice extra is the possibility to only upvote content of 'verified' users who produce quality content. It won't make me rich but it gives me the possibility to help out content creators and earn a little during periods I don't have as much time to spend time on steemit.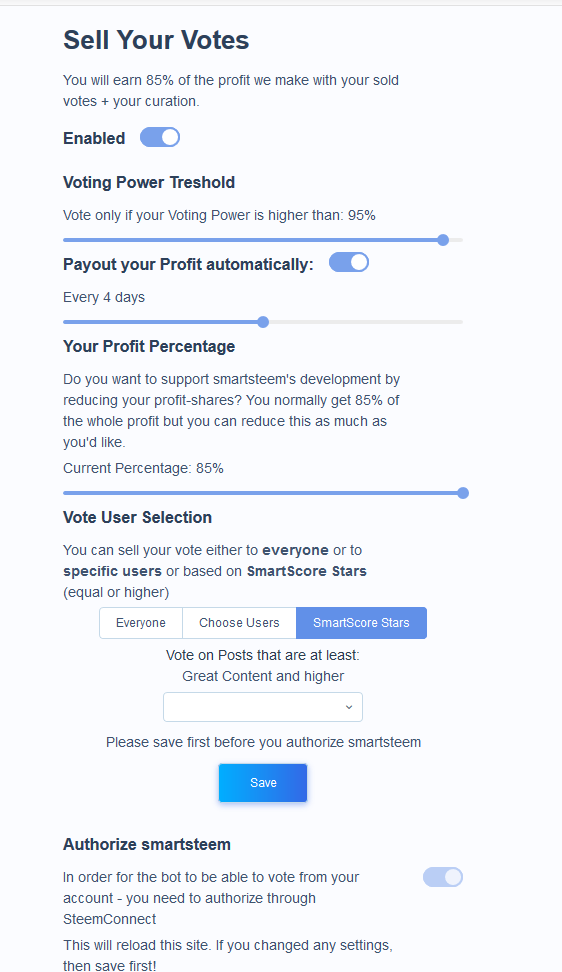 Buying votes
The main purpose of buying votes is post promotion. When your posts get a lot of upvotes they make the hot or trending list and give you visibility and attention. This system gives a disadvantage to accounts who joined steemit recently and who see how low quality content makes the trending and hot list because of a powerful self votes while the content they work hard on doesn't get visibility. Buying votes cancels this disadvantage and gives everyone a fair shot of making it in the trending list.
First impression
After a couple of days I still got a mixed feeling of voting services.
What I find positive is the fact that I support quality content creators. I checked the posts that smartsteem voted on with my account and in general I see good content. One of the examples is a vote for
@narchuk
, one of my favourite bloggers on steemit. I upvoted most of his beautiful underwater pictures manually and now smartsteem did the same when I wasn't online.

The downside is that I spend less time on steemit reading blogs and checking pictures. When I joined steemit I mostly did it to make some free crypto's but I started enjoying it. I read a lot of interesting posts in my niche diving and I browsed through the posts daily to spend my voting power and help out good content writers. Since I use smartsteem I don't check out steemit as regular because I know my steempower isn't just sitting there at 100% and that's my big concern about these voting services. Users don't read posts, engage and upvote when they find a post truly good. Bots do the work and you start to see posts with 40 votes and only 10 views. I don't think that's in the spirit of the steem social media blockchain and is a bad trend.
Conclusion
I won't stop using smartsteem because I find it a useful tool for post promotion within the current version of the steem blockchain but I believe it will damage the platform in the long term. I hope the developers behind steem can find a better way in a future update of steem to even the playing field so everyone can make it to the 'hot' and 'trending' pages and block bots at the same time. The current 'promoted' function just doesn't work because these posts are listed separately.
What do you guys think? I'm looking forward to see some comments and start a discussion!
Feel free to use my referral link if you want to give smartsteem a try 😊 Smartsteem