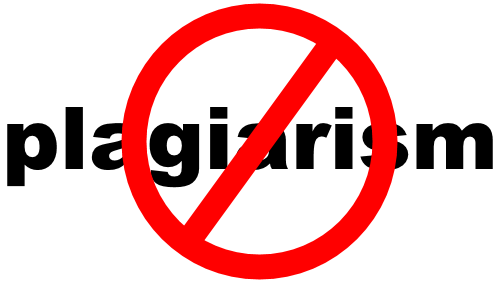 Plagiarism is not acceptable on Steemit. It's one thing to say "I made this" somewhere else, where there aren't posting rewards. It's still not cool, but nobody's necessarily benefiting from it besides a hollow boost to the ego. On Steemit, plagiarizing defrauds Steem stakeholders (that's you and me) and steals away post rewards from legitimate people.
Unclear on what plagiarism is?
plagiarize from Merriam-Webster dictionary
plagiarism on dictionary.com
A Plagiarizer
Let's take a look at someone who's been sneakily plagiarizing on Steemit for a long time, @jpiper20. Jay Piper introduced himself as a graphic designer and says he completed a Bachelor's Degree of Fine Arts in Graphic Design in November 2015 and was a dean's list student. He has posted some plagiarized works of art that he claims as his own going back as far as his third post on July 13th. Note: most of the design and art in that post is likely his own, however this image is not:
It comes from a YouTube video, an Illustrator tutorial by Ioana Șopov:
Later @jpiper20 posted the picture in its own post, putting a different space photo behind it. He also claims it as his own on his website.
Edit: In his comment below Jay says "The monkey illustration is mine. If you watch the tutorial it is a how to and I followed the instructions and drew the entire thing from scratch."
I think that's fair to claim that you drew it, but it is essentially a copy of the original. Mentioning that would have made it not plagiarism.
A History of Theft
Fast-forward to today. @jpiper20 posts "Newest Illustration - Gorillabong" and someone noticed it came from this artist: eggzoo (Instagram). As you can tell from the title and comments (see my comment there if they are edited), he clearly took credit for this artwork. Once called out, he downvoted the comment with the link to the source and promptly edited the post to credit eggzoo. After being asked by @anyx why the comment was downvoted he replied "The artist's name is in the post" as if it was always there. You can't hide and lying doesn't help.
So I and others looked into more of Jay's posts to see if there was more art plagiarism. Thanks to some collaborative help we found the Spacechimp's source. I then found more:
My Painting For National Elephant Appreciation Day!
5 days ago
Source: Elephant - The Art of Steven Schuman
Artist: Steven Schuman
---
Trippy Tribute Painting
6 days ago
Again taken from Steve Schuman.
---
A Style Of Painting You Have Never Seen..
Originally titled: "A Collection Of My Acrylic Dog Paintings" (look at the permlink URL)
All taken from Steven Schuman, again!
Looking at his screenshot from Facebook, he may have passed it off as his own to someone he knows. Edit: Jay has said this is his work (see comments) and I believe him.
---
World Lion Day Is Today So I Painted One, Do You Have The Spirit Of A Lion?
2 months ago
Stolen again from Steve Schuman
Jay Piper is not a full-time plagiarist
I need to mention that Jay Piper is not a full-time plagiarist, though his plagiarism of art calls into question most of the art he's posted here. He seems capable of illustration and I think he's posted legitimate works of his own. He also shares himself singing and playing guitar on YouTube. If you see his first upload to that account he gives a shoutout to Steemit. But...
Dishonesty
What bothered me enough to create this post is the dishonesty about plagiarizing, downvoting the comment that called it out, and then lying about giving credit to the author of the gorilla design, eggzoo. That is shady behavior.
Edit: Apology
Plagiarism on Steemit is Fraud
Because of Steemit's unique rewards for posts, posting plagiarized work is defrauding Steem, and all those with stake in it. That means anyone with a Steem(it) account. Furthermore any upvotes on plagiarized work takes away rewards from legitimate posters because Steem only has a limited amount of rewards it can give. Therefore it's important to out plagiarism and do what's possible to remove rewards going to plagiarized works.
With not much support for initiatives like SteamCleaners, it's hard to incentivize fighting of plagiarism and other abuse on Steemit. I hope readers will understand that there are consequences for giving Steemit rewards to abusers, and be willing to do something about it.
@steemcleaners' most recent post addresses plagiarism on Steemit with a guide, please give it a read: @steemcleaners - Plagiarism Guide
---
I spend more time on Steem, Steemit.chat and Steemit than my own stake accounts for, often looking into issues like this. If you believe I'm spending my time wisely I would appreciate your witness approval vote. If you'd like to know more about what that means, see my guide here: A Full Steemit User's Guide to Steem Witnesses. Thank you.