Analysis of New Steemit Users July '17 – Steemit Business Intelligence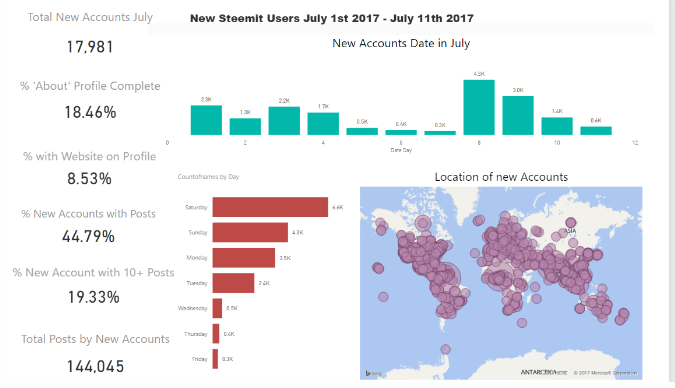 On the 11 July I had my first look at the SteemitSQL database using Power BI and I prepared the report below.  This report analysed New Steemit Accounts from the 1st to the 11th July. ( you can read the blog post here )
I have decided that this report should from part of my regular Steemit Business Intelligence reports as there are some key metrics here that are important to the success of Steemit as a whole.  This report might change from month to month as I understand the database better and can provide more insights.
So what's the story with New Steemit Users for July '17?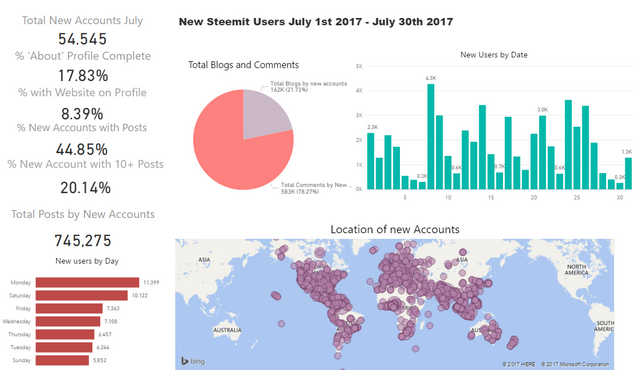 In total 54,545 new accounts were registered and approved on Steemit.
Of this only 18% have completed their 'About' profile and 8.4% have added a website.  This is consistent with the report completed on the 11th.
 Why are these two metrics important? 
Well first of all if you are an established blogger trying to get reach, then you know that your profile information is important.  It is a tool that will help you sell yourself to a new audience and help you get found.  Not completing this section would suggest to me
a) The new user is not experienced in Social media/content marketing
b) The new user is only exploring the site and does not want to give details
c) New users don't know how to update their profile
By adding a website to your profile will allow Steemit users see your other work, if you have any.  Like with adding profile details, an experienced blogger or social media marketer would know this is an important field to complete.
And on Steemit, by adding an external website to your profile you are securing a back-link from Steemit.com which has a rather high domain authority.  A key ingredient for good SEO.  Again something experienced bloggers, content or social media marketers would know.
An increase in these values would suggest more experienced bloggers are coming to Steemit.
Other Stats on New Steemit Users for July
45% of new accounts have made a post or a comment. This is consistent with the earlier report.  However 55% of accounts have not made a post or comment.   This is a metric we should keep an eye on.  Ideally we would like to see 55%+ with posts or comments
Also marginally higher is the number of new accounts that contains 10 or more posts/comments.
What has changed is that for the month in Total Mondays had the highest total registrations in the month. Please keep in mind July 17 has 5 Mondays and Sundays.
The day with the highest number of new accounts is the 8th July (which was a Saturday).
In my previous analysis there was a comment made about finding out how many new users are commenting or blogging.  In total there were 745K posts made my new steemit users in July.  Of this 21.7% are blog posts and 78.3 % are comments.
I have added a new worksheet to the dashboard with two new tables. These tables show the % of new accounts that have not voted since the date shown, or not posted since the date shown.  These tables give an indication of drop off rates.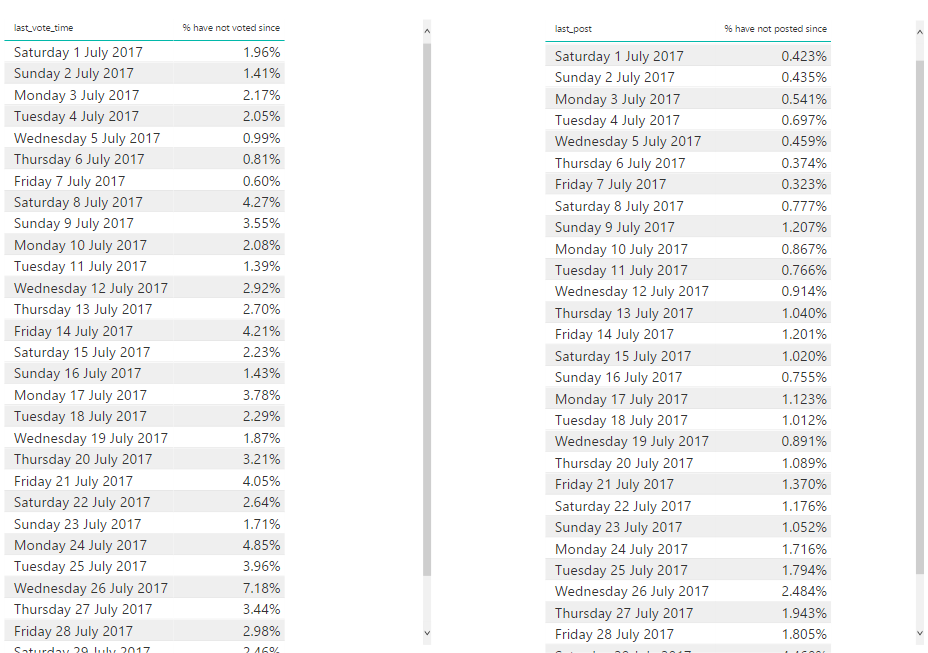 Did you like this analysis?  Is there something else about new users you would like me to include in next month's report?  Have you any questions on any of the above?
If so then comment below.
Steem On Everyone – I am really enjoying carrying out these analysis….follow me for more!!!
I have included the tag steem-dev as a comment on a recent post said my analysis and business intelligence would be useful for developers - please comment below if you feel I should not share in this tag as I do not want to abuse tags
I use PowerBI to produce these dashboards - PowerBI  desktop is a free self service business intelligence tool. You can download it from here.  Then if you want a copy of any of these dashboards we can swap for some steem!
I also have course -Power BI the Ultimate Orientation - You can access it FREE from here