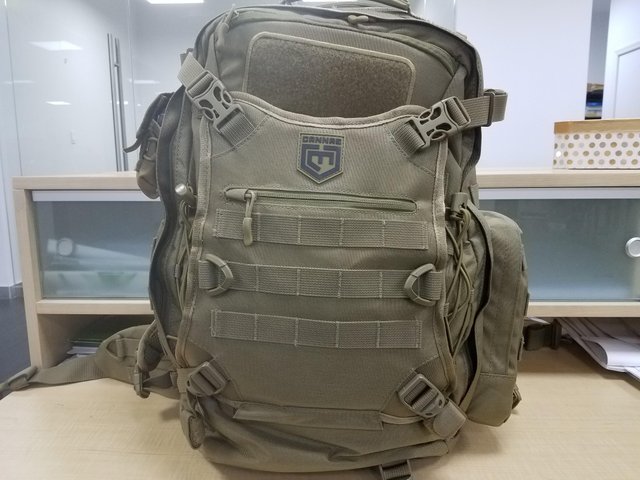 Hey STEEMIT community. Not Ur Average Guy here and back on my weekly work grind in NYC. Unfortunately, I wasn't able to make a video yesterday due to a visit from family and constant fire alarms over town that had me going back and forth all day. Hopefully tonight, I'll get a chance to make something if it stays nice and calm.
Well, it definitely looks horrible out in NYC today with the remaining snow and ice from last week's winter storm. Of course I was late due to the piles of snow taking up some prime parking real estate at the train station making me search for a spot and thus missing the train. At least there was another one coming and these 1.25 hour trips give me enough time to catch up on some YouTube alt news from some of my favorite channels like @x22report @sgtreport and @themoneygps that are all here on STEEMIT.
Everyday I carry a "Get Home Bag" with me to work so that in case of an SHTF event, I will have the tools and resources I need to get myself home on foot, if necessary, which is about 41.5 miles away and would take almost 14 hours if I did not stop to rest (according to Google Maps).
I believe it is extremely important to have a great quality pack for a task such as the one I mentioned. For almost a year, I had a cheap molle webbed bag I picked up on eBay and experienced back pain after carrying it every single day. The material was weak and the items in the bag were loose and unsecure. Walking 41 miles with that bag wouldve been absolute torture.
The image I posted is of my new Cannae Pro Gear Phalanx (full size) pack. It looks much larger in pictures but it actually a decent size and all of the items I carry fit securely into the bag with no loose or sloshy feeling. Although it is slightly heavier (only because I added a few things) it FEELS much lighter than the old bag. That's most like due to the rigidness of the bag and the quality of the materials and support padding.
I'm not really going to go over the contents of the bag here, but now I know of another video I can make. I know some people with think it's foolish to carry the items everyday, but I strongly believe in having something even though I won't need it instead of needing something and not having it. If you watch some videos of lower Manhattan from 9/11/01, you'll understand why.
Have a great remainder of the day and I will definitely try to get that video made tonight.