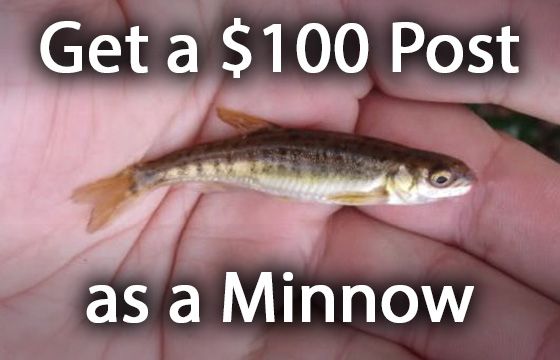 Success! It's what we all crave. After my exciting 100 Post a Month challenge to myself it only took 8 days of posting to achieve an incredible goal of $100+ on a Single Post.
I'm super excited to give my experience and advice on how you can do this on your very own minnow account, to the best of my teaching ability!
Here's 10 Tips to Follow that I Did:
1. Don't be Reluctant to Plug your Article
Leave a thoughtful comment on a similar post that you actually read, and relate it to your post. I guarantee if you put a little effort people will like our contribution and not consider it spam. You can also earn rewards for commenting, in case you didn't know.
2. Write Long Posts when You have a Lot to Talk About
Maybe it was an autovote-bot (programming to vote up long articles) or a nice whale who read it, but my first $100 post was one of my longest; at 1,300 words. Despite the short attention spans these days, it's very much appreciated to be thorough. Better to have more than you need than less than is adequate.
3. Promote It: Free or Paid
I can't tell you how you got here, but many new users must be bitcoiners coming in. Transfer some of that bitcoin into SBD (Steem Dollars) and find one of the people that Promotes Steemit Posts for just a few dollars. It will definitely help jumpstart you if you have the funds to do it! There's also excellent ways to promote for free on other platforms like Reddit and on Steemit Chat.
4. Make sure to Introduce yourself!
New users on steemit should do everything they can to build their brand; and one great way is also well respected: Use the introduceyourself tag and tell a simple story of why you're on here, and if you like, your personal background or life story. Tell as much or as little as you want, but I'd recommend giving some substance people can chew on and appreciate.
5. Respect the Rep!
That little number by your username that everyone has, yeah that usually corresponds to the level of influence a user has on this site. I can remember just days ago when mine was 47 and now I'm at a cool 51 and still growing steady. Keep this in mind when you're deciding who to interact with and the behavior of users on here; this will show you how to make it big if you follow the model of those that have already achieved success!
6. Be Creative and Original
No one wants the same old tired information. Checkout this post, First Ever Recorded Live Child Birth On Steemit in 16 hours it's rewards are $175 with a post of a video and mostly images; they are being rewarded for being original, fascinating and entertaining.
7. Don't be discouraged by low returning posts
The post I mentioned about that made nearly $200, that user right now only has 257 followers who sometimes only made $2 per post, but also sometimes $10, $20 or $30. Rewards are not consistent. We can't predict what will be a success, but if you keep persevering and producing, you're just the more likely to be rewarded.
8. The Headline is Incredibly Important
Not only does your post need to be original, make sure to exemplify this fact in your headline. Frame things in a way that engage or trigger the mind to react like "wow, I have to read about that". Each time you pick a cool story also give as much thought to a good unique headline.
Here's Some of my Headlines that 'Failed':
10 Signs You're Dehydrated - $0.22
I spent a lot of effor ton this article so it was disappointing to say the least. I think my title was too generic, as any random health site could discuss the same issue. It's also an unappealing topic. I later changed the title to "10 Less Mentioned Signs of Dehydration" because it is at least more descriptive that my list is not common items. I got an excellent comment that I can no longer seem to find...basically recommended for this kind of unappealing topic to be correlated to a recent event, such as a marathon, or major news story about dehydration. Think about this tip when you're passionate to write about something that may still seem a little boring.
Out of Control Eating: Food is Too Convenient - $0.09
Since our steemit audience here is a lot of conscious Americans, I guess everyone is already familiar with this problem. Also because it was posted at 2AM could have dinged me.
STEEM Dollars up 1,200%?! - $0.00
Oh, what was I thinking. I was greedy making this short ridiculous post. I tried to jump on the bandwagon of a price anomaly that sounds bullish on Steem but really just a waste of people's time. Sorry for this one guys.
Here's some of my Headlines that Succeeded:
The Problem with Bitcoin ATMs - Use Case: Trying to Get Dash Locally - $2.39
2 Bucks is 2 Bucks, but really...this was only my 3rd post and I was super excited to get some rewards for it. Having no influence whatsoever way back then I was elated. I was speaking to an audience very receptive to cryptocurrency and giving my own personal experience that my slight expertise warranted.
5 Websites that Steemit will Overtake in Popularity by the End of 2017 - $10.97
This was my first major success. After I wrote this I reached out to my friend @bullishmoney who generously cross-promoted it for me. Sometimes that's all you have to do is reach out to the right person you feel would love your article. In general this was an exciting post for steemians to enjoy, @bullishmoney probably had the better headline with "Steemit Is Already More Popular Than You Realize!". He earned $48.69; a Win-Win all around!
Opting Out of the System - $32.76
BOOM. With this post I felt like I made it to the big leagues and my effort was finally paying off. I'm sure this post went organically viral because of the popular philosophy we all have here to buck the major corrupt system.
9. Create an Original Image if You Can
Once again use the whales and dolphins as an example. The Great content creators usually have their own custom images, often with text overlay of the headline. To find copyright free images (to play it safe) select "Labelled for reuse" under google images 'usage rights' under their "Tools" dropdown.
10. Timing is (Almost) Everything
I've often failed on this one. I work late, and often enough post in the middle of the night. Research I've seen and my own results show that you do get a bit of a leg up by posting during peak hours, possibly 3PM to 6PM Pacific Time in the US.
11. Comfortable Reading
Comfortable reading means spacing out paragraphs, categorizing by using headers like I have in this post, as well as throwing images in there (something I'm neglecting here because this post is about teaching rather than entertaining).
There we are. I originally had only 10 tips but that's pretty cliche these days and tip #11 is definitely important I think.
Words: 1,241
Effort: 50%
Purpose: Education & Inspiration
This has been Mike Parker and I'm a Steemian!