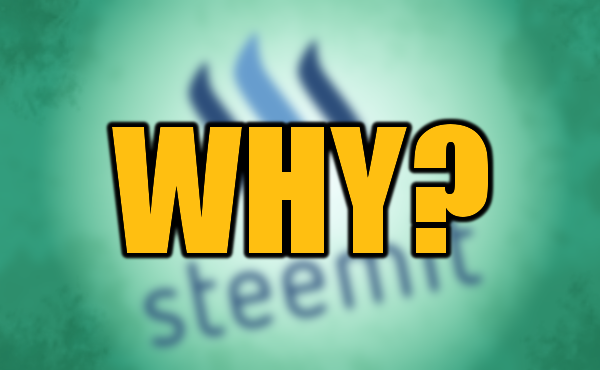 - Lets begin
I had some thoughts in work so I choose to write it.
Everybody on STEEMIT follows few or more than that, group of people who are providing interesting content for you. For example if you like cooking, photography, health, ecology or like me gaming, you are able to find creators related to this topics. You can find even community groups attached to this topics like form gaming - @opaming group, to be honest I personally recommend it.
Still lets say that you are looking for cooking creators and now you following few of them.
That can be fine but mostly you will be looking for more people who have passion about cooking and wanna share it for you by creating videos, recipes, articles related to this topic.


- Small honesty
And I don't wanna attack somebody, that's my opinion, but now is the best time to find more interesting content creators.
Look at this who you follow, how many of them are showing in you feed section?
Of course some of people disappeared for specific reasons like lines, or vacation with family, they was unsuccessful here etc. But don't be fool, mostly they disappeared because they don't believe in STEEM system.
As content creators they created only because they wanted money, no passion, no hobby, just money and when STEEM price is so low now, more of people runoff STEEM because they don't want to share their passion with you, they wanna only from you big upvotes. They become slaves attached to numbers – followers, upvotes, money – more numbers the better.


- What to do?
So now is the best time to find interesting content creators or even if you know them and you don't follow them because of some reasons, now is time to see if they showing some passion and still are providing content, sharing hobby even if STEEM price is low like this days.
Imagine that by this situation now: Lets say STEEM goes to 2$ per STEEM, now many people who had break before, are coming again to earn some cash again. After some period of time STEEM price is 0,2$ - What do you think will gonna happen? Many of peoples who come back, after seeing this low price will gonna runoff from Steemit system, making even worse problems.
They will have bigger accounts with useless SP.
They don't produce quality or less quality content, but mostly they don't upvote other people, taking from them chance to have bigger rewards for their work.


- Example
Few days ago I was looking on videos at @dlive and I found for somebody who was cooking and showing his recipe for seafood dinner. That was somehow interesting and I informed my girlfriend about content creator who can be interesting for her, she likes cooking.
But then I checked his account and unfortunately this person hasn't upload any video or don't post in past three months so automatically I refuse to follow him.


- Small offtopic
Also besides of everything, I stopped posting videos on @dtube and I choose @dlive instead, because I know that @dtube gives bigger upvotes, but after 1 month mostly your videos will disappear, and I wanna build community, not only earn cash. Also that's why I found this cooking guy, because he had his videos from past still available and with interesting recipes, that somebody can use after even 1 year or more.
Let's say I will do review for game, and after few months somebody will be interest in buying it, and thanks to me he can choose to do it or now. But if he or she can't find what she is looking for, she will go to YT.


- Coming to the end
We all agree that we want more people here, so we need to provide content for them and reward creators by making STEEMIT more powerful.
Getting back to topic.
Don't get me wrong, everybody here want to earn something. But as I wrote before, mostly people are here for money – only. And now they are away from system, so they don't supporting it and we all suffer from that, more or less. Now you can easily find more peoples who have some passion in themselves, and even if STEEM price will be at 0,2$ they will still create content. Because they wanna build something here.
I wanna provide gaming content and build from followers community around me, where together I will be able to produce even better things for you.
And money? Of course I will be happy to earn some cash, you don't? But I'm believing in STEEM system, and I know that, in future this system will reward me for being loyal to it.

What do you think? Do you have other perspective on this topic? Write it in comments! Don't hesitate :D