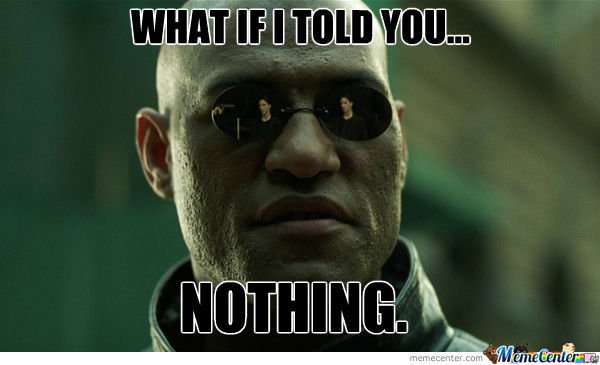 I was thinking long and hard. Something i dont often do. I thought if there was something funny i can write down to make myself laugh. How about some words... Just a few hundred of them, so i can justify boting the post and earn me a couple STEEM.
And i got "nothing". Not an actual nothing, but rather i got the idea to write about how im writing about"nothing".
Im sure this makes complete sense. This is an odd sensation, being so new you dont really know people that will be courteous enough to write some comments on your post because you wrote a few on theirs. And im not a creature of patience. So youre basically yelling in vacuum. But thats actually kind of cool in another sense.... You can write what ever shit you want and its going to fly by people. I eat chipmunks. The new page goes by so fast that its gone in a blink of an eye so youre ignored as easily as a homeless dude washing his pants in the park fountain..
Now im in the phase where i have no clue where to go with this.. Because, im not really writing about anything. Getting damn bored. I need some words here. Chicken pecking the keyboard s l o w l y might bring some ideas to my head.
YAWN. Thats all i got.
I think im just going to wrap this up. Maybe i have some inspiration at the end of the day. Might even spend a bunch of steem so people get to read it. Force feed them my nonsense. :D
Starting blogs like this from scratch is always a taxing thing, i have to admit.
So im hanging here, writing something about nothing, hopefully one day it will be for someone.
Actually, now that i think about it, this post actually had a meaning.
You can always write some stuff even if you have nothing to write about..
(So much wisdom. haha )
Haha. Ill see you ;)