I spend the first 21 years of my life there, left to further my education in business and to pursue professional opportunities. I never regretted, or even doubted, that it was a good long term move until I saw this!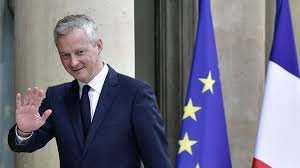 Jokes aside, it is good to see the change of tone regarding finance and economic opportunity overall. Clearly there is strong interest from the government to be part of the digital revolution. Lots of engineers coming out of French schools who need jobs! And... the blockchain industry needs the talent! Good match.
More from the French prime minister -
"Finance is not our enemy, it is one of the assets of our economy!" The minister says before confirming the most radical and innovative regulatory proposal to date. Here is a rough translation:
"The blockchain will offer new opportunities to our startups, for example with the Initial Coin Offerings (ICO) that will allow them to raise funds through "tokens", cryptoassets.
Clarifying the law to attract innovation, identify risks without hindering our ecosystem, that's our approach."
It promises to create a network of trust without intermediaries, to offer increased traceability of transactions and, overall, to make the economy more efficient…
France is to set up a voluntary regulatory framework for ICOs as we recently revealed. France is bidding to become the most friendly jurisdiction for ICOs as their Ministry of Finance prepares to rush legislation that will create a voluntary regulatory framework according to local media.
The French finance minister has now confirmed the above info, and has used the podium of G20 to in effect wave the crypto flag.
Letme know your thoughts and if you have more info on the topic.
Lio
Source:
https://www.trustnodes.com/2018/03/20/france-become-actors-crypto-revolution-embrace-icos-says-french-finance-minister
https://www.trustnodes.com/2018/03/16/paris-embraces-icos-incredible-uturn
Image credit:
https://www.lexpress.fr/actualite/politique/elections/lr-investit-un-candidat-face-a-bruno-le-maire-dans-l-eure_1909842.html