But those milking the system, need to take some of that milk and re-distribute it to where it belongs.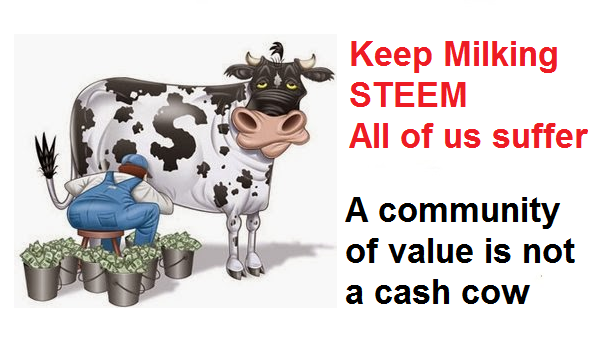 If you want to build a community -- you don't just do it with algorithmic code changes.
This is important. Very important.
When steem was first created, it was designed to be the first social network, where the users of the system, who created content would benefit. Good content, held value. Curators would benefit by noticing and upvoting good value.
What's changed?
Exploit opportunities.
Why have exploit opportunities exploded in number? Because good content and value isn't rewarded often enough.
Now let's look at something we deal with in everyday life...
Countries and governments are obeyed and considered to be respected in value... because of consensus...
(BTW, these are the types of blog posts Dan Larimer use to write, before he forked off and created EOS)
I repeat:
Countries and governments are obeyed and considered to be respected in value... because of consensus... by the majority of the population. That includes citizens, taxpayers, police, courts, the whole infrastructure of what a state and government is...
Most people respect the authority, and mission of government "enough"... that they don't overthrow the government. They don't hold justice in disrepute.
Granted... every time the price of goods goes up, and there are more deductions on your paycheck, you question yourself on how much you are paying vs what you are receiving back in benefits from our current system.
Let me make the obvious more obvious:
The bidbot, upvoter bots, and SP hoarders today who support these systems have realized:
It is more profitable to make money supporting the deficiencies in steem than it is to write their own blog posts, or curate good blog posts by others...
I don't fault them for that... it works.
I fault only 2 things:
The algorithmic design of the system to not account for these types of profitable deficiencies
The lack of word, from the CEO himself, commonly known as Ned, who does not blog even in a small way, as Dan Larimer use to...
Now, with my prediction intact, many of you may never see this post. We have so many reward pool rapists ready to shut down the slightest bit of negative word by anyone...
BEFORE YOU DO - AND YOU KNOW WHO YOU ARE
...The point of this point isn't to "out" anyone. (Notice I didn't name names, projects, or bots) -- with the exception of Ned and Dan Larimer?
...the truth here.. in the less than 100 readers I'll have on this post, is to explain how we got here... what the motivation for abuse is... and why people turned to abusive profitable tactics rather than use the system as designed.
DID YOU KNOW?
Many bot owners today... came on the platform originally as really bloggers (just like you)... and really wanted to believe in the design -- they created good content... waited for upvotes and followers too?
These same people, when they didn't get the upvotes and followers they wanted, looked further and realized... there is an easy way to milk the reward pool and the entire steem blockchain.
AT THIS POINT, WE HAVE DISGRUNTLED BOT-FRIENDLY USERS
What is a disgruntled bot-friendly user?
Someone who has feel cheated by the design, and the rewards they should have deserved, and created a new way for them to get properly rewarded.
For the steem blockchain to hard fork to where it should actually be....
Is not the introduction of a new feature or service...
But to solve the disgruntled bot-friendly user problem.
...and Ned... and those who are his close circle...
That is the real problem that needs to be addressed.
Why do we have anti-steem bot-friendly and scammer-friendly exploit driven services milking steem like this?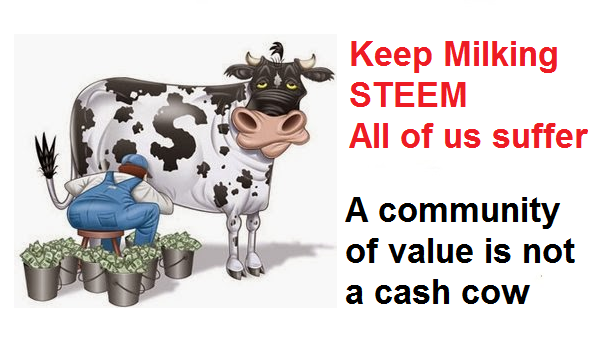 ....they exist for one sole reason:
...and listen.. when I write this.. I am not guessing... I've met some of these avid milkers...
What was sold as being "good value content" and "curated properly" never materialized properly.

Renegade bandits (akin to those who over take a ship in high waters) were not stopped by downvotes
....they soon said "fuck it" (and I am not one to use profanity easily)
....these same people recognized the system was broken... no one was fixing it... other people were milking it... and so they decided... while everyone else milks for free.. why don't I?
...and milk they did... and milk they continue to do... RIGHT NOW... as you read this...
STEEM value could easily be worth $3.50/STEEM for the content, interest, and value it creates.
The only reason why it isn't... is you have leaches and milkers milking its available exploits.
So if you want to stop the hemorrhaging....
Don't try to find your milkers and stop them individually...
IT AS SIMPLE AS THIS:
Find the reason why they find being pirates and liquidators to the system is more profitable than holding allegiance, supporting, and using the system the way it was designed.
If you can solve that problem... all milkers will stop. You won't have to search them out, nor will you have to sell them reasons why what they are doing isn't profitable long term.
The one thing a milker knows.. he's getting milk today... without worry if there is milk tomorrow
NOTE TO MILKERS, AND THOSE THAT HATE WHAT I'VE WRITTEN
If you truly want to see a sustainable platform, go long term...

For your powerdown holdings in SP to be worth something significant someday (not 0.50 cents, not $3.50, but $30)....

...then avoid downvoting this post. Do the opposite. Upvote it, re-steem it, or at the bare minimum leave it alone... untouched. Maybe what I've written will give food for thought to those who can fix what is broken.
---
Deep thoughts by @intelliguy -- shared openly without support of milkers could use your upvote, your re-steem for this post... or even a witness vote for my non-top50 witness named @intelliwitness
I write what a lot of people know ... but will never say. :)
Thanks for your support.