On SteemSpeak, we often discuss ideas to make STEEM and Steemit better. One idea we've been discussing is the idea of "substeems."
While I did independently have some aspects of these ideas, I must credit the best ideas to @mughat especially for the unified synthesis. You should take a look at the other ideas he has blogged about in the past.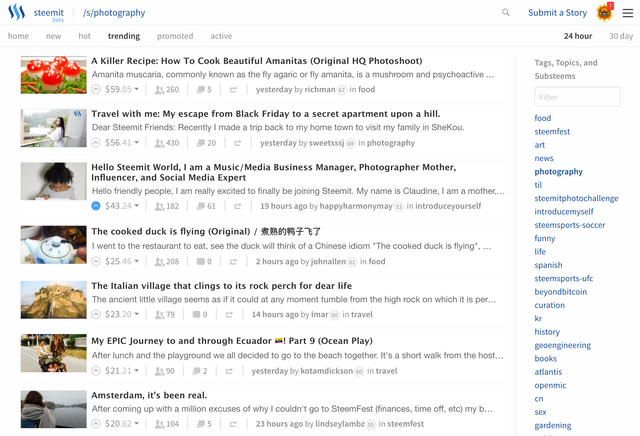 Subtle comp showing how substeems might look. The real change is actually under the hood.
---
SubSteem Moderators
A user can become a substeem moderator. By doing so, they can join moderation of other substeems and/or define their own substeem(s).
SubSteem URL
Yes, this is partially inspired by Reddit's subreddit idea. But this is just superficial. How the URL looks is not important, but it might work like this:
steemit.com/s/travel
steemit.com/s/photography
steemit.com/s/poetry
Ok, so how is this different from the current tagging functionality? Actually, it's separate from tagging. You could have a post in /s/travel that has five other related tags. In a way, a substeem frees up a tag. But that's also not important.
SubSteem Symbols
When a substeem is defined, it also has an asset symbol. Maybe the symbols could look like this:
TRAVEL
PHOTOGRAPHY
POETRY
Maybe they have to match the URL. But that's not important.
The important thing is that having a substeem means it has its own asset symbol for trading on the internal exchange.
SubSteem Reward Pool
Once there's a symbol, there can be a reward pool. Moderators of a substeem can define the size of the daily pool. Maybe /s/travel likes to allocate 1000 TRAVEL for rewards each day. Maybe /s/photography only allocates 30 PHOTOGRAPHY for rewards each day.
SubSteem Smart Contracts
It'd be easier to implement rules like the reward pool for each substeem if they had smart contracts defining them. This would allow certain substeems to have completely different rules. The rules might be:
TRAVEL - Has a typical payout, but second payout is in 2 weeks. The rationale might be because people often take 2 weeks for vacation, or something.
PHOTOGRAPHY - Has a typical payout, but the second payout timeframe is in 90 days.
POETRY - Has a typical payout but second payout in 1 year.
CURRENT_EVENTS - Has a short payout of 6 hours and no second payout.
CIRCLEJERK - The smart contract will only calculate absolute votes (both upvotes and flags are counted as 0 weight), has no effect on reputation, payout is always 1 CIRCLEJERK per post, no additional payout timeframe.
It's up to the moderators to define the behavior for their substeem. If the community is unhappy with the parameters, they can be changed, leaving other substeems unaffected.
SubSteem Internal Market
So how does a substeem symbol become valuable like STEEM? Simple, they'll be traded on the internal market.
STEEM/TRAVEL
STEEM/PHOTOGRAPHY
STEEM/POETRY
STEEM/CIRCLEJERK
Maybe in addition to STEEM pairs, there can be SBD pairs. If certain substeems become popular, maybe they'll trade directly, e.g.: TRAVEL/PHOTOGRAPHY
---
So, the idea here is, any substeem can be defined with its own unique set of rules. They wouldn't be bound by the one-size-fits-all rules of the general STEEM rewards. If a particular substeem's rules are unfair or otherwise poorly defined, this will be reflected in the internal market without impacting other substeems.
But if the rules for a substeem are optimal, and the substeem is popular, its value relative to STEEM could rise. People might even speculate on a particular substeem, which would also indirectly create demand for STEEM.