We've moved the entire hyperfundit website to Steemit account @hyperfundit.com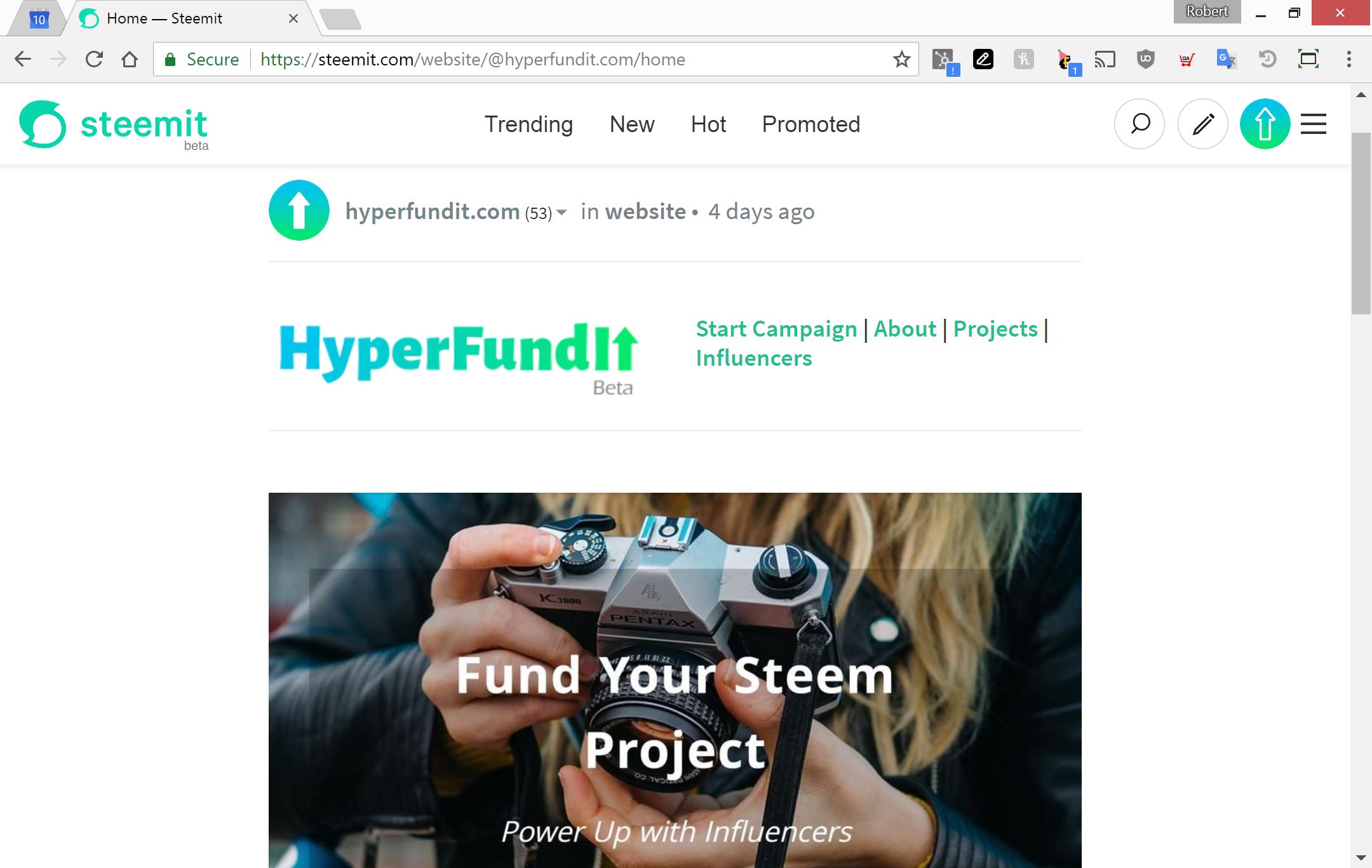 https://hyperfundit.com now redirects to https://steemit.com/@hyperfundit.com. We made this move to make life easier for you. You no longer need to register for hyperfundit and the entire process and experience is more streamlined.
This means you no longer need to leave the steemit domain to support a project. You can now do the following directly on steemit.com
upvote
resteem
follow project creators and influencers that you like
follow @hyperfundit.com to see all new campaigns
starting a campaign got so much easier, simply write a post about your story and project, then tag @hyperfundit.com
The only time you would have to leave steemit.com is to transfer SBD when clicking "Claim Reward", this is done via SteemConnect for your convenience. However, if you REALLY want to stay within the steemit.com domain, you can optionally use your Steemit Wallet to make the transfer, just write the project name that you want to support into the memo.
What's really cool is that we've also implemented an "upvote up to 5x" system, if you would like to support a project with more than one upvote.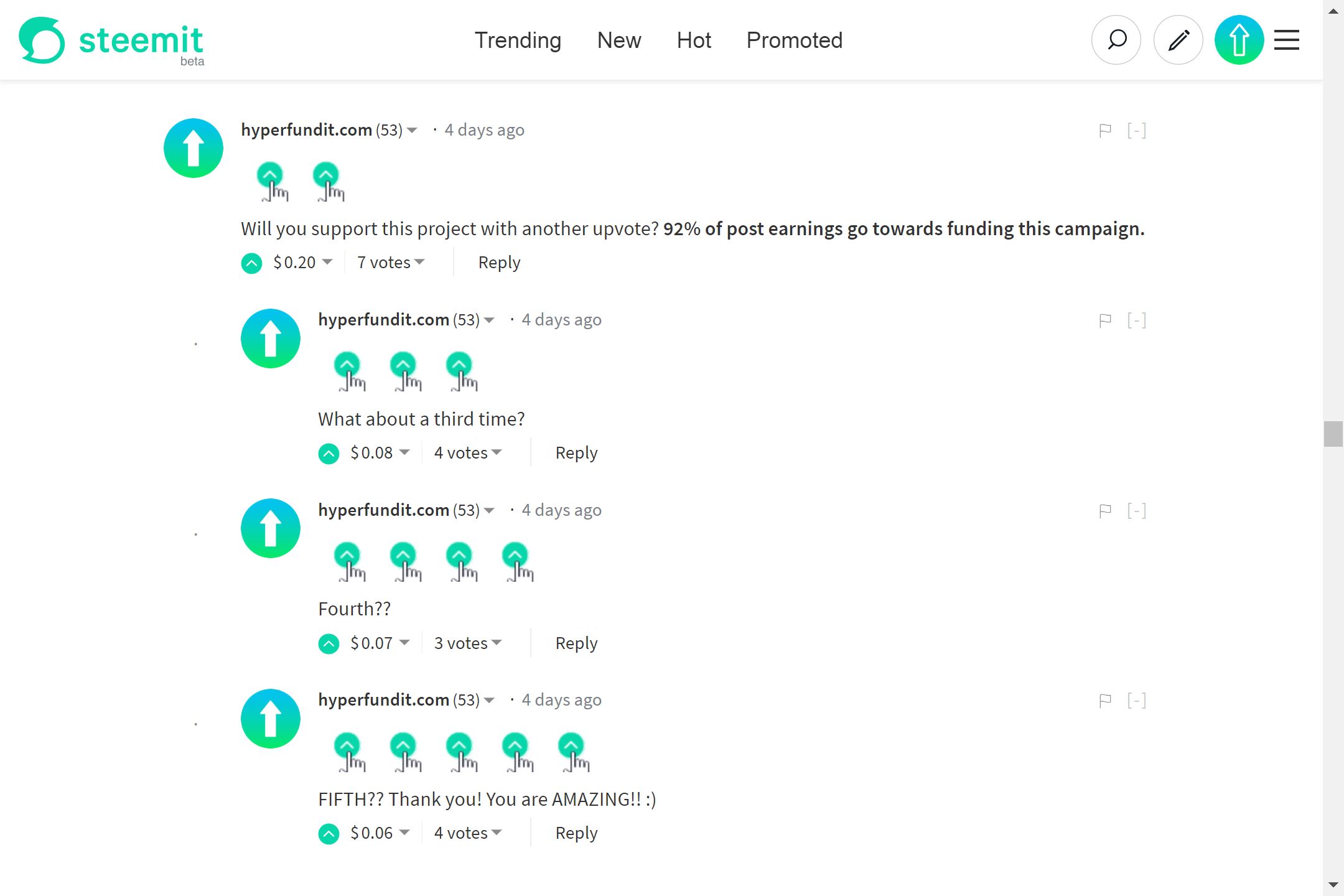 Unfortunately this one got buried in the comments, but as the @hyperfundit, @hyperfundit.com, @hyperfundit.supp upvotes get bigger, and more people start to use this feature, I'm hoping it'll make its way to the top of the comments in future posts.
We created account @hyperfundit.supp to enable you to upvote and support projects after the initial post expires. Campaigns usually run for a total of six weeks (42 days). Two weeks of connecting with influencers and hyping the campaign up (14 days), followed by four weeks of funding (28 days).
The @hyperfundit.supp account allows for the @hyperfundit.com acc to be free of duplicate posts for ease of browsing through campaigns. This account @hyperfundit will continue serving as a blog and keep bringing you more informative content from improving writing, photography, vlogging, to raising awareness about steem projects. We will also be using the @hypefoundation account to upvote charities and meaningful causes outside of @hyperfundit.com's scope.
Ultimately the move from our external hyperfundit.com domain to @hyperfundit.com will better help project creators get the funding and visibility they need to succeed. This is still an early beta and we welcome all comments and feedback to continue improving. If you have any concerns or notice any flaws, please bring it to our attention! :)
Teaming Up
I've spoke with @taskmanager from @upfundme and @hightouch from @fundition and I'm happy to say that we all want to mutually support each other's platforms to better help all project creators get funded. This is what Steemit and crowdfunding are all about! :D
Please take a look at fundition.io if you haven't already been there! It's beautifully designed and already hosting dozens of projects, show some love and support for the project creators aka Founders. The #upfundme hashtag has been around the longest and has a thriving community, please check out some posts and show some support, a single upvote can go a long way!
"Tagging @hyperfundit.com and using #upfundme at the same time will allow people crowdfunding to reach a larger audience and an increased chance of getting support from various communities."

I'm looking forward to the changes we can make together! :)

@robchen, co-founder

Our Partners