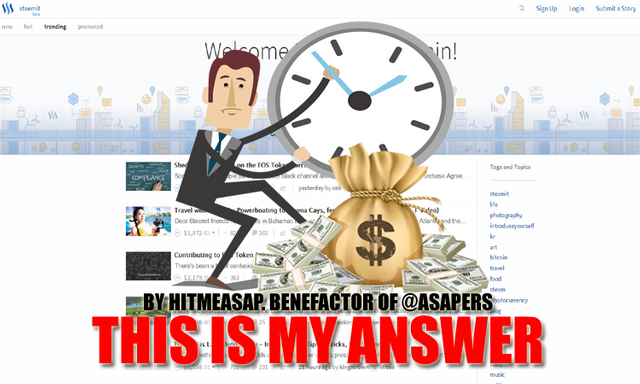 ---
My Answer To A Very Common Question.
- "Why Do You Waste Your Time And Money @hitmeasap?"
I am 28 months old, which means that I've been here for more than 2 years in total. During that time, I've written a total of 778 posts and 5,259 comments. I have never participated in any form of "follow-for-follow" type of deal, and I would never recommend anyone doing that. The same goes for "vote-for-vote" type of schemes. I have never published anything but originally written articles, that I have written myself. I have published dozens of guides and reports in an attempt to educate others, and I started to use "support pillar" rather early in my articles when I described myself. It was a self-proclaimed title, but a title that definitely served its purpose, as it described my Steemit journey in two simple words.
@dan (@dantheman) was the first to give me some real recognition when I joined Steemit. This was in June-July 2016. He saw something in me or my articles, and he was supportive and generous with his votes. He gave me the necessary motivation I needed to put in more time and effort on Steemit and in my articles. Other whales, dolphins and established Steemians followed in his steps and encouraged me to continue. They were supportive and helpful. They boosted my motivation and I felt inspired. I still remember some of the amazing upvotes I got in those days. @blocktrades, @berniesanders and many others were supportive and I remember a fantastic so-called "love bomb" from @fuzzyvest. Simple, yet amazing and beautiful. He selflessly upvoted my article and dozens of comments on my article. All of them recieved upvotes worth several dollars each.
This was in the early days, when it was easier to get rewarded. If you were lucky enough to get an upvote from a whale, you'd get hundreds of dollars. So it's different nowadays.
I was a rookie with no prior crypto- or blockchain experience. As I'm not native in English, I often doubted my own writing skills and never felt like I was good enough, so it would just be a waste of time trying to publish anything at all. Especially articles that I knew I'd spend several hours on. When I joined Steemit, I also quickly realized that anything with boobs got tons of recognition, and obviously upvotes too... And I wasn't really comfortable sharing photos of my man-boobs, so I had to go a different route.
I tried literally everything, but quickly found my own "niche". As a freelancer at the time, (I am a full time student nowadays, and went from ~7 years of freelancing straight back to the school bench), I started to share my knowledge and my expertise in that niche. I wrote and published articles related to freelance, business and other similar topics, and I got rewarded for it. I loved the extra money and I cashed out pretty much everything I could, because it felt amazing to finally have found something I could truly benefit from.
I didn't understand better at the time.
---

---
I am far from being a so-called "top-earner" on Steemit and I've never had regular whale or dolphin support, but I have been rewarded well for my contributions. Even as a non-native English speaker. However, like I said previously, I cashed out all my earnings in the early days, so I'm sitting at 1300+ Steem Power today.
Story continues...
While the not so regular support stopped coming my way, I started to feel pressured and I started to lose motivation. I was struggling on a daily basis to find enough energy to publish content and it started to feel unnecessary at times. I knew before I published my articles, that I wouldn't be rewarded for it... But I continued to be active as much as I could. I knew that the "honeymoon period" was all over, and I had to "make a name for myself" if I ever wanted to earn a single dime again.
This continued for a long time. I published articles every now and then, as often as I could, with hopes of getting those amazing upvotes that would give me the opportunity to eat at a not so fancy restaurant. During this time though, something happened. I became more focused on my own content and my approach on Steemit, so I stopped caring about the rewards. I had probably been a member on Steemit for about 3-4 months at this time, so I am well-aware of the fact that I was a so-called taker back in those days...
However, I never knew better. The only thing I could see were all of the insane payouts on the trending pages. Even though I was biased, I knew that my articles where of higher quality than most of the trending ones, but the rewards didn't come my way anymore.
So, even though I knew that I wouldn't get rewarded for my contributions, or that I would earn just a fraction of what I'd earn before, I continued to push myself. I pushed myself so hard that I simply "ran out of gas" at two different occasions...
At this time, a user called @teamsteem started to show his support. With generous upvotes and kind comments, he kept me going. He gave me that little extra motivation-boost and when he had been supporting my content from time to time for about a month, I was eager to know him better. I was eager to see what he did, and how he'd become so successful, and I was able to find what looked like a "pattern".
He used the voting slider to support several authors each day, instead of using his SP and VP to self-vote or vote for only ten different authors. I sort of copied what he did, and I started to support more people. I had also become more familiar with Steemit in general, cryptocurrencies and blockchain technology at this point, so it was easy for me to see that @teamsteem were a superb Steemian to follow. He was the first sort of "role model" I found on Steemit, even after interactions with probably hundreds of people...
I continued on the same path for a long time, and truth to be told, this is still my approach, even though I do it slightly different nowadays, as the co-founder of the @asapers.
I wrote and published articles and I started to focus on others more than myself. I started to see that I could be of help, and that I could inspire, motivate and encourage others in many different ways. I started to refer to myself as a support pillar and I wrote dozens of guides and reports in an attempt to educate others. I was active on steem.chat and I quickly replied to all the messages I got. I even started to reply to all the vote-beggars, in an attempt to change their behaviour, as I could easily see that they did things wrong.
Fast-forward a bit into the future, and we'll end up at one point where @fulltimegeek made me a Steward Of Gondor. At this point, I had already had interactions with awesome people like @abh12345 at several occasions, and I had been walking in the footsteps of @teamsteem in terms of his voting behaviour for several months. I had been supporting hundreds of people per month for a long time, and I had been "spreading the wealth" literally everywhere on the platform. I had also given away Steem and/or SBD numerous times, both as an act of kindness, but also as a token of appreciation or as a donation for a job well-done. I had met many users who I still consider to be my closest friends, on Steemit, and the SOG initiative had been running for some time...
I never believed I'd ever get a chance of serving as an SOG, because truth to be told, I was so positive of the fact that I'd never become nothing near an "established" steemian, and I've never had much luck.
FTG quickly decided to delegate me a large chunk of his Steem Power. I got 5000 Steem Power and I had never felt so strong and powerful before. I quickly saw the immense affect my approach had. My votes were instantly worth ~5 times more and I finally felt that I made a difference. I had an impact and even though I couldn't change a person's life, I could change a person's day. It was an amazing experience to serve as an SOG due to the power I had. Not because I felt better or more powerful than others, but because I could see the difference I made for people. My votes mattered to people, and this was without a doubt the best experience I'd ever had on Steemit. The amazing upvotes from @dan in the beginning of my Steemit "career" or any of the rewards I'd made up until that time wasn't even close to what I felt when I served as an SOG.
I still, to this day, don't know why @fulltimegeek gave me the chance to serve as an SOG. I don't know what he saw in me, if he ever did see something, and truth to be told, even though it would've been rather cool to know the exact details, it doesn't matter in the end. What matters, is the fact that FTG, with this initiative and his generosity, empowered me. His idea, intentions and his mindset gave me such a motivation-boost and he inspired me, like I'd never been inspired before... His actions, are the reason for the @asapers... His approach encouraged me, and truth to be told, he gave me the much needed reason I needed, so that I could continue my efforts and to strive towards new heights.
I can totally understand that you're tired by now, and even though I've filled this article with tons of history already, there's no chance for me to share it all. This is just a fraction of everything... And I've had to jump back and forth a little bit, so the actual time line aren't accurate by any means, even though I've tried to be as detailed as I can.
With all this being said and done, I understand that everyone can't agree with me, my intentions or my approach. I understand that some of you would never take the same path as me, and I can relate to most of you. I fully understand that some of you would never take the same actions, share the same feelings, or take the same actions as me... However, we are all unique.
I have recently started to push people to 500 SP, and we've had great success. 4 out of 4 users have been successfully pushed into the minnow-category because of my idea, and because of community effort. Even though Steemit might seem like a dark and nasty place filled with greed and selfishness, we've been able to fight back. We've teamed up to fight for our, and others survival, and we've been successful. We are still just a small group of people and we could easily be 10 times bigger, but we've had great results and we've accomplished something outstanding. Together. As a unit. Truth to be told, I joined Steemit in july 2016, and the things I am most proud of, is the @asapers project and this new on-going "make minnow" project. These things makes me believe in a better place. These things gives me hope and encouragement...
And I truly believe that we can change people's lives with Steemit and the blockchain.
Do you still remember the question at the top?
"Why Do You Waste Your Time And Money @hitmeasap?"
This is the best possible answer I can give anyone that asks.