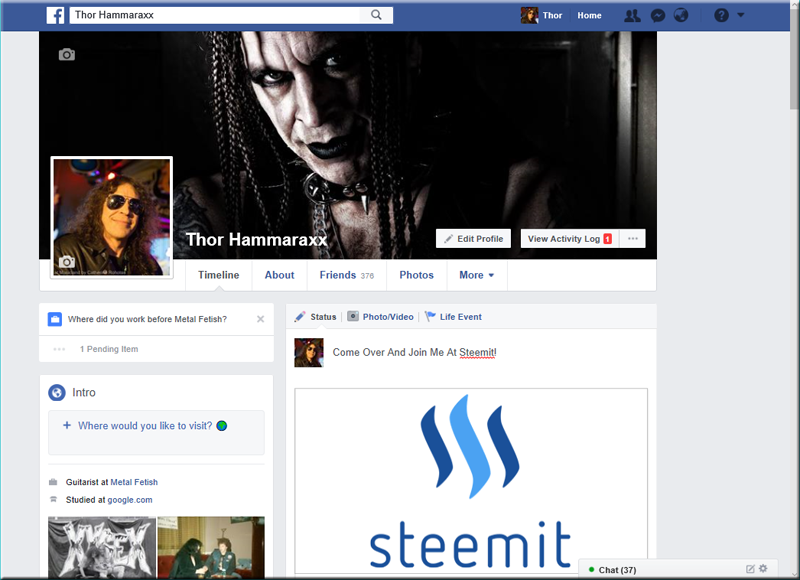 This post is for my friends on Facebook, who I have been encouraging to join Steemit. I've posted it here as it's so much easier to explain things here that it would be there on Facebook itself. It's not going to be a comprehensive explanation of Steemit, but hopefully it should be enough to get my friends joining me here.
Dear friends,
Hopefully you've seen a couple of my posts about Steemit.com with me encouraging you to join. I'm surprised that that none of you have signed up since I started mentioning it back in January. I'm guessing some of you don't quite understand it yet, or perhaps you're still a little bit sceptical? You may even be confused about or fearful hearing you can make money from it? "What's the catch?" right?
I'm hoping that after reading my post here you'll understand Steemit a little better, be able to see some possibilities, and hopefully join me here. I don't want you to think I'm telling you to leave Facebook, there's no reason you can't use it and Steem on at the same time. Whit that said, there is a good chance that once you've been a member of Steemit for a while, you may not use Facebook as much.
I'm going to try and answer the questions that I'm usually asked when I try to introduce Steemit to somebody who has not heard about it before. I won't get too deep into things like cryptocurrency, or anything too technical. You can pick that up as you go. The main thing here is for me to get you Steeming.
If you'd like a more comprehensive FAQ, the Official Steemit FAQ can be found here: https://steemit.com/faq.html and If you want to go hardcore, which all members should, take some time to read and understand the Steemit Whitepaper at https://steem.io/SteemWhitePaper.pdf But you don't have to in order to join.
So what is Steemit?
Well, if you're reading this at steemit.com, this is it, right here, well a post in Steemit anyway. In a nutshell the Steemit.com website is a front end, user interface to access data on the Blockchain. It's a blogging platform where members can create, vote for others (a "Like" in Facebook terms.), comment and reply to comments on posts about pretty much anything. Just like Facebook in a way, just in a different format.
You can follow other people, like a friends list, and their posts will be visible on your home screen or "feed" just like Facebook's. When other people vote up your posts or comments you have a possibility of earning Steem which you can exchange for real money, trade it or just let it grow in your account. You can also earn Steem by upvoting other posts and comments too.
Why should I use it?
#1 Just like you already do in Facebook, you can share your stories, jokes, videos, photos, music and artworks. The big difference at Steemit.com is that instead of Facebook mining your data and making money from the value you give to Facebook, at Steemit, the value your content generates is returned to you.
#2 It's heaps more interesting. You can browse posts by topic, by member, new, trending, hot and promoted posts from all over the world.
#3 You can make lots of friends around the globe and it's been so much more civil than I've seen Facebook at times.
#4 Yes, you CAN make money posting on Steemit.
#5 It's a lot of fun.
Does it cost to join?
No, it doesn't cost anything to join. In fact, you'll get a few dollars' worth of STEEM in your account when you sign up to get you started.
How much can you make?
It's possible to make anything from one cent to hundreds, even over a thousand dollars for a single post, but don't always expect that. Who knows you may be able to gain heaps more votes than my posts have but my maximum so far is $27 for a post, but I've also had a few three cent posts too.
I'd imagine most of you could make heaps more than I have so far. If you recall, I didn't and don't post on Facebook too often. I've been the same here, I've only made a handful of posts, but I've made quite a lot of comments on other people's posts, like I've done on Facebook too now I think about it. My first post was 5 months ago, it made zero, the second was a month later and made almost $15. Since then I've made just over 400 comments, about 6 or 7 posts and as I write this my estimated account value sits around US$245.00 and I've already cashed some of it out into other cryptocurrency coins.
Imagine how big your account could be by now. Some of you post great content on Facebook every day almost. You're giving it away. Why not receive something for the value you create instead? That's what this is about.
I know 100% without doubt most of you are missing out BIG TIME right now. That's why I'm trying to encourage you all to join.
How does the money thing work?
Well, that's the complicated bit where not all, but most people get lost. The simple way of putting it is the currency used at Steemit.com is called STEEM. It can be earned by getting up votes on your stories and comments, up voting and sharing (Resteeming) other posts or by trading it for a profit in the internal market.
STEEM is a form of cryptocurrency, like Bitcoin, that can be traded, saved, and exchanged for cash if you feel you need to do that. I recommend that you don't worry about that too much until you get into Steeming for a while. You don't need to know how it works to get started, the fact that it just does should be enough incentive to join. It is interesting and well worth understanding if you'd like to increase your wealth.
What is Cryptocurrency and Blockchain?
That gets into too much detail for this post so I'll recommend the following posts by other Steem members if you want to find out about those.
@leopold's "Cryptocurrency Explained- The Ultimate Guide to Understanding Cryptocurrency"
@donkeypong's "Still Confused by Steem, Steem Dollars, and Steem Power? The Power Plant Analogy"
@dantheman's "Introduction to Steem Dollars"
@krnel's "What is the Blockchain, Blockchain 2.0, and Steemit? Building the Future!"
Is Steemit a scam?
I really don't think so at all. I can't see how it could be. So I'll say no, not at all.
You don't have to invest anything but your time, think about how much time you invest into Facebook, and you could be getting paid for doing the same thing at Steemit.
How do you get started?
Go to steemit.com/pick_account and fill out the form.
Note: Your account name is how you will be known here on Steemit and it can't ever be changed, so choose it wisely.
Once you set your password make sure you write it down and keep it somewhere safe. If you lose it you can't get your account back. Which leads me to the first rule of Steemit… "Don't Lose Your Password!"
I've heard that it can take a while to get the confirmation email that your account is good to go these days, but don't let that put you off signing up.
When you've completed the signup process spend a bit of time looking through some posts. If you find some you like you can vote them up and even follow the author if you'd like to see more of what they post.
You can follow people two ways, you can use the "Follow" button at their home page or you can click on another member's name and click "Follow" on the little popup. The people you follow will appear in your homepage feed.
It is suggested that one of the first things you do is an introduction post. I'm still to get around to properly introducing myself but I've noticed a lot of introduction posts seem to get a lot of upvotes, so it's something that I will do, not just for that reason, but because I think it's time that I do. I've seen quite a few introduction posts from members that have been here for a while but not posted one previously.
That's it basically, you'll pick up everything else as you go, the main thing is to get started. I know you'll thank me in a few months when your account value has grown into the hundreds.
I hope to see you here very soon.
Let me know when you do so I can follow you here and remember that I'm here to help whenever you need it.
Cheers
Thor
@hammaraxx
Rock'N'Roll From Melbourne, Australia




---