[PL/EN] Nowy design Steem! / Unravelling Steem's New Design
English version follows
Wersja polska
Wiele się ostanio dzieje na Steemit. Zaprojektowano
nowe logo
, które mimo wszystko stało się celem
nielicznych parodii
, coraz ostrzejsza staje się
krytyka pracowników Steemit Inc.
, a także strona Steemit, zapewne w kontrze do
Busy
bądź swoich "nadwornych malkontentów" drastycznie zmieniła swój wygląd podążając trendem minimalistycznym. Przyjrzyjmy się poszczególnym zmianom.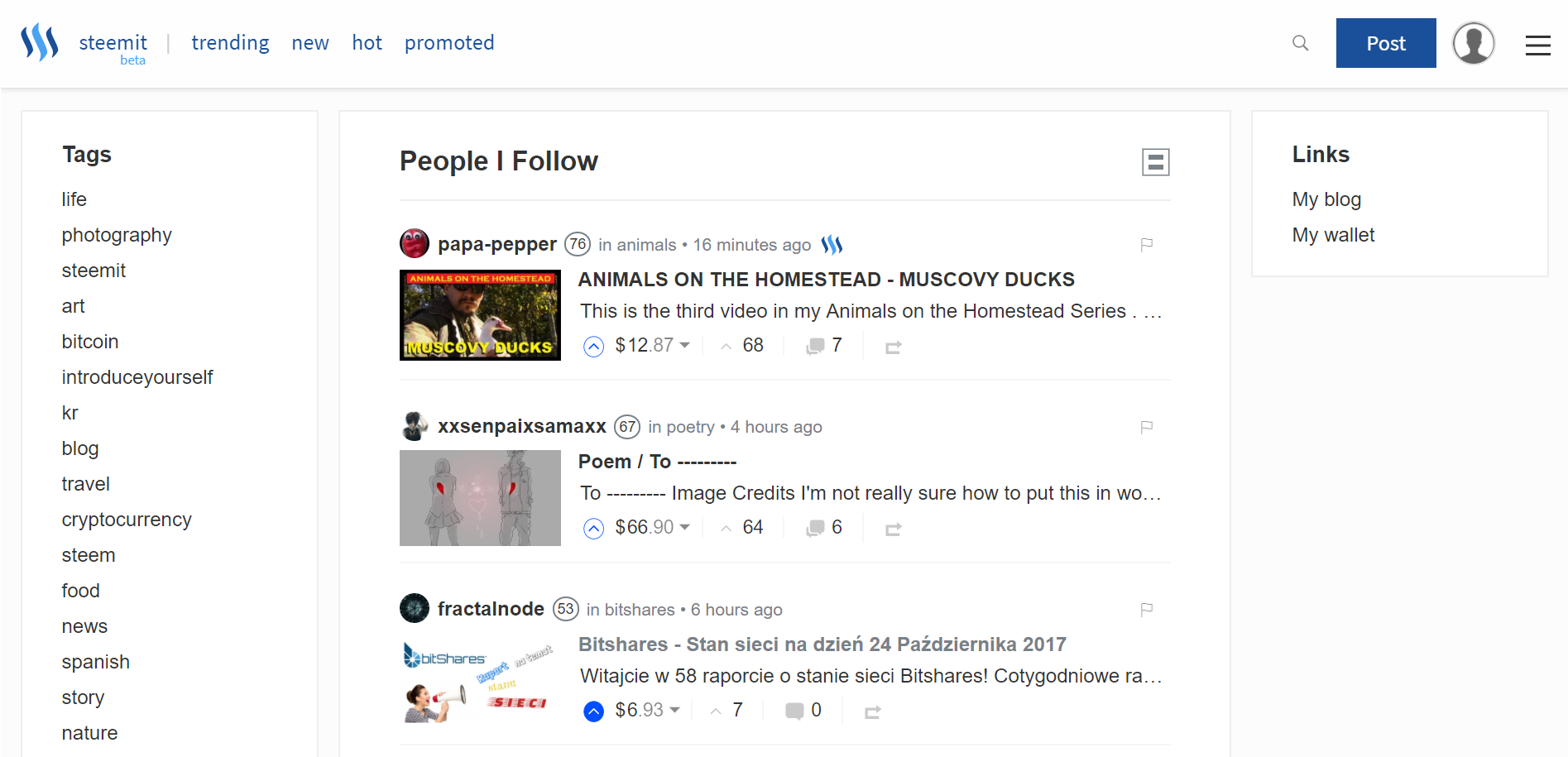 Oto lista zmian, które zauważyłem:
przeniesiono listę tagów na lewo
dodano okno z linkami do zbioru naszych wpisów oraz portfela (co można uznać za zmarnowanie miejsca, gdyż to samo osiągamy gdy klikniemy na nasz avatar i wybierzemy "Blog" czy też "Wallet")
dodano możliwość personalizacji wyglądu strony głównej (włączają w to poszczególne tagi) - by zmieniać opcje należy kliknąć pole oznaczone dwiema równoległymi liniami o jednakowej długości w ramce (zmienia ono wtedy swą postać)
zmieniono zestaw czcionek
posty dzieli teraz pozioma linia
wzmożony "whitespacing"
Zmiany w podobnym tonie możemy dostrzec w naszym panelu użytkownika.
Według mojej osobistej oceny zmiana nie jest optymalna. Pomniejszenie ilości treści występującej na ekranie na rzecz odcieni białego by wywołać wrażenie minimalistycznego podejścia strony jest zarówno uciążliwe dla obecnych użytkowników, jak i może odstraszyć osoby, dla których ascetyczny wygląd nie jest przyciągający. Ponadto, ciągłe problemy ze stabilnością strony mogą irytować jeszcze bardziej jeśli pomyślimy o tym, że Steemit woli się "przebierać" zamiast "naprawić". W kontekście ostatnich problemów PRowych oraz niskich cen Steem i SBD rebranding w takiej postaci zdaje się być nienajlepszym rozwiązaniem.
Co o tym sądzicie?
English Version
It's been a period of some hectic time on Steemit.
A newly designed logo
has become a source of mockery for
several authors
.
Steemit Inc. employees
have recently come under fire after the DDoS of the website, which has just been redesigned, perhaps in response to those accusations or its fledgling competition (suffice it to mention
Busy
).
Let's now move to the update.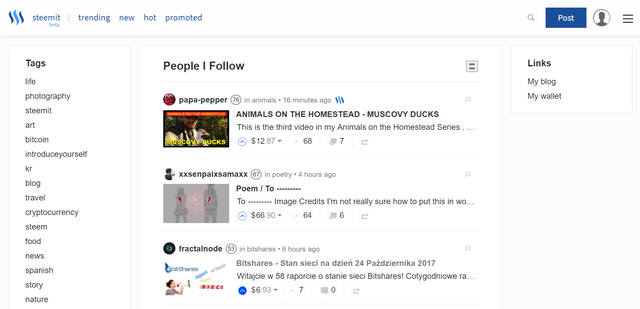 This is a list of changes that I noted:
the list of tags has been shifted to the left; 'Links' section has been put on their place
one can now select the way one wants the post presented on the main page to be arranged
new fonts
a horizontal line is placed between the published posts
a substantial increase in the use of whitespacing
Similar adjustments can be spotted in the blog part of our account
I think the aforementioned changes are far from being optimal. Reducing the space for the content in favor of whitespacing may seem to be slightly cumbersome to the current users, and even more discouraging to the new ones whose tastes can be incompatible with the ascetic minds of Steemit Inc. graphic designers. Furthermore, Steemit's unresolved stability issues might arise greater uproar considering Steemit Inc. prefers to put their effort in design alterations in lieu of potentially more important improvements, especially in the context of their unsavory reputation and the unrelieved drop in the Steem/SBD prices.
What do you think about it?