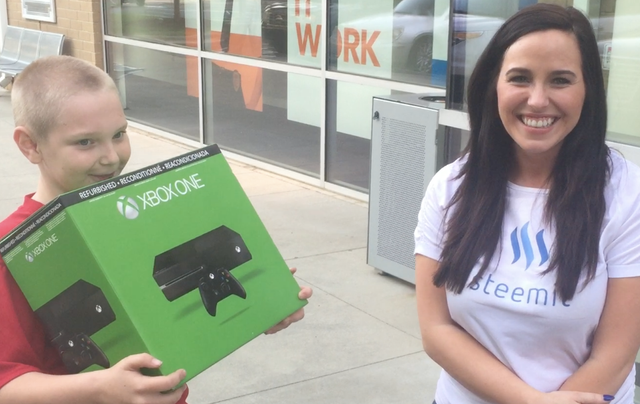 Warning: WATCHING THIS VIDEO FROM START TO FINISH MAY MAKE YOU CRY!
I decided after the success of my last couple posts to fulfill a lifelong wish of mine to make a young child's dream come true. I posted an ad on Craiglist searching for a child in need who could use a special day or gift just for them. As soon as I was contacted by JP and his mother, I knew they were the family I wanted to choose. I took the first Bitcoin that I earned from posting on Steemit and gave this child the most epic birthday he's ever had!
Bitcoin was around $550-$575 when I made this video and I told JP that he had a $500 budget knowing he would probably go over. The first thing he wanted to do was spend it all on his mother. I couldn't have found a more deserving child to share this experience with. He touched my heart! I spent way over one Bitcoin in the end and it was the best money I've ever spent.
JP, the young boy featured in this video, has the best heart you will ever find in a child. He kept me laughing the entire time and was the most patient and unselfish little boy I've ever met. I have tons of quotes and footage from our trip and had a difficult time choosing what to use for the video. But, I think I got the point across on how special this day was for not only JP, but myself as well. His last words to me were, "I hope the next child you help will be as excited as I am". I miss you already JP!
I WANT TO THANK EVERYONE WHO SUPPORTED ME ON STEEMIT! YOU MADE THIS ALL POSSIBLE!
Our Birthday Visits:
Target (3x)
Marshall's
Harper's Restaurant
Dave and Buster's
Hibachi Steakhouse
Best Buy
Starbucks
===================================================================================================
Youtube Description:
The new social media site Steemit has made my dream come true of allowing me to do what I love to do as my full time job. The content that users post on a social media site creates value for that site. Rather than fill their own pockets, Steemit puts the money that is created by that value back in the pockets of their users.
Here is my blog... https://steemit.com/@guerrint
Due to the success of a single post on Steemit, I was able to make my dream come true which is making a young child's dream come true.
I was easily able to convert the money I earned on Steemit into Bitcoin. What I thought would be a complex transaction, turned out to be a few easy clicks. So I'm taking my very first Bitcoin I've earned from posting on Steemit and spending it on a child who deserves a special day.
I posted an ad on Craigslist searching for a child who deserves that day. That's when I met Jenn and her son JP.. I knew almost immediately that JP would be the one. Here is JP's epic 2 day birthday celebration and shopping spree...
===================================================================================================