A Look at SteemWho, Your Who's Who Guide for Steemit!
Today I came across a cool Steem app that I would like to share with you. It is a Who's Who guide for Steemians that you can use to search for people to follow, people who write posts in topics that you want to read.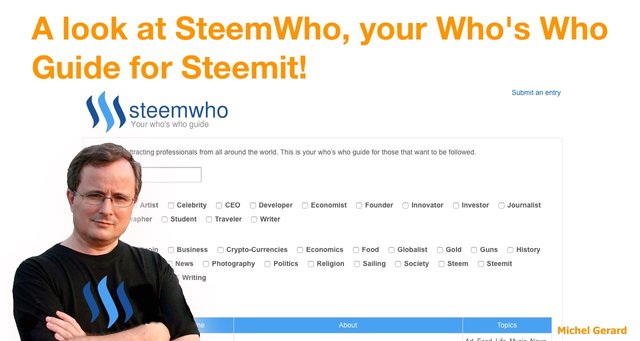 The Steem application is "SteemWho" created by @mikehere and you can access it here: http://steemwho.com 
It seems to be pretty new so there are not a lot of people listed there yet, but you can start by adding yourself in the directory, and then follow a few other people.
A Look at SteemWho, Your Who's Who Guide for Steemit!
This is the first directory of users that I see for Steemit and it can be very useful for discovering people of same interests. It is also an opportunity for ourselves to get discovered and followed by others of same interests and I'm going to show you how to get added, which is easy.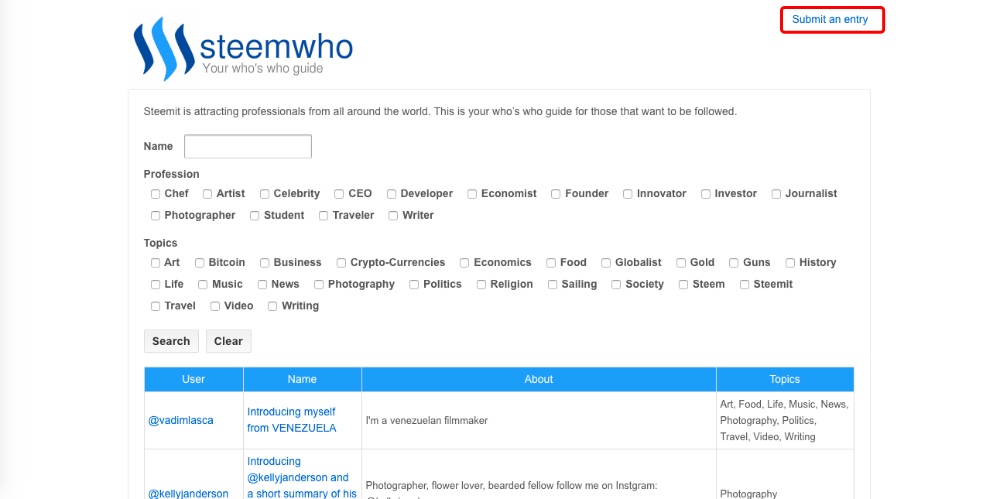 The link to add yourself is at the top right.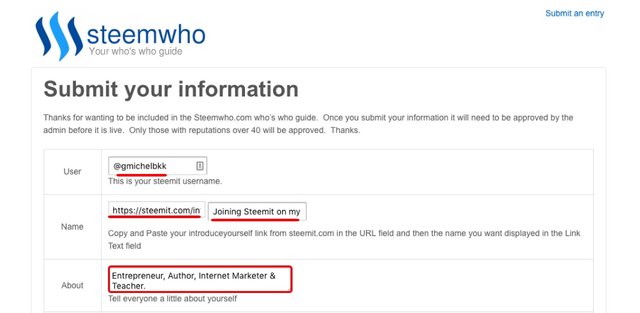 Enter your username, the link of your "introduceyourself" post and a name for it. Enter a short description for the "About" section.
Then check what applies for your profession and the topics you write about on Steemit.

It is optional to enter your email address, but it can be useful if you want to edit your entry later.
Click "Submit" and you get a confirmation.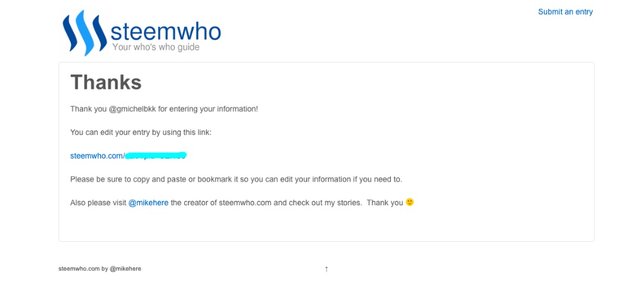 There is a link given to you to edit your entry and I advise you to copy and save it, especially if you didn't provide your email address.
I just submitted mine and we will have to wait for approval.
Now, what can you do with SteemWho?
If you are interested in reading posts about travel, you can select that and you will find people who write about travel.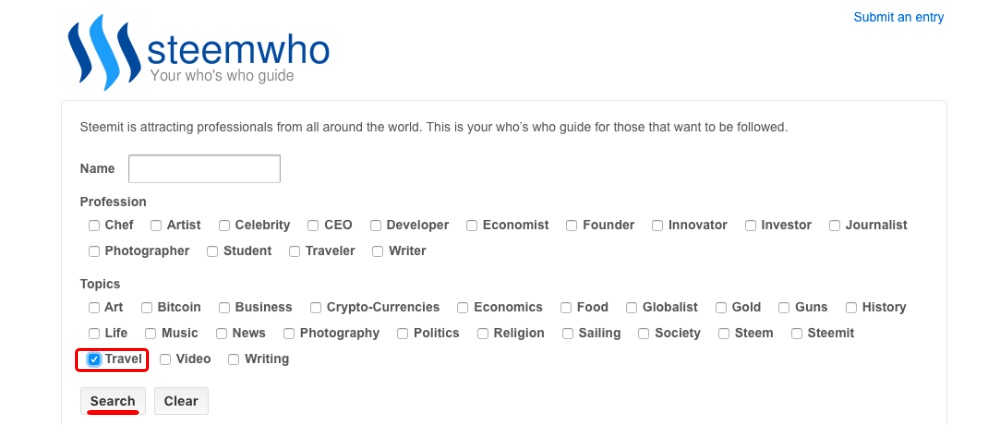 There are currently 37 people writing about travel.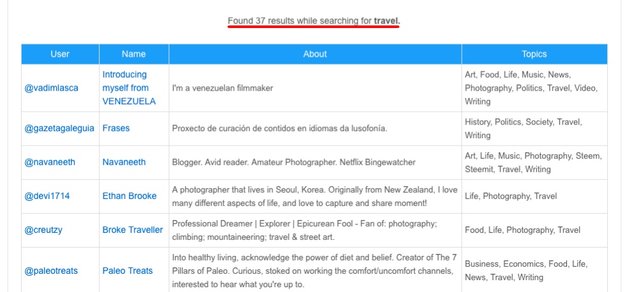 With me, it will be 38!
You can also search by profession and topics. If you want to see Developers who write about Steem, you can do that.
There are currently 9 developers writing about Steem.
You can also search by name.
I hope that this post is useful for you and I invite you to add yourself to the directory right away.
Would you upvote this post and follow me for more because this will encourage me to continue writing more posts about apps for Steem? 
Would you please help @jerrybanfield become a top 20 witness because you can help funding projects to build Steem as explained here? Vote for jerrybanfield as a witness or set jerrybanfield as a proxy to handle all witness votes at https://steemit.com/~witnesses. Read the 5 reasons why I'm voting for Jerry Banfield as a witness and how to vote in my post.
Michel Gerard