Wait. I think He Means For Steemit
Well, speculative fiction is what I would love to post on Steemit. In fact, I've been doing it with The Maya work-in-progress I've been serializing here. There's a full 38 installments to peruse as of this writing (39 goes up later today).
I like the term speculative fiction for what I do because it can encompass a lot of different fiction genres. I always have a hard time classifying what my stories are precisely because I don't think I hold to one specific genre. There's generally elements of science fiction, contemporary fantasy, and mystery in everything I write, and to some degree, action, adventure, and thriller. So speculative fiction wraps that all up in a neater bow and suggests that I'm trying to do more than just tell a story, which inevitably I am. I'm trying to get people to think, too. Not just about the story they're reading, but about what's going on around them in their everyday lives and what kinds of things they might want to pay more attention to.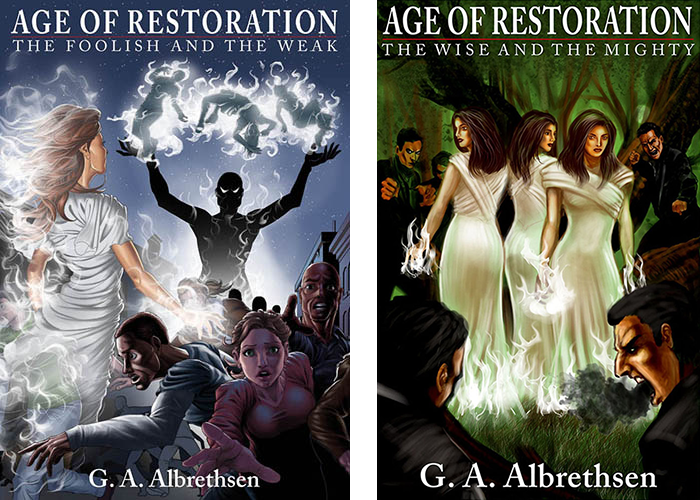 Image source—book covers for The Foolish and the Weak and The Wise and the Mighty, both written by me.
Okay, but seriously
Seriously. Speculative fiction.
However, I do try to be as well-rounded a writer as possible. I've ended up out of my range more than once, especially when it comes to predicting anything and talking about crypto. I didn't get on Steemit because of my love for cryptos. I got on Steemit because I wanted to create.
What About Writing About Steemit?
If you looked at all my posts to date, a lot of them have to do with Steemit. A casual observer might say, "That's his favorite topic. Always yammering on about Steemit. Steemit this and Steemit that." Okay, that would be more than a casual observer. The fact is, though, as sick as we might all get about Steemit related topics, there are always new people coming in and guess what they're trying to learn about: Steemit.
This current post is for the May 30 Day Writing Challenge that @dragosroua started 14 days ago. It doesn't happen to be about Steemit specifically, but it could be if you like writing about Steemit, and many of the other topics have been specifically about Steemit.
And then, @abh12345 held a contest that ended yesterday that directed participants to create a "Welcome to Steemit" post. You can find the winning post by @mountainjewel by clicking on this here.
Contests and challenges like these are popping up all the time, so Steemit is going to be a topic I write about. At least into the foreseeable future. Truth is, though, I'm getting kind of tired of Steemit posts myself. There's an ongoing need for topic diversification and so I'm looking forward to the day when Steemit related topics have waned and become less of a thing.
Just Throw Out Something Will Ya!
I'm pretty sure I already did. A few times.
Aside from They Maya and Steemit related posts, I've also been writing about things I'm doing. As kind of an ongoing series, I have the Grandpa Gotta Eat/Cook posts. I've also published a post on our garden progress, a few on flowers, accidents I've managed to live through, and other general life experiences that I would say are probably my favorite after fiction writing.
Was That So Hard?
Sometimes, there's no pleasing people.
However, that doesn't generally stop me from speaking my mind, which is another topic I enjoy writing about: expressing my opinion. I did it to an extent when I was a newspaper publisher, I've done it in a normal blog, here and there on Facebook and Twitter, and now on Steemit. So far, of all of those, Steemit has been the most satisfying experience I've had when it comes to stating what I think.
You Can Stop Now
Just to be clear, my favorite topic is speculative fiction. The ones that most naturally follow are giving my two cents on a topic and writing about my life. Other topics, like Steemit are farther down the list as far as what I like to write.