Hello dear Steemians,
Im sure that some of you already noticed that Steemit offers advertisers to advertise on the Steemit.com main page now. This serves as an additional source of income to cover server and staff costs.
This is currently approaching cryptocurrency companies to adverstise for their company, product, ICO / STO or their existing cryptocurrency primarily.
The advertisement seems to be displayed only to non-logged in website visitors in the moment.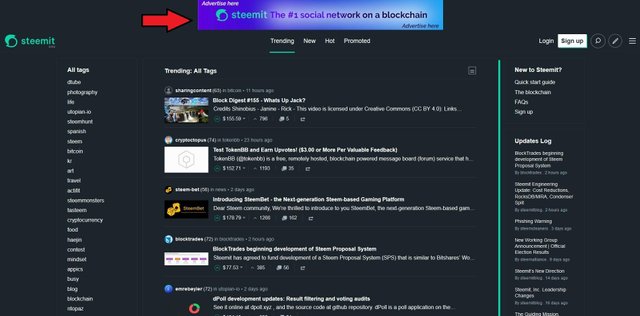 The following form can be used by companies to promote their advertisements on Steemit.com: https://share.hsforms.com/1i7WI0TSeQRWoEbgZxyiYHw2dt65
Google ads are also displayed for non-logged in website visitors, so that Steemit has an additional source of income by clicks on the ads.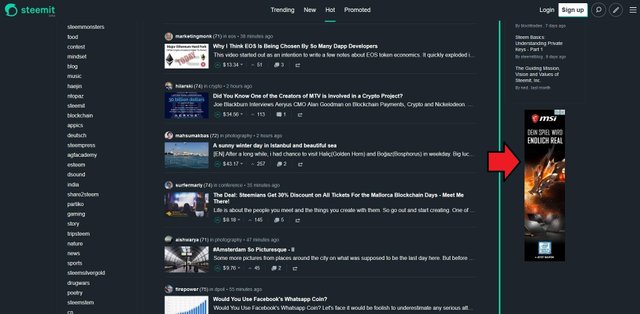 I think it makes sense to monetize website traffic from Steemit and if you do not want to see ads, you can use an adblocker, for example.
Why should not Steemit also use the website traffic to cover server costs?
Advertising keeps web pages alive and that's why it's just part of the internet, even though some people may be annoyed by being followed by advertisements everywhere. Then just just use an adblocker like I said...
---
A little suggestion: At this point I want to introduce you the Tube Browser Tool, which blocks advertisements in your browser and even rewards you with tube tokens, just for using it. A nice little passive source of income that rewards you for your online time.
--> Here you can Download the Tube Browser Addon for Google Chrome for free!
---
My suggestion for an optimized win-win-win advertising system for Steemit.com:
In my opinion, Steemit's current advertising system can be improved a lot, because Advertisements in the members area are even more valuable. Logged-in users normally click more on advertisements and are returning visitors due to their membership. Advertising thrives on repetition and usually you only click on an advertisement if you have seen it several times.
Furthermore, an advertisement on the start page is not interesting for a broad mass of advertisers, since hardly a target group restriction is possible here. I would say that it's mostly interesting for cryptocurrency companies in the moment, as many visitors come across cryptocurrency and blockchain keywords on Steemit.
In order to address additional target groups with the advertising system and thus also benefit the bloggers of our community, we could expand and optimize the Steemit advertising system even more.
For example, Steemit could give advertisers the option of using selected tags / keywords to advertise in Steemit blog articles.
The Steemit advertising system would also appeal to many more different industries with keyword based advertising, because travel companies could also advertise in Steemit articles with the tag "travel", music streaming services in articles tagged "music", camera manufacturers / Distributors in articles with the tag "photography", game providers in articles with the tag "gaming" for example, etc...
In addition, Steemit could offer the possibility that the advertisement will only be displayed on blogs with a reputation of "XX", so that the advertisement of the advertiser is only displayed in potentially high-quality articles.
On the other hand, it could also benefit bloggers by getting some advertising revenue per click, or even per view. It also motivates bloggers to promote their articles outside of Steemit to get more views on their articles and to write their articles in even higher quality, so that they are even listed high on Google & Co. in the best case.
The Steemit platform will also benefit frimn this again, as it will increase website traffic. For this reason, I find it´s very fair when the advertising revenue will be shared with the bloggers, because we generating the corresponding traffic ...
If someone basically wants to keep his articles ad-free, Steemit could install a button in the settings of the Steemit profiles where you can turn the monetization of blogs on and off.
I am sure that such an advertising system would be a great benefit for the Steemit community and above all would attract many new bloggers who are using other platforms so far. This also leads to an increasing number of people who will deal with the Steemit ecosystem, the Steem Blockchain and the STEEM cryptocurrency.
If the advertisers will be able not only to pay with FIAT, but also with STEEM and SBD payments, this would lead to even more investments in STEEM.
In conclusion, I believe that such an advertising system would simply be a win-win-win situation for Steemit, the bloggers/content creators and also for advertisers. I think the team of Steemit Inc. (@steemitblog) should really think about this suggestion and everyone is welcome to write your opinion about it in the comments.
Of course, I also know that some in the community generally have something against advertisements, but it really makes sense for everyone and anyone who does not want to have ads on their blog can exhibit it and use an ad-blocker, so that they are not even see ads on other blogs.
---
Best regards and hear you in my next article everyone!
Jonas - @future24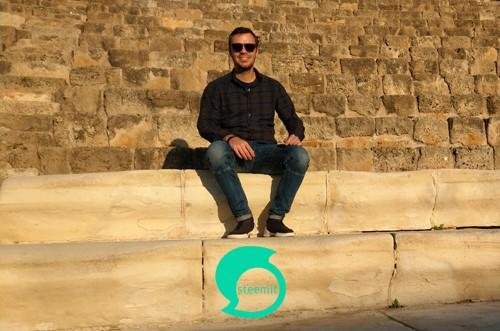 ---
PS: This article was published with the Esteem Surfer Software 2.0.4 by @good-karma and the @esteemapp team.
---
Sponsored ( Powered by dclick )
Iozeta cryptopower adapter will turn on any plugged ...