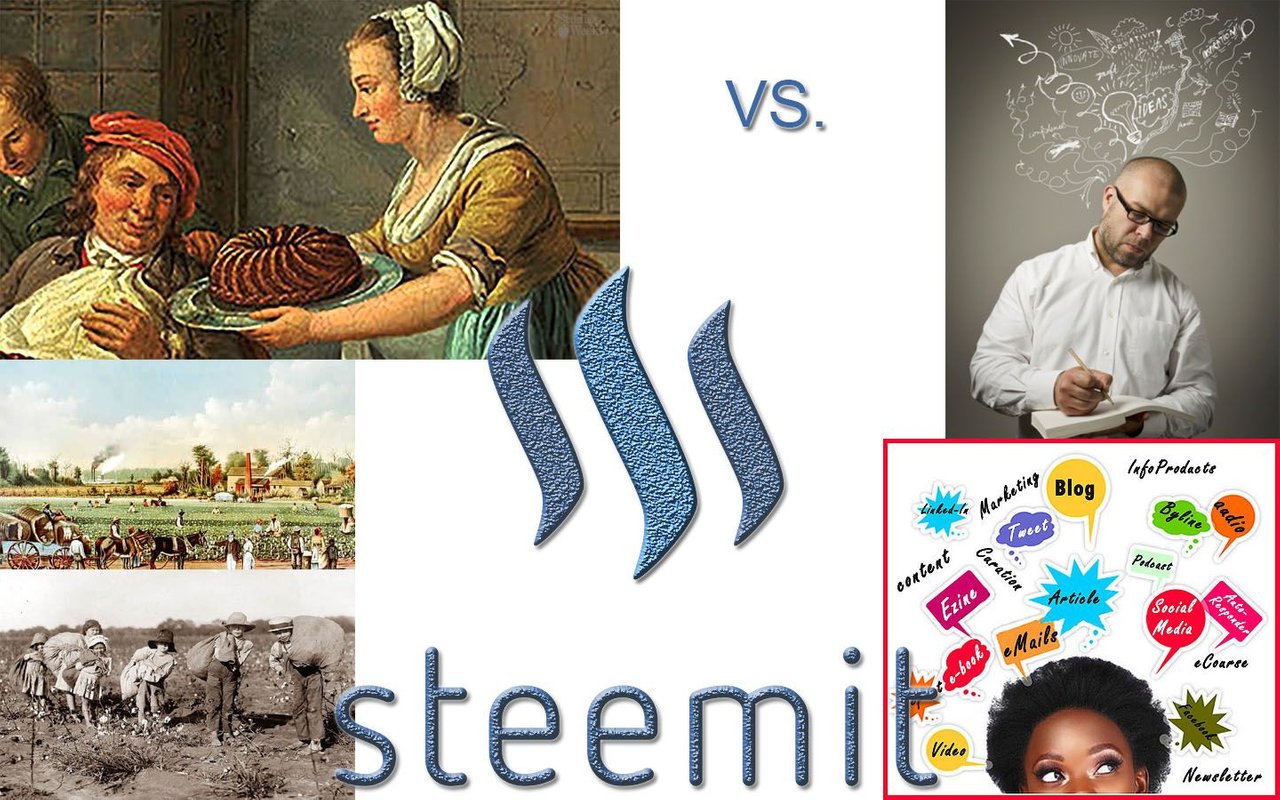 Steemit as a place already has its factions and different groups of people. Behind the scenes discussions that primarily happen off the block chain can be quite revealing. There are some factions that will not be able to function too well together. I am currently trying to think of how bridges can be built between them. What can we do to keep factions from attempting to force their will upon all others?
Those last two sentences above are really what I'd like an answer to. Now I am going to describe one faction/group of people and what their beliefs about how steemit should work appeared to me after observing and attempting to interact in their discussions.
There is a group of people that believe that the ONLY people that should be getting a reward are those that invested in steem by spending money. Some of them will refer to the content creators as being people producing very little of value and just seeking free money.
The hours you may put into building your content, and the work you do to try to get better at crafting content by trial and error, apparently has NO VALUE. They think your reward is coming to you for free.
Sadly these people fail to recognize that the money they purchased steem with likely came from a job where they have a contract and work for a business that pays them a wage. That wage is an exchange for their TIME.
If creating content has no value, then neither does their work for the business that pays them a wage. Both are exchanges for time.
However, a wage is a guaranteed contract. Unless you manage to get fired, you will consistently get paid, even in many cases if people are slackers and lousy at their job.
Content creation takes TIME just like a job. The difference is it is currently a gamble. The content creator may get nothing, a small amount, or if they are fortunate may be rewarded nicely.
Yet this faction calls that getting FREE money.
I tried to tell them that if they only rewarded investors who bought steem then technically it really would be no different from other crypto currencies. That is what they do. People buy the currency, watch the price and trade it based upon its fluctuation in value.
If that is the mentality then in reality there would be no reason for the social media side of things.
Steemit has several attractive qualities and likely more than I am going to list now.
Unlike other social media sites the people using the site are rewarded for their participation. This encourages becoming INVESTED personally into the platform. It also insures a steady flow of content.
Part of that reward comes in the form of long term investment (steem power) which is stakes.
This gives the content creators a VESTED interest in remaining and fighting for their platform. It is not as easy for them to say SCREW THIS and leave. They can do that, but they'll be leaving behind an investment, unless they take the time to power down, and coming back to get their power downs might end up sucking them right back into participating
Steem as a block chain has even more potential, and yes you could run it as a traditional crypto currency with ONLY rewarding the investors. That is if you only see investment as monetary and don't consider time an investment.
In reality, both the content creators and the investors need each other. Neither side would work too well without the other, and they would certainly be not much different than any other projects that have happened in the past other than the steem blockchain being faster than other blockchains.
To me the investors (monetary only) group made me think I was listening to modern day slave owners. "I spent money on this plantation, and you damn workers want to get paid for picking my cotton! Damn freeloaders."



Steem On!