It's been a while since the last steem.supply update. Between waiting for a stable API and the need to push some changes, the need to push some changes proved stronger, so today I'm rolling out a (small, but useful, I hope) update to this app.
Here's the changelog:
added the unclaimed rewards to the user profile (including unclaimed SBD, STEEM and Steem Power)
fixed a bug in the detailed rewards link and refactored it: now you can "see this content on Steemit" directly from within the detailed rewards screen
fixed a few notices generated by incorrect casting to int rather than float
version bump
All, in all, here's how the new unclaimed rewards piece of info looks like:
---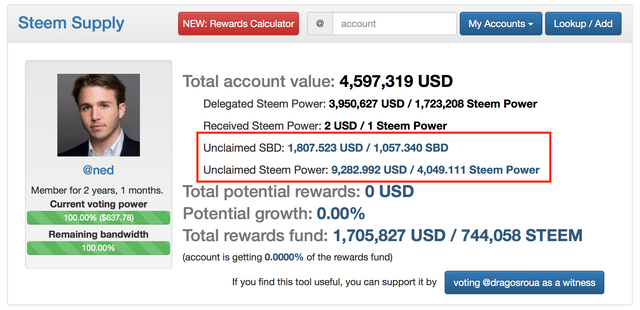 ---
Once rewards will start to be paid in STEEM as well, the unclaimed STEEM will appear there as well.
As always, looking forward to your feedback, criticism and suggestions.
---
I'm a serial entrepreneur, blogger and ultrarunner. You can find me mainly on my blog at Dragos Roua where I write about productivity, business, relationships and running. Here on Steemit you may stay updated by following me @dragosroua.


---
Wanna know when you're getting paid?
I know the feeling. That's why I created steem.supply, an easy to use and accurate tool for calculating your Steemit rewards
It's free to use, but if you think this is a useful addition, I'd appreciate your witness vote.
Thank you!
Psst: new to Steemit? Start Here