We're half way through the May 30 days challenge and I'm really, really enjoying this. Also, I'm very happy to see that some of the participants are already seeing results.
Remember, this challenge has, as a primary goal, the strengthening of the Steemit community, but it's nice to see how some of the participants are already seeing rewards.
Like I said, I can only upvote at full strength 3 posts per day and that will amount to $3-$4/vote, depending on the actual price of STEEM. But the good news is that, by being consistent and participating in this challenge, you will get more upvotes because:
you will get more visibility by being consistent
your writing skills will improve
you may get more visibility because the tag #challenge30days is being picked up and creating a "snowballing" effect
Speaking of this effect, here's a nice one by @rgeddes, who joined the challenge by writing fiction (not necessarily by answering to one of the topics, that is)
---

---
Also, some established Steemitans, like @alexavn, are seeing consistent results:
---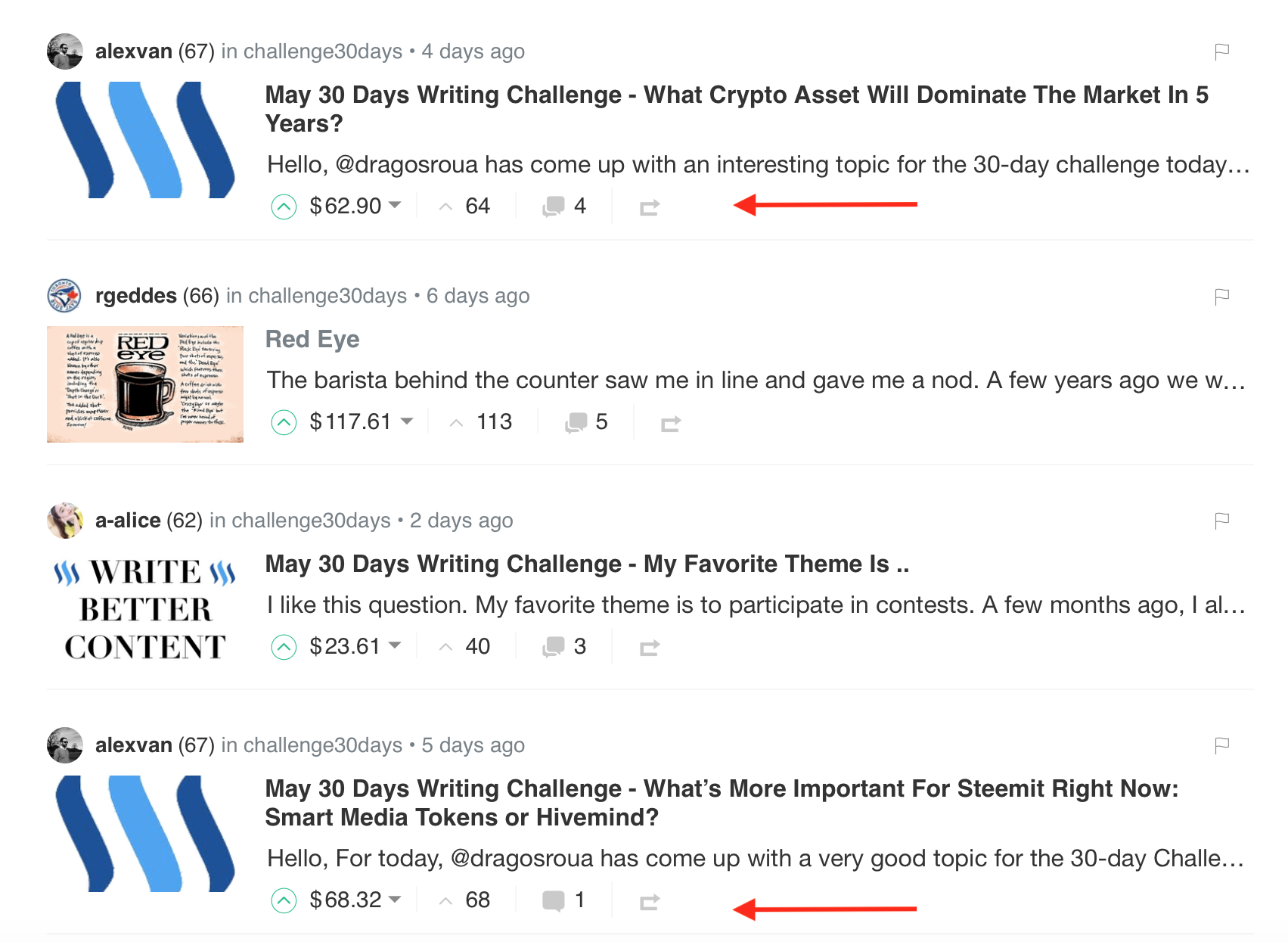 ---
Please note that I didn't upvote @rgeddes at all and I voted @alexvan only once, if I remember well.
So, if you think $4 for a post is not enough, think again, because there are many other benefits by joining this 30 days challenge. This challenge is indeed like a box of chocolates: you never know what you're going to get :)
Steem on!
---
I'm a serial entrepreneur, blogger and ultrarunner. You can find me mainly on my blog at Dragos Roua where I write about productivity, business, relationships and running. Here on Steemit you may stay updated by following me @dragosroua.


---
Wanna know when you're getting paid?
I know the feeling. That's why I created steem.supply, an easy to use and accurate tool for calculating your Steemit rewards
It's free to use, but if you think this is a useful addition, I'd appreciate your witness vote.
Thank you!
Psst: new to Steemit? Start Here