Top 10 Cryptos
At the moment of writing, top 10 crypto assets looked bearish, with all of them in red.
---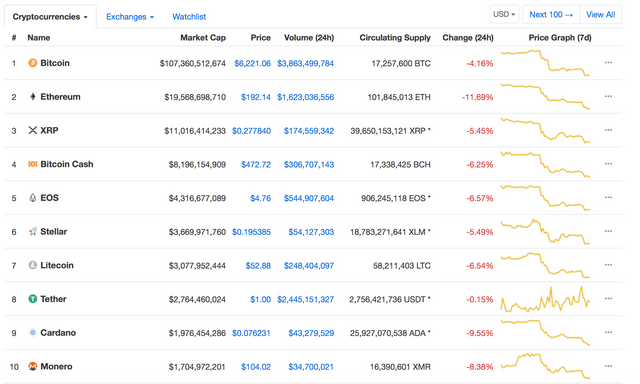 ---
Bitcoin had another sudden leg down and the entire market is bleeding hard. ETH lost more than 10%.
STEEM And SBD
At the moment of writing, STEEM was trading, on average, at $0.76 on Coinmarketcap, sharply down from yesterday and at the lowest level for this year.
The hourly chart shows that the initial attempt to recover back to 13k satoshis didn't get enough momentum, so the bears took control and the current price is just a little over 12k satoshis
---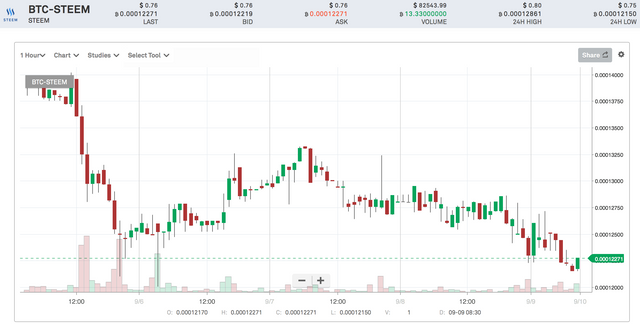 ---
The daily chart keeps the bearish trend and there's no immediate resistance to keep the price for getting even lower than that (for instance, on March 13 2017, STEEM was 5.9k satoshis and $0.07)
---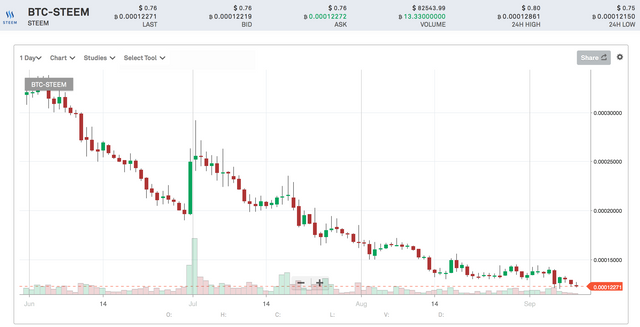 ---
SBD was trading, at the moment of writing, at $0.95, almost identical with yesterday and still at the peg.
On the hourly chart, SBD is keeping the uptrend, trading now just a little over 15k satoshis
---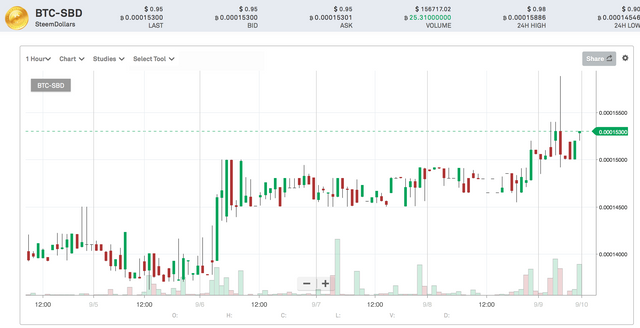 ---
The daily chart is showing a small uptrend, correlated with Bitcoin depreciation, with relevant volume
---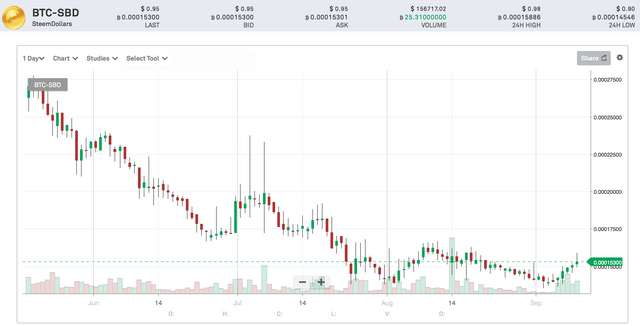 ---
SBD to STEEM Ratio
At the moment of writing, according to steem.supply you could get 1.251 STEEM for 1 SBD, up from yesterday, and above parity. Since SBD printing rate is 0%, rewards are paid now in STEEM / Steem Power.
---

---
Overall opinion: Bitcoin had another leg down, pushing resistance towards the key level of $6,200. If this level holds, we may see a very small bounce up, but there are more chances that price will go towards $5,800. STEEM is taking a hit, while SBD is maintaining its position (I find this quite remarkable, to be honest). My personal outlook is bearish, short term, and neutral medium term.
Disclaimer: I'm not a trader and this is not trading advice. I'm writing these articles for my own educational purposes and they are not meant as an investment foundation. Please make your own due diligences when investing and never invest more than you can afford to lose.
---
I'm a serial entrepreneur, blogger and ultrarunner. You can find me mainly on my blog at Dragos Roua where I write about productivity, business, relationships and running. Here on Steemit you may stay updated by following me @dragosroua.


---
Wanna know when you're getting paid?
I know the feeling. That's why I created steem.supply, an easy to use and accurate tool for calculating your Steemit rewards
It's free to use, but if you think this is a useful addition, I'd appreciate your witness vote.
Thank you!
Psst: new to Steemit? Start Here