Top 10 Cryptos
At the moment of writing, top 10 assets were sharply down, following news considered bad by the market. All top ten assets were in red.
---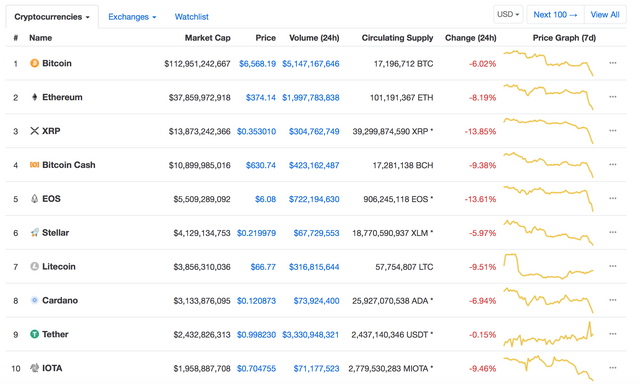 ---
Bitcoin is down to $6,500 and some assets, like XRP and EOS, are posting double digit losses.
STEEM And SBD
At the moment of writing, STEEM was trading, on average, at $1.07 on Coinmarketcap, down from yesterday in fiat and in BTC
On the 1 hour chart, although STEEM reacted to the market dive, it still maintains the gains from last week, trading above 16k satoshis
---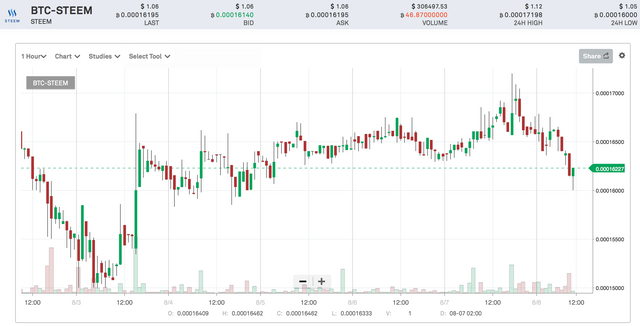 ---
The 1 day chart is still flat around 16k satoshis and it might look like STEEM may break out of the bear trend and start a flat / sideways pattern
---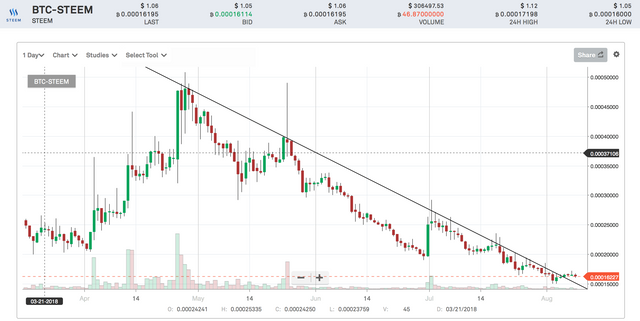 ---
SBD was trading, at the moment of writing, at $1.06, almost identical with yesterday, in fiat but up in BTC.
The 1 hour chart shows that SBD reacted correctly to the BTC dive, appreciating against the main asset and maintaining its value in USD.
---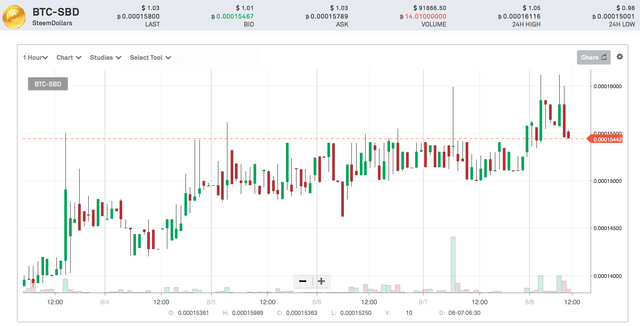 ---
The 1 day chart seems quite stable, given the latest market swings
---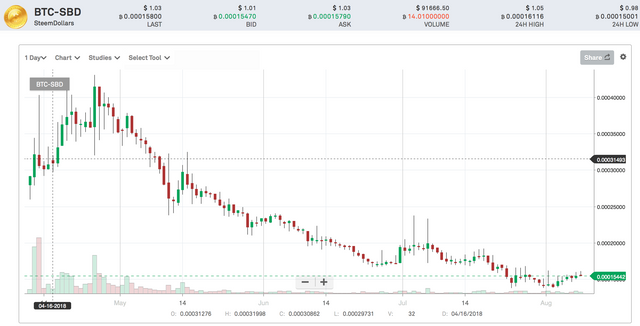 ---
SBD to STEEM Ratio
At the moment of writing, according to steem.supply you could get 0.972 STEEM for 1 SBD, up from yesterday, and still under parity. SBD printing rate is 8%, down from yesterday.
---

---
Overall opinion: SEC announced a delay in a very anticipated decision about a Bitcoin ETF, until September, and that took the markets down. The move was way too sudden, though, and I expect a correction up soon. STEEM and SBD are holding ground, which is very good news.
Disclaimer: I'm not a trader and this is not trading advice. I'm writing these articles for my own educational purposes and they are not meant as an investment foundation. Please make your own due diligences when investing and never invest more than you can afford to lose.
---
I'm a serial entrepreneur, blogger and ultrarunner. You can find me mainly on my blog at Dragos Roua where I write about productivity, business, relationships and running. Here on Steemit you may stay updated by following me @dragosroua.


---
Wanna know when you're getting paid?
I know the feeling. That's why I created steem.supply, an easy to use and accurate tool for calculating your Steemit rewards
It's free to use, but if you think this is a useful addition, I'd appreciate your witness vote.
Thank you!
Psst: new to Steemit? Start Here