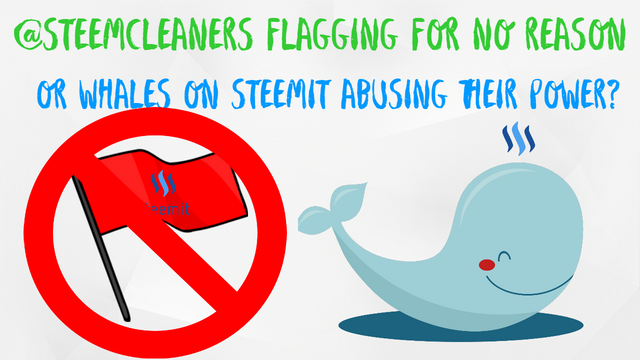 YouTube Video
Hello! you probably don't know me yet, and that is fine. Kind of sad to be honest that we use our Steemit account to teach and help others earn money with this amazing community and platform. It seems that some people are envious of our rapid grow and are flagging our content without any reasons. Our content always have the same template; A Youtube video, some links to our social sites, and if we are talking about an ICO like we always do, we link to their sites.
We have been doing this for almost 2 months now without a problem, and now all suddenly it becomes against community rules?, I would love @steemcleaners and the rest of the community to take a look at these Posts and point out to me how did they break the rules. Keep in mind that we always post Unique content as we only share videos that we have in our YouTube Channel.
Note To be able to see the post content you need to click on the "Show" button:


Note:This one is a bit "funny", because it got flagged but the English version wasn't: ICOs Recommendations: BowHeadHealth ICO
crazy right?, Is the Spanish version broker rules, isn't the English version breaking the same rules? 🤔
There you go @steemcleaners 5 Posts Vote Down without a reason so please tell me how do these posts are breaking the rules?
Another thing that I would like to discuss is our Steemit Discord Group. If you are part of it please leave your comment below letting us know your honest opinion of our group and what we are trying to build ReSteem this post. If you are not part of our Group. We have a group similar to @minnowsupport PAL group. A community helping each other with Votes and such.
I haven't made an official post about it just yet, but that is something that will come in the future. At the moment we have 250 Members in our English Group and 521 Members in our Spanish Group. I will ask both groups to leave their comments on this Posts. Another thing that I would like to address to those people saying that we are "Stealing accounts!", I wont mention you by name, by I know who you are. Please explain how or why would you said something like that?
We are helping people with our content; Videos, Tutorials, Giveaways, and yet toxic people find a way to try to hurt us and damaged our projects by Down Voting our content without reason. I will bring people from YouTube, Facebook, and Twitter into this post, we are not alone.
Thank you for your time @steemcleaners and please do re active our Posts!