Taking stock this morning — as I have done every day since I started here, because I am a bit of a numbers geek — I noted that the market value of my SP holdings are now at their lowest point since May 7th, 2017.
No, this is not another whiny post about the price of Steem and the fate of Steemit, it's a reflection on blogging. And I want to give a shoutout to @meno, for inspiring this post.
In a post entitled If It Made Nothing from a couple of days ago, @meno observed that he would probably still be here, writing, even if there weren't any rewards.
Which isn't to say that we don't like the rewards; they just aren't the primary motivating factor.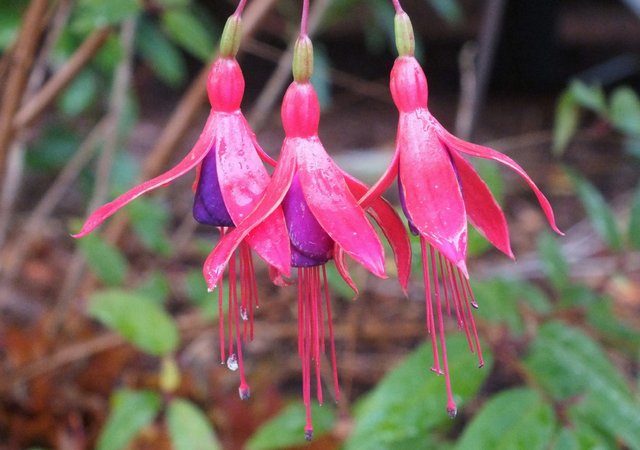 Fuchsias in the rain
Social Blogging
I ended up on Steemit because a friend asked me to check out an article about Universal Basic Income. That article happened to be written and published by someone on Steemit, so after reading the article I started exploring the site...
And I found it to be a lot like Xanga, a social blogging site where I was very active between 2002 and about 2007.
The timing was very opportune, because I was (A) really fed up with the divisive fire storming and trolling that Facebook seemed to have become, as a result (mostly) of the US Presidential election and (B) I was rapidly losing interest in maintaining several (otherwise successful) "strict niche" blogs I had built since Xanga's slow demise.
In other words, I was ready to go back to "general interest commentary" style blogging. Fuck niches! Fuck always having to be "on topic" and always having to focus on delivering "information" without myself being in the picture. Fuck having to write 3rd person "article style" blog posts.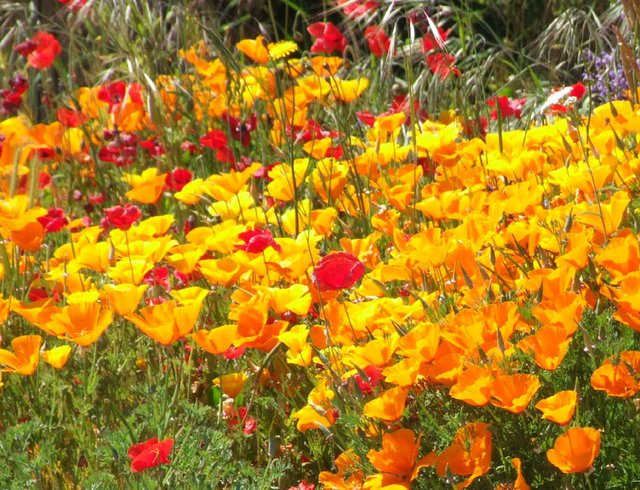 Garden filled with poppies
Having Fun Again!
What I quickly (re)discovered on Steemit was how much I just enjoy flow-of-consciousness writing, and how much I had missed it.
I also realized I was somewhat out of practice at it...
And even if it (the interaction) were somewhat motivated by money, I realized there was a FAR more interactive community on Steemit than anywhere else I'd seen in quite a while.
Over on Blogger (where I had built several pretty successful blogs, I would put out a blog post, have 2000+ reads in 24 hours, and end up with zero to three comments.
Meanwhile, I also published some on HubPages, and there it was all "follow a certain formula, or remain invisible." Frankly, I don't like "write to order."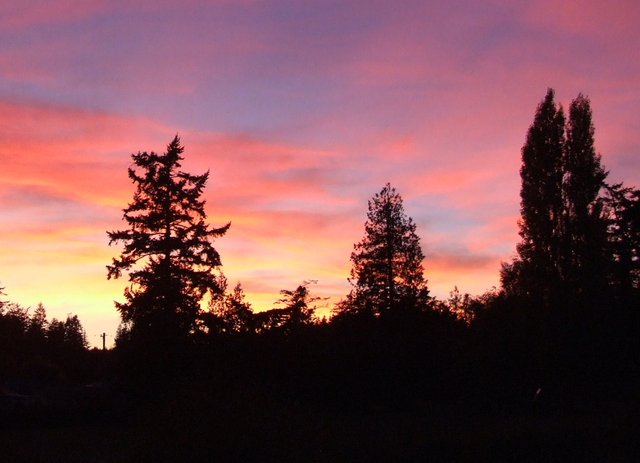 Winter sunset
Why I am NOT quitting Steemit
Lately, it seems like a lot of people have either stopped posting here and have left for... what? Facebook? Or they are far less active than they used to be.
In taking a long hard look at "what I am doing" here, I realized that the primary reason I am not having thoughts about quitting has little to nothing to do with the rewards. Sure, it was fun to suddenly get paid for blogging, but that was never my expectation to begin with.
In fact, in my introductory post here in January 2017, I expressed a LOT of skepticism as to whether this whole "get paid" idea was even rooted in reality.
My point being, that any rewards I have earned here have been — and continue to be — a "delightful surprise," rather than an "expectation."
I just enjoy the free style writing, the variety of topics, and the interesting people here. And that's enough to keep me plugging along here.
How about YOU? Have you had thoughts about quitting Steemit? Because of the lowered rewards? Where would you go, instead? Or are you planning to stick it out here, regardless of whether Steemit "succeeds" or not? Leave a comment-- share your experiences-- be part of the conversation!

This entry created and posted via @steempeak. If you haven't tried SteemPeak yet, you really owe it to yourself to give this "modern" view of Steemit a try! Just go to SteemPeak.com and give it a test drive! (SteemPeak is a beneficiary of part of the rewards of this post)
(As usual, all text and images by the author, unless otherwise credited. This is original content, created expressly for Steemit)
Created at 180910 00:21 PDT