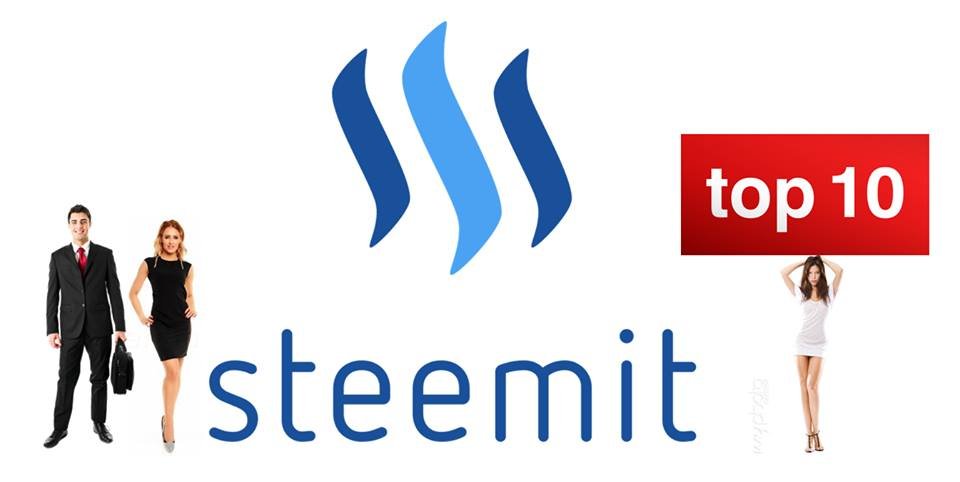 Do you remember a moment you thought: "this is fun, I wish I could do this all day, as a job, but that would be impossible for me." You realized that this fun was only part of your free time. The next day you would have to go to work and you were definitely not looking forward to that. You probably have thought of jobs you wouldn't believe to be possible for you. Well, enough Steemians have done extraordinary jobs before you!
Playmates, models, musicians and business men! Steemit is a diverse network with a diversity of users too. Diverse as we are, we're still a reflection of today's society. I've pulled together 10 of the most extraordinary jobs around on Steemit and believe me, I was so inspired! Anyways,  this Official #steemittop10 features the Top 10 Steemians with Extraordinary Careers. Enjoy yourself, sit back, relax in your chair and be ready for the Official #steemittop10: Top 10 Steemians with the Most Extraordinary Jobs.
I believe this motivational video totally meets the subject:
We kick off with @allasyummyfood! Extraordinary and inspiring she is. She has quit her full-time job and now earns her money as a passionated parttime Youtuber and parttime private cook. She has over 155.000 fans on Facebook and 45.000 Youtube followers! Check her youtube channel here!
"I want to contribute my knowledge, insights and all the tips and tricks  about Youtube, Facebook and Social Media as well as occasional recipes  of my favourite desserts and childhood food." by @allasyummyfood
@rok-sivante, a well-known Steemian ánd DJ on Bali! He appears to be living the dream life as he earns money by DJing on one of world's most beautiful places: "The Island of Gods". 
"Back to Bali, I will be, as forever, it shall hold a place in my heart. If you ever get the chance to visit,
and feel a calling to do so DO IT." by @rok-sivante
Definitely an extraordinary job, @pbar! @pbar has been a dolphin trainer and now trains sea lions in Denmark. She's only 23 years old and has been doing this since her 16th. Unfortunately she hasn't been an active writer on Steemit yet! I believe a lot of us are interested in your stories @pbar, especially now that Steemit is so occupied with the existence of marine mammals, right?
@orm loves to build houses out of earth, presented this at TEDx (check video below) and has been volunteering for three years on a tiny farm in Ecuador. He's  also a photographer and loves 3d printing. 
"I would recommend it to anyone who is bored of their job, at least for a  holiday. I volunteer my time in exchange for food and a bed." by @orm
Check his presentation at TEDx:

@emily-cook is on the 6th place and she's definitely a special one! She has worked for Universal Studios, BBC, Pinewood Films, ITV and even appeared in several films! She hopes to engage with more people interested in the tv industries! You might be interested?
"I'm lucky enough to have a career in the Film and TV industry and I  regularly interview and blog about special guests, offering insights  into their worlds and intriguing behind the scenes and 'making of'  knowledge." by @emily-cook   
Did you know we have our own independent model on Steemit? @halo shares many shoot photos on her profile. The past weeks, she's definitely been busy promoting Steemit! Thanks @halo for your contribution, let's hope it works out well, GO BLUE!
 "I hope everyone loves this as much as I do , This is how I show my love." by @halo
@dantheman... if his job isn't extraordinary....?  He's one of the Co-Founders of BitShares and Steemit itself! @dantheman shares his life story in his post "Daniel Larimer - Co-Founder of BitShares & Steemit" where he talks about his divorce, life lessons, his new commitment and starting steem!
"It was at the depth of this despair that I learned how to let go.  Holding on to anger and resentment was only holding me back.  I started  meditating and learning who I really was. I learned the joy of living in  the moment and not dwelling on my story and the injustice  of it all.  I had to let go of things I could not change and focus on  what I can do.  This experience gave me the strength to be calm in any  storm." by @dantheman
"However, I'm more known for being the founder of the Pirate Party,  an international collection of technopunk parties that have won  elections to take office in the European Parliament and elsewhere." by @falkvinge
On the 3rd place... yes, you've read it correctly @falkvinge, the founder of the Pirate Party! He's definitely an extraordinary Steemian and now shares his ideas about liberty. 
"Oh, and if you want to read more about my personal life and so on, there's a Wikipedia page  in 14 languages. ;) And I respond to anybody mentioning my name  anywhere. A distinct advantage of having a globally unique name." by @falkvinge
On the 2nd place: @brendazambrano! And not without a proper reason... she is the first playmate with more than a million followers to blog on Steemit! I was quite impressed by her video and photos. I started to realize that we're really becoming a diverse community with people from all over the world with all kind of jobs too. Gracias, @brendazambrano!
 "I hope to help Steem to become more known in the spanish-speaking part of the world." by @brendazambrano
Congratulations @daxon, you're my personal favorite in this area. @daxon recently joined Steemit. @daxon, you're definitely the Steemian with the number 1 extraordinary job! I believe I've already seen you on the internet before I joined Steemit. I still wonder how you manage to take these selfies, @daxon! I suppose you have a lot bloopers too? Anyways, thanks for sharing some happiness and inspiration with the community. 
"As long as people can take value or happiness from your work then I believe you're on a successful path. My aim is to inspire others to do more of what makes them happy in life. Start doing what you love and tell the world." by @daxon
The Official #steemittop10 is a new concept in which the most outstanding Steemit content is  discussed and promoted. If you enjoyed reading this, please support the #steemittop10 by voting up and follow @chrisadventures!
Edition 1: The First Official Steemit Top10: Top 10 Most Inspirational Travel Stories on Steemit!
Edition 2: Official Steemit Top10: Top 10 Motivational  Steemit Stories on How To Achieve Success in Life, Be Inspired! - by  chrisadventures
Edition 3: The Official Steemit Top 10: Top 10 Most Intimidating Love Stories on Steemit  (18+)! - by chrisadventures