Hey My J's,
I try not to blog too much about steem because everyone does it and we know its a vice many of us have, we love talking about the platform we're using good or bad news it doesn't matter.
I've been trying to keep up with all the updates which sometimes feels like a full time job and at times I just give up and return to my vanilla use of Steemit. I know the steemit site is not the greatest but it was my first point of interaction so there's a bit of nostalgia that keeps me coming back.
Now that the wallet has been moved to a new site/condenser I'm just like fuck me charlie, seriously Charlie bit my finger now he wants to bend me over, damn daniel! How many more sites do I need to use to get my steem on?
Feeling dApp-ressed at times
Is it just me that feels like I wish there was one STEEM front end that rules them all. Can we not put together the council of elrond but instead of trying to destroy one ring by casting it into the fires of mount doom, we actually forge one that becomes the ideal steem experience and a welcome mat new users can really dive into.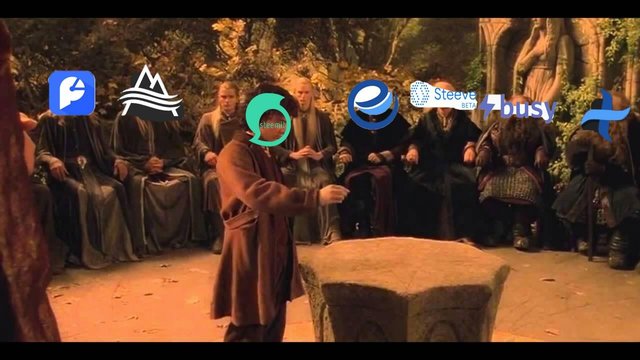 The council of frontends
General front ends
Steemit.com
Steem Plus
Busy.org
Esteeem app
Steev app
Steem Peak
Partiko
I won't even mention all the other dapps that also have communities and users contributing every day or this post would go on forever but you get the picture.
One dApp to rule them all
I can't be the only one who has this fantasy of having one site and one app and one brand with all the features we love and features we want. Lets for one second imagine it shall we? Let's take steemit since it is the most popular, the most users, the strongest brand and most widely used.
There is so much happening on steemit and so much that goes on outside steemit behind the scenes on discord or on other dapps and is missed by the wider community.
Just imagine if we brought together all the amazing features we enjoy with dapps into one unified front end we can present to the world and say this is a real rival to traditional social media.
Would you like to join my thought experiment or not sure that I mean? Well take a second to imagine logging onto steemit each day and this happens
Imagine having a steemit branded mobile app for iOS and Android
That you earn points each time you post
That you could earn points or rewards for referring others
You could have multiple draft posts
You could follow communities
Have instant messaging
Have group chats
Have community forums/boards
Have manual and AI curation
Have interest circles
Have automated/autofill when tagging accounts
Have pricing in local currency
Have access to bot directory
Have access to a community directory
Have bid botting and tipping/donations build in
Have notifications on follows, unfollows, resteems, who resteemed, upvotes, downvotes, replies, mentions, mentions of friends.
Have suggested and featured posts
Have pinned posts
Have favourite and bookmarked posts
Have access to other dapp functions like setting bounties, embedding a DTube, Polls or DSound content
Follow suggestions
Filters for active users, filter for posts that can still be rewarded
Mark ups on posts that have rewards or competitions so users can easily identify them in their feeds
An explore page split into content you follow, content your freinds interact with, content your communicites curated, content that is generally hot or trending
Filtering content by reputation, UA or Payout
Filtering content by language or region
Viewing curation trials or a directory for it
Don't you think it would make this place even better? I know I would appreciate it. I know its not likely and I know thats not the way it will go but perhaps some alliances can be formed. Maybe dapps can combine, maybe steemit inc ropes these guys in as a second lay to take over from them while they focus on chain stuff.
Have your say
What do you think about one front end to rule them all? Or is decentralisation the better option and I should just get used to it?
Holla at me in the comments! All my commenters I will now refer to as Jessie. Jessie is a good friend of mine, but Jessies got a girl, and I want to make her mine.
So have at it my Jessies! If you don't have something to comment, simply comment "I am a Jessie."
Let's connect
If you liked this post sprinkle it with an upvote or resteem and if you don't already, consider following me @chekohler


---
Get Daily Upvotes With SmartVote

Trade Bitcoin, Ethereum, Litecoin, Doge or Dash for STEEM instantly
Check out blocktrades to quickly exchange popular cryptocurrencies for STEEM, STEEM power or STEEM Dollars or trade your STEEM, STEEM power or STEEM dollars for popular cryptocurrencies
---