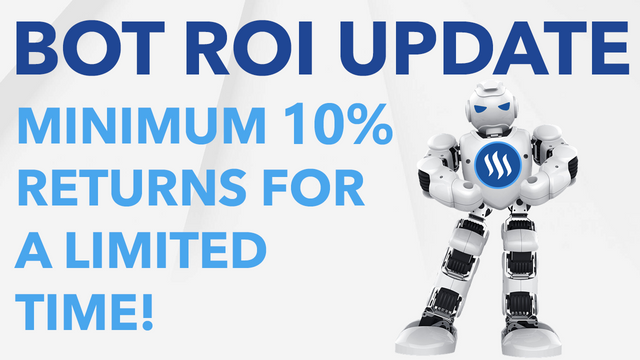 Encouraging User Activity During the Lull
As I mentioned on yesterday's video, user activity on the blockchain has been steadily decreasing with the declining value of the Steem currency. This is a phenomenon that I've been unable to wrap my head around because I feel users should be active no matter the price of our coin. And with the volatility of the crypto market, it wouldn't be that far-fetched to see a strong correction as early as today. Who knows? The price of Steem could skyrocket to $5.00 tomorrow. Therefore, it makes no sense that user activity so closely correlates with the price of our beloved cryptocurrency. But I digress.
New ROI Settings
In an effort to try and encourage activity on the blockchain, and reward users for being productive during this bearish cycle, I'm increasing the @brandonfrye upvote bot's minimum ROI from -10% to +10%. Originally I had planned to increase the minimum ROI to +1% but it's been pointed out (in the comments below) that due to the price drop of Steem (which caused our payouts to now be split among SP, SBD, and Steem), our payouts have decreased substantially.
So now I have increased the bot's minimum to +10% and the max to +15% which should offset the lack of rewards and possibly get you a nice ROI. Again, this will remain in place for a limited time only, possibly until we see an increase in the value of Steem and our rewards go back to a SP & SBD 50/50 split.
How to Submit a Bid?
Send a minimum of .10 SBD or Steem to @brandonfrye with the link to your post in the memo field. My account upvotes posts every 2.4 hours (when account hits 100% voting power). The higher the bid you send in, the larger percent of the 100% upvote you will receive. And if you send in too much, the bot will automatically refund you and ask you to send in a smaller amount.
Check out www.SteemBotTracker.com for details on the current voting round and the max suggested bid for that round. You can also view the upvote bot's Terms of Service here.

Recent Posts