Or at least I seem to have a problem.
As I really do not like how steemit forced it's policy changes some time ago. I decided NOT to check the boxes on the policy wall.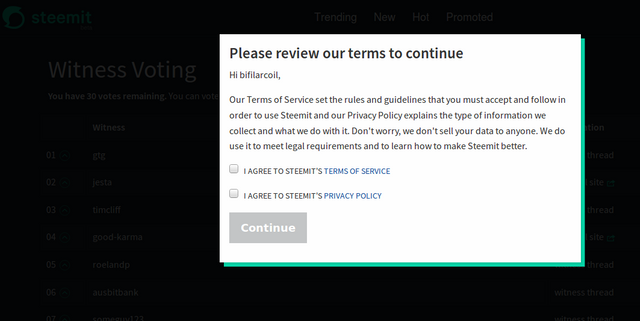 And the above image is the only thing I see whenever I go to Steemit.
So it was good to have busy.org and now also steempeak.com
A couple of times people told me to vote on witnesses and than pointed me to that page the I'm not allowed to use.
Steemit even blocks me to MY wallet, with the STEEM / SBD I earned.
And that's why I will not agree with that policy BS if it is presented to me in THIS STUPID MANNER.
Though as Steem is not steemit inc. and platforms like steempeak and buy exist I wonder if there is another way to vote on witnesses.
I tried to find my way to /~witness on other platforms but without luck.
Thanks to the great @davemccoy I'm now a bit closer to this witness voting stuff. Yet I don't know what witness to vote for. Or at least have a list of BS artists that I should avoid.
Dave reccomended to @steemcommunity @danielsaori @yabapmatt in addition to @jackmiller and @fulltimegeek So that seems to be a big step in the right direction. If only I knew other ways to vote on any of them then trough that horrible policy-walled steemit page.
Dear witnesses any witness for that matter please tell me why I should vote on you. And be aware that I don't like politics.
So I don't need Trump-like promises. I need hard facts. So that others can give controversial comments.
I'm going all Ronald Reagan now and say:
DEAR WITNESSES
TEAR DOWN THIS POLICY WALL!