I just passed my first 200 followers!

Feels like time for a milestone post with some stats and ponderings on what I've learned along
my journey so far
.
It's now been 58 days since I joined steemit , and 3 weeks since I passed 100 followers and a lot has changed in this time.
For a start there are heaps of steemtools available now so I can do neat things like this:


My top 5 voters - thanks to @kurtrohlandt 's steempixel
Get your own (and more) at steempixel.com
Besides the rapidly expanding ecosystem of steem tools, we've seen all sorts of rule changes, site upgrades, more organised voting groups , crazy price action, celebrities and scams, daily dramas and flag wars. Its chaos. I love it.
I've been pulling a lot of all nighters splitting focus between @steamleak steemface, steemviz (and more) whilst simultaneously doing my best to curate , comment and network with current and future steemians across facebook, twitter, steemit.chat and meatspace!
Networking was among many things I had taken a break from since my 2 autistic kids changed my world. Jumping back in the deep end socially and trying to remain genuine and true to my morals and ethics whilst simultaneously trying to promote myself and my partner and be a good member of the community is a challenge - but I think I'm getting better at it.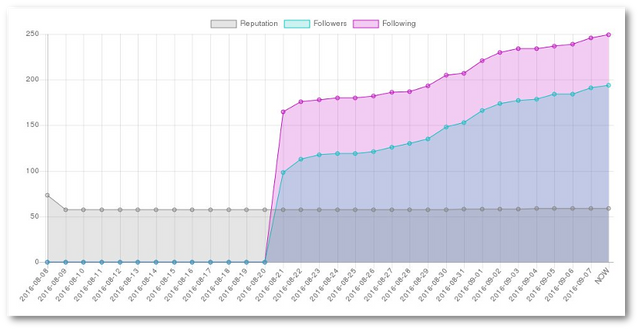 My follower graph thanks to @heimindanger 's SteemWhales
View full size at steemwhales.com/ausbitbank
Despite my efforts networking and getting some good feedback most of my posts brought in very little in the early days. I spent a while kinda freaking out that I couldn't find my niche, feeling frustrated at such huge payments going to the same people day after day for what I considered low quality content.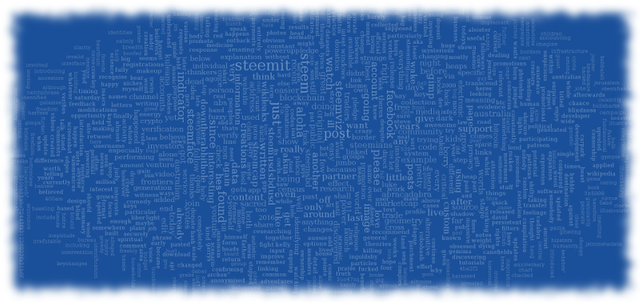 Words used in my posts thanks to @sandwich 's steem.cloud
View full size at steem.cloud/@ausbitbank


Early on I tried what I had previously been making money with back in the before time technical analysis posts, then described different trading techniques and even released a custom indicator for steem & sbd .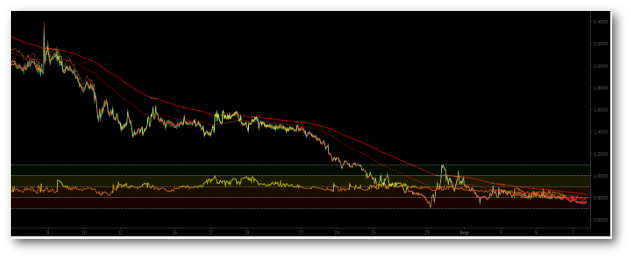 By this point I had already launched steemviz v1 , steemcap and @steemleak and the obsession and lack of sleep took its toll. I hit a wall and suddenly got a cold (still got it), steem price jumped then crashed and bitfinex got hacked right around my 32nd birthday.
I got a little deflated at the lack of response on all my recent posts and thought I had just gotten lucky with my early success. I took some time to catch up on a little bit of sleep and try to get well.

...But I'm far too addicted to stay away for long
And this whole time little by little, day after day I've watched things changing - the daily trending posts slowly rose in quality whilst simultaneously earning less . More individuals are being rewarded for their quality work*, and comment quality is increasing as our army of anti-spam and plagiarism people and bots get more efficient at their jobs.
I've just kept plugging away the whole time, deciding to "come out" as a conspiracy theorist and start my #downtherabbithole series of posts.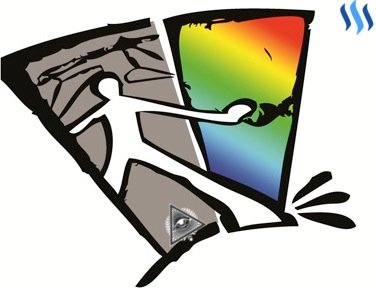 .

Things feel like they have started to turn around ever since I did my introduction post, I had been holding back a bit - despite my complete obsession with steemit I hadnt introduced myself. I hope this is the turning point it feels like.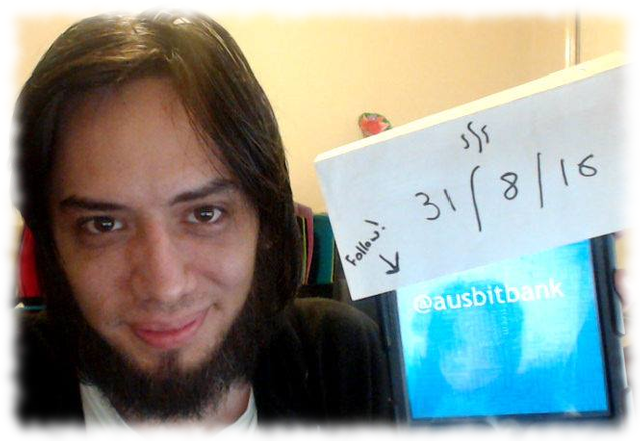 I've also been regularly trying out the promotion system since it was introduced without a whole lot of luck either yet, heres todays attempt for @krystle 's awesome maps that you should check out here



~$6.642 to get to the top of art and fiction for 24hrs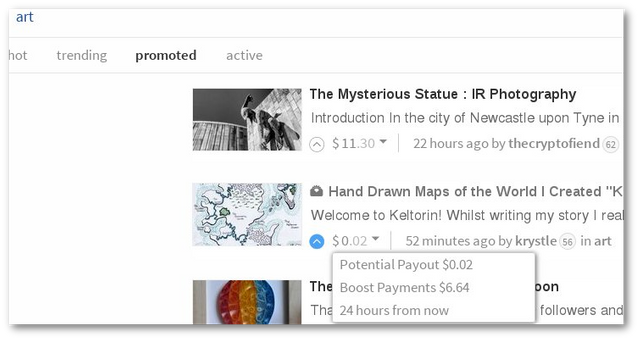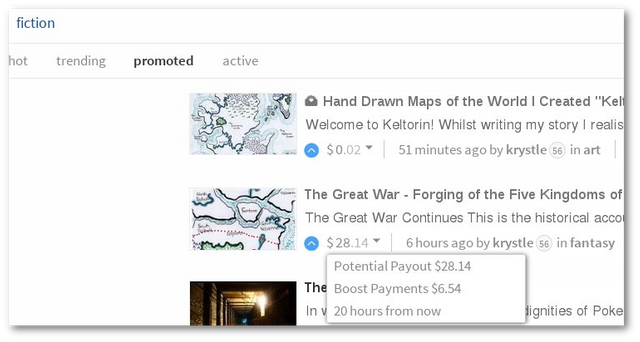 After all this time looking for a niche, I'm starting to feel like I dont want one. I like being able to post whatever interests me, without artificially limiting myself because ultimately I want to attract followers like me - not limiting themselves or their world view to a "niche".
So here we are after 58 days and 675 posts, meeting countless amazing people and giving me fresh hope for a possible future reality - and my Steem Power would bring me: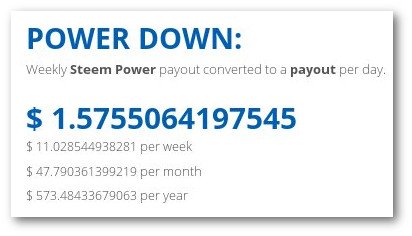 Power down stats - thanks to @mauricemikkers steamdollar.com
See my full stats here
$47 a month may not sound like a lot to some, but it would actually make a massive difference to our family. Despite that I'm powering up for the future because I believe in the massive potential of steem , and I'm doing everything I can to promote and build useful tools to take steem to the moon.
I'm in this for the long haul , who's with me ?